Let's review the key parts every MTB rookie should take into account when choosing a mountain bike. But before we begin, do you know what size bike you need? Take a look at our FAQ to make sure you choose the right one.  
Carbon vs Aluminum Bike Frames
As mentioned in our previous post: it is always better to buy an aluminum MTB with better components than a carbon bike with poor-quality parts. An aluminum frame weighs more than a carbon one, but better components are usually lighter and make up for the heavier frame.
Another approach is to take a long-term view focusing on the idea of improving the bike over time. In such a case, buy a carbon MTB with worse components and change them gradually until you get your perfect bike. You can also do this with an aluminum bike, but let's not get into too many details right at the beginning.
Hardtail vs Full Suspension
The comparison is done within the same price range and always referring to cross-country bikes, the ideal mountain bikes for beginners. 
Hardtail 
Front suspension fork only (between 100 and 120 mm fork travel).

Lighter.

Better components (you get more for the same money).

Easier maintenance than full-suspension models. 

More technical riding is required. It forces you to improve your skills and move your body on the bike, but can be limiting on certain types of terrain.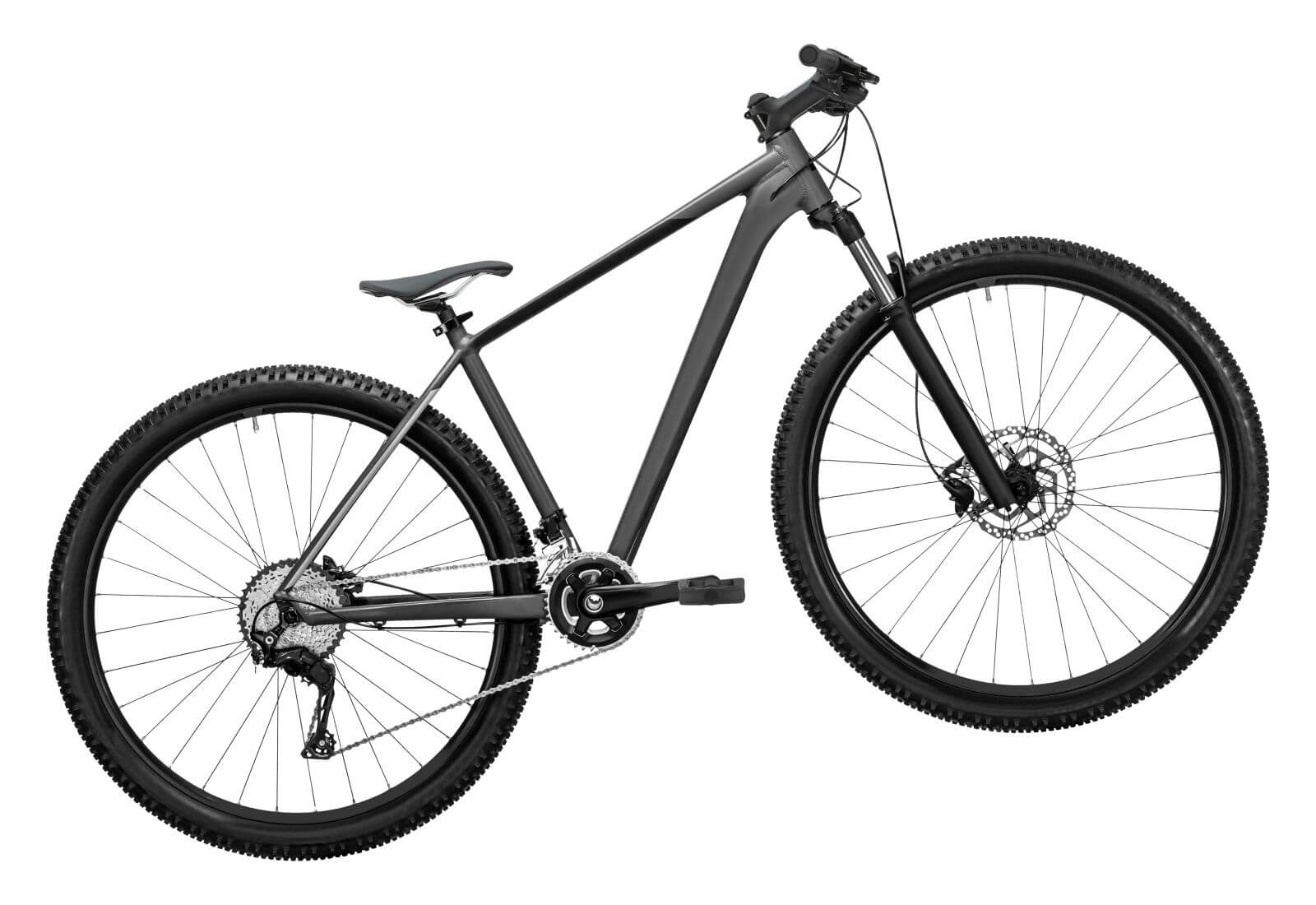 A hardtail MTB is sufficient if you ride on less technically demanding terrains, smooth trails, tracks or paths without too many bumps, potholes or large stones. Otherwise, it will be more physically and technically demanding.
Full Suspension
Front suspension fork (same fork travel as hardtail) and rear shock (up to 110 mm travel).

More expensive. Worse components for the same money.

Heavier.

More complicated maintenance.

More comfortable.

It does not require as much technique and can even be helpful on certain types of terrain.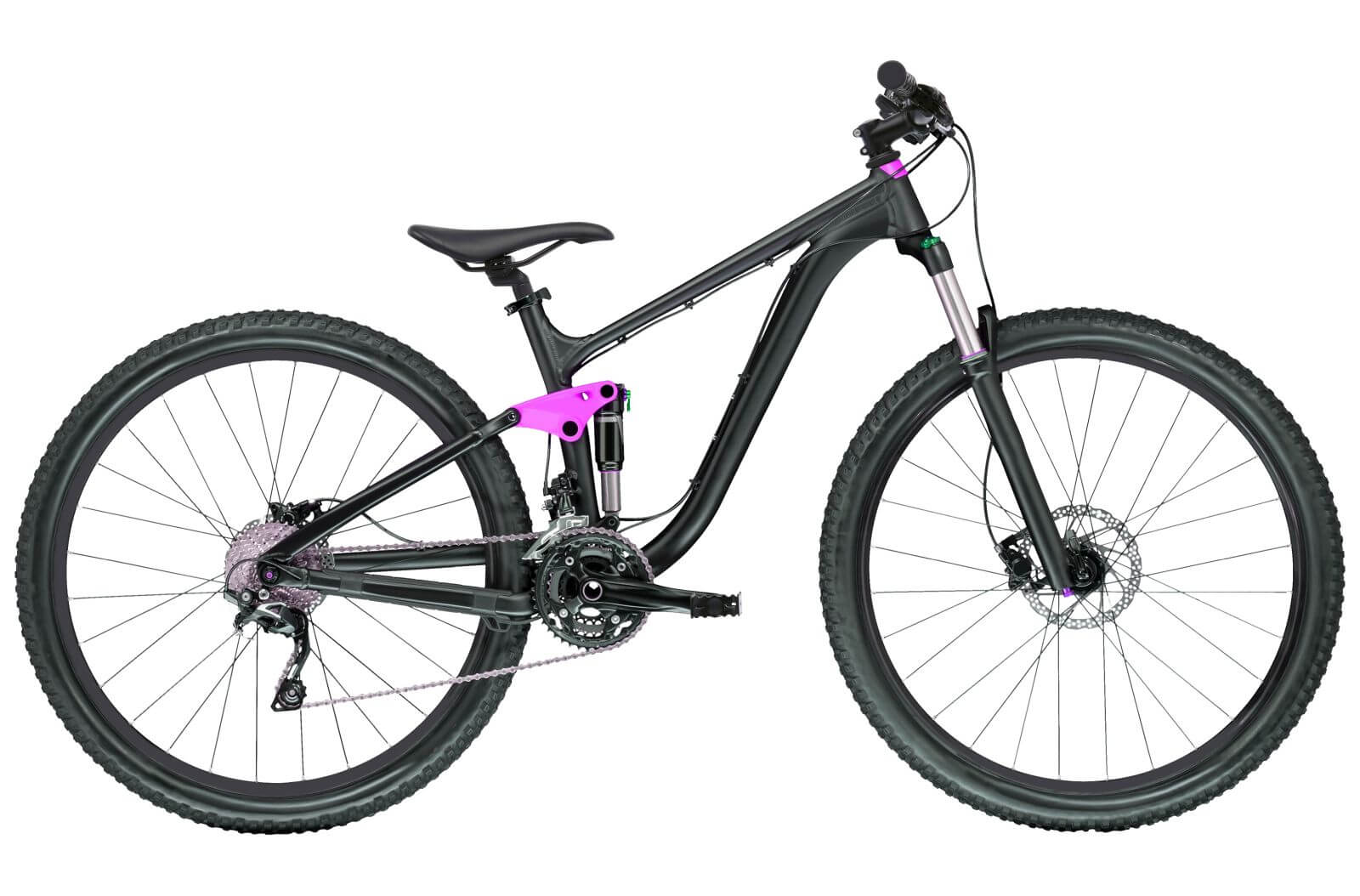 Full suspension models are more versatile. They do everything a hardtail does, but they are heavier and include poorer-quality components. On the other hand, they provide more comfort and allow you to ride in more challenging conditions.
It is always useful to have remote lockout levers on the handlebar as a front and rear suspension control system. They are not essential, but they let you engage the lock without taking your hands off the handlebar.
Wheels
Size:
29″ is the industry standard today. 

There are also 27.5″ bikes available.

There are a lot of 26″ bikes on the second-hand market as they used to be the standard a few years ago but are barely being produced nowadays.

Fatbikes. Recommended only for sand and snow. They have oversized, 4″- or 5″-tires, much bigger than regular MTBs. "Fat" tires make the wheel size noticeably bigger even on a regular 29″-rim width.

27.5″+ and 29″+. Wheels with wider tires, between 2.8″ and 3″. Thus a 27.5″+ wheel becomes a 29″ and a 29″+ is larger than your regular 29″.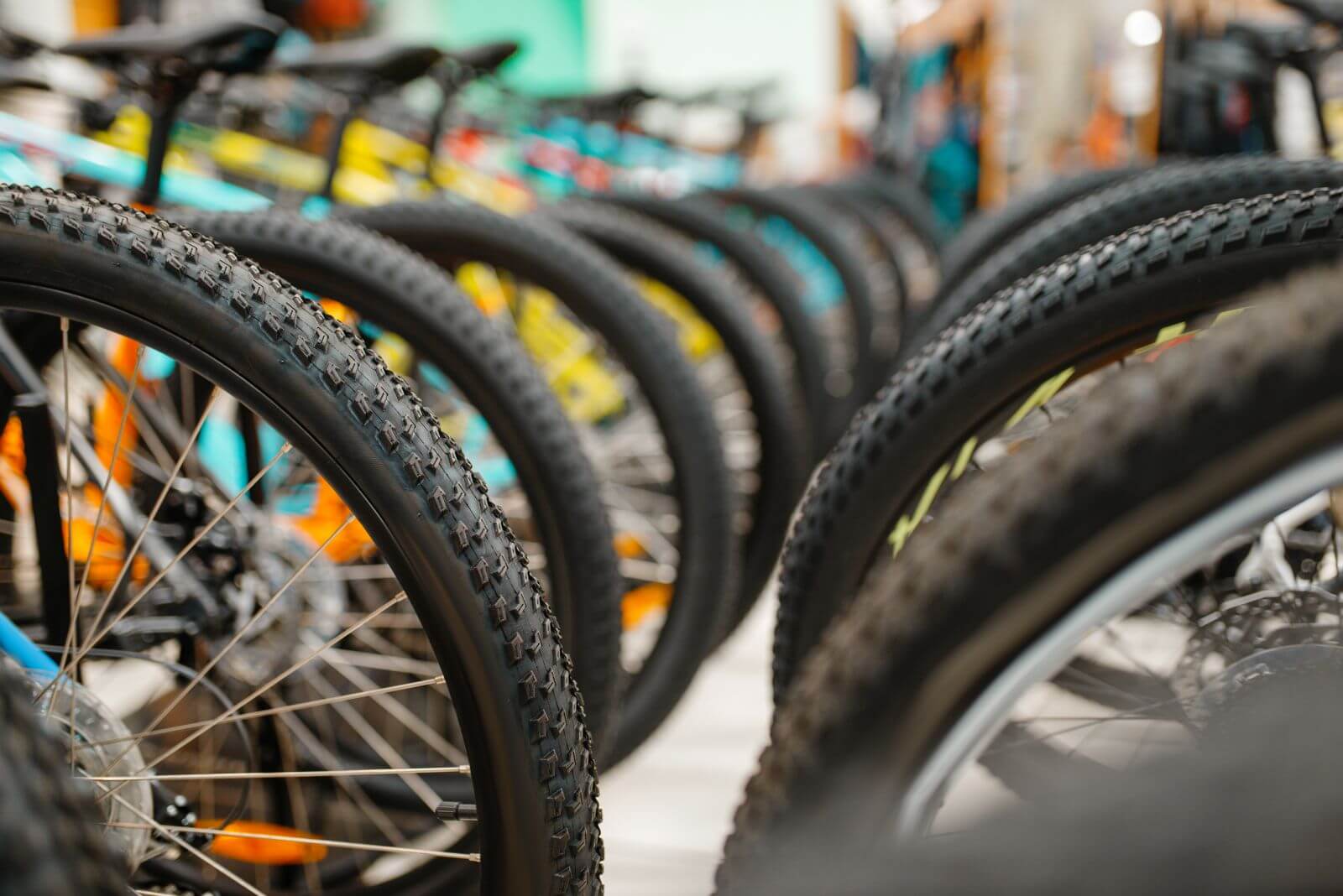 To make things clear:
The wheel size you will find in most stores is 29″ and it is the recommended size for most adults unless you are rather short or petite. In such a case, a 27.5″ would be a more suitable and comfortable choice, but it is also a matter of taste, experience, technique and riding style. Many Cross-country Olympic racers are no taller than 170 cm and all ride 29″ bikes.
Clincher Tires vs Tubeless Tires
The vast majority of bicycles (mountain, road, gravel, touring bikes) have an inner tube inside the tire which must be repaired or replaced when punctured. Together with tubular tires (dedicated mainly to competitive cycling), clincher tires were the only existing systems until the appearance of a tubeless tire.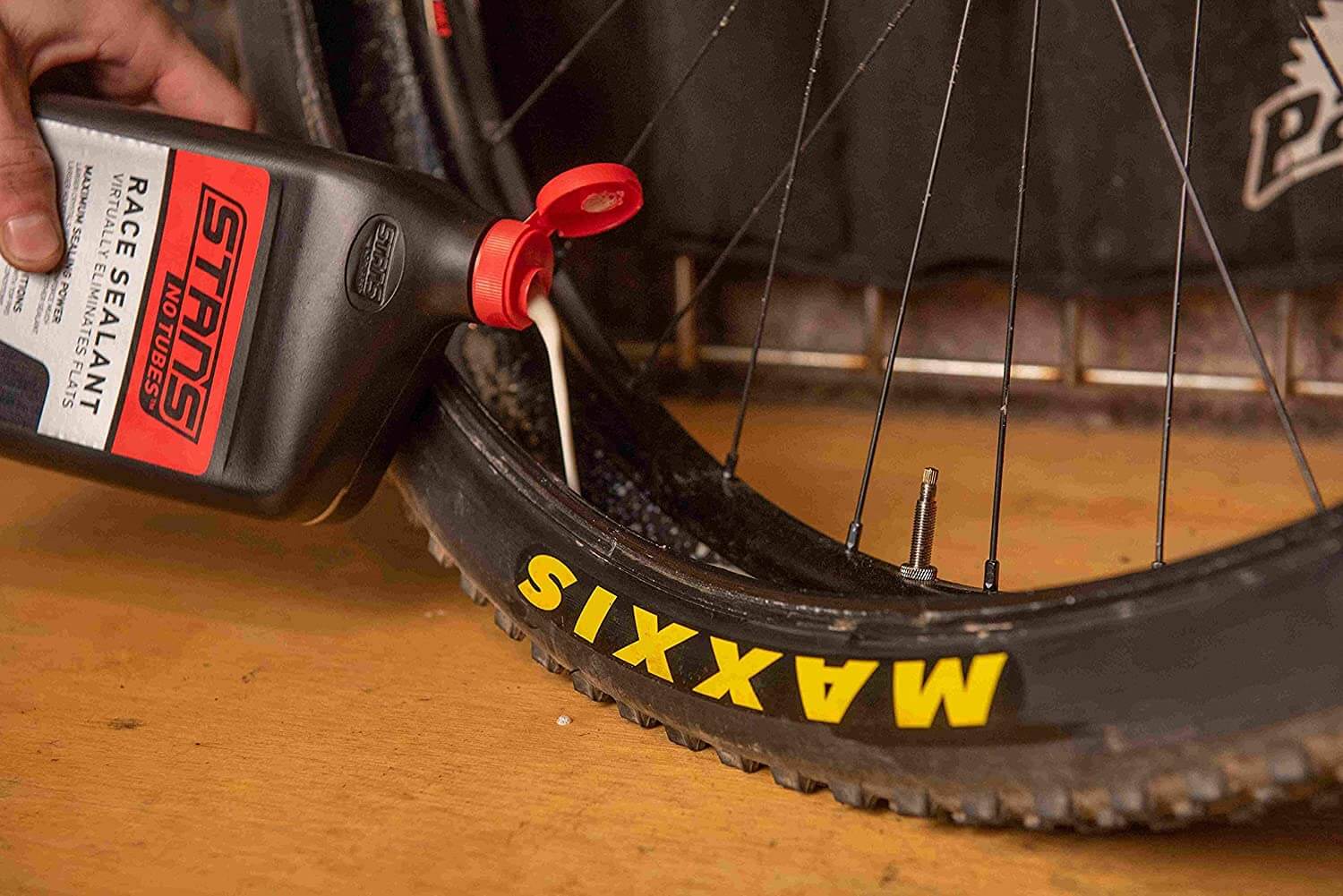 The tubeless system was developed for mountain biking by getting rid of the inner tube and using specific rims and tires with a liquid sealant inside that fixes punctures on the go. The advantages of tubeless system are:
Riding with lower tire pressure = more comfort and better traction.

Avoiding "snakebite" flats when the inner tube gets pinched on the rim.

No more of those tiny, annoying punctures forcing you to change the inner tube.

Less weight (depending on the tire you use).
The disadvantages of tubeless system are:
It requires special rims and tires. Most manufacturers now offer Tubeless Ready tires and rims as standard in case the customer wants to switch to this new system, getting rid of the inner tube and adding liquid tire sealant.

Price. The tires and rims are more expensive, plus you'll need liquid tire sealant that must be replaced from time to time.

It does not protect you from all kinds of punctures. If there is a very large hole or a cut, the liquid will not be able to seal it and you will have to resort to a tubeless plug.
Either way, it is best to use tubeless tires and carry a right size spare inner tube just in case.
Drivetrain and Brakes
The gears and brakes on an MTB significantly affect its price. As a general rule: 
High-end bikes: Shimano XT and XTR or Sram XX1, X01 and GX. 

Mid-range bikes: Shimano XT, SLX and Deore or Sram X01, GX, NX and SX.

Low-cost bikes: Shimano Deore, Alivio, Acera… or Sram SX, X9, X7…
MTBs use disc brakes; hydraulic brakes are a better choice than mechanical ones.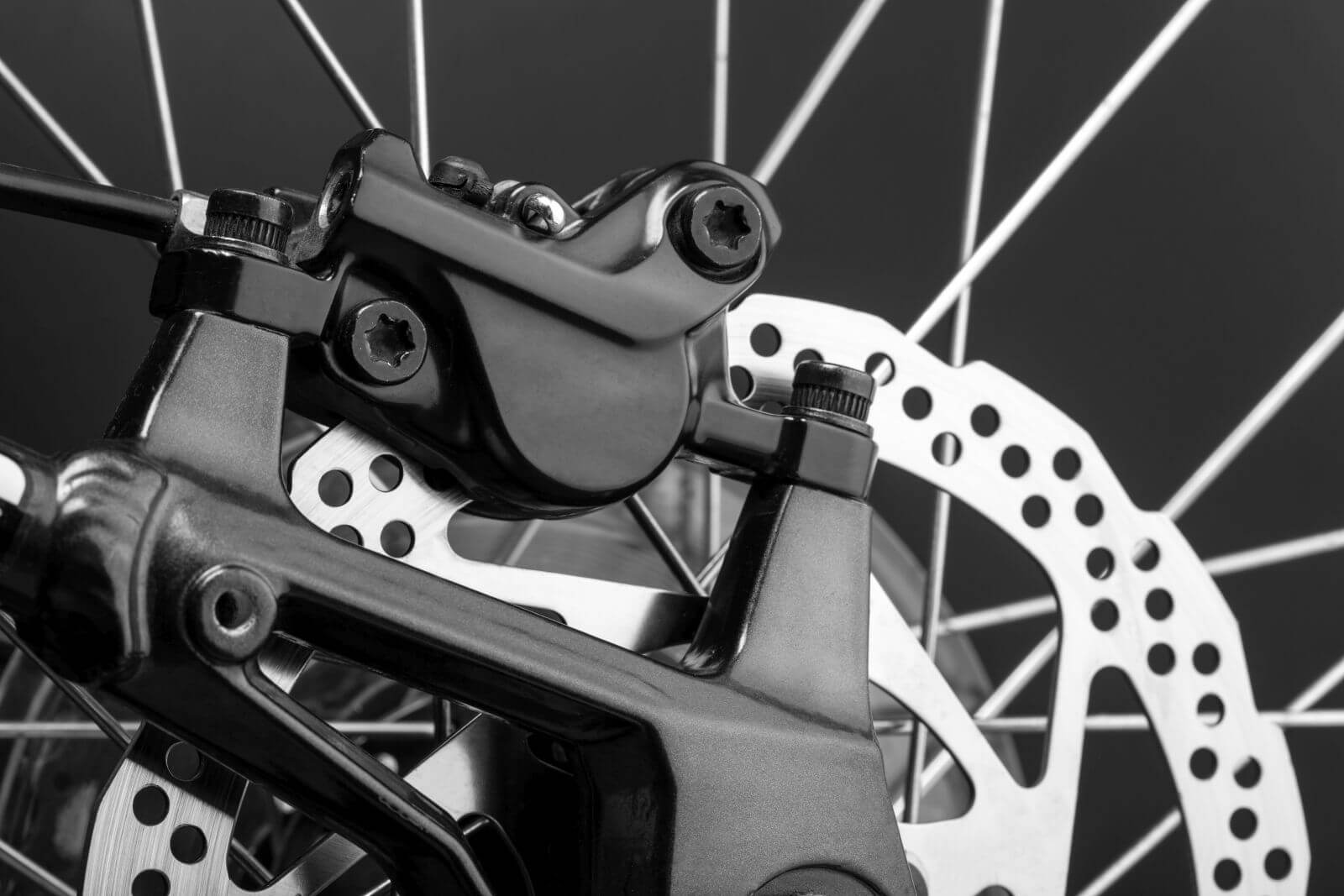 The single chainring has become popular within medium and high range bikes with 10, 11 or 12 speeds on the cassette.
The advantages of the single chainring:
The rear derailleur is your only concern. 

Easier maintenance.

Less weight.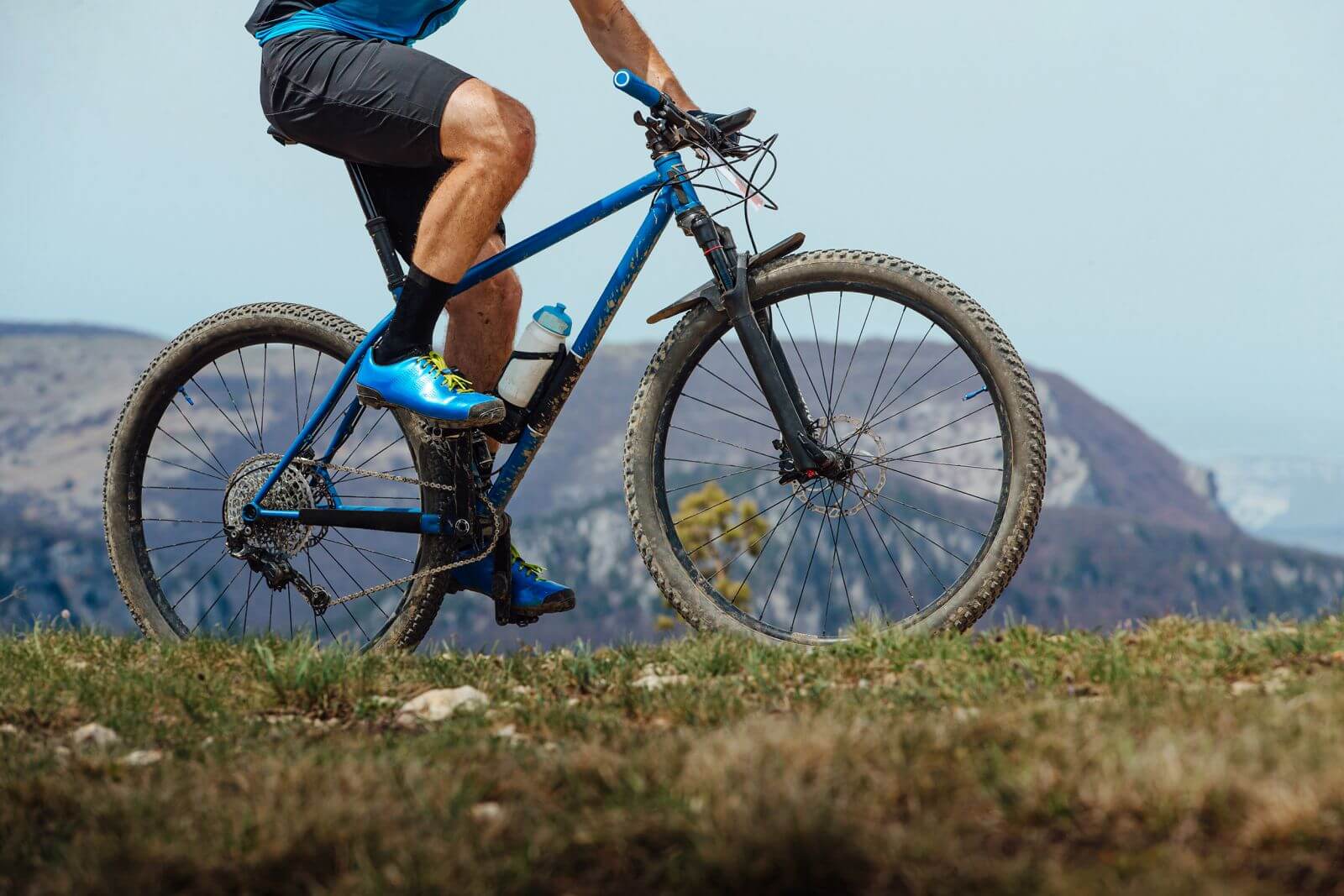 Within the low-cost and low-mid range there is a huge number of options: 
Double chainring. A new MTB with a triple chainring is hard to find. 

Bikes with 10, 9 or 8 sprockets. 
Electronic shifters are also available for MTBs. Shimano offers electronic shifters with wires on its XT and XTR groupsets. Wireless Sram shifters are available on XX1, X01 and GX groupsets.
Clipless, flat or single-sided clipless pedals?
Store-bought bikes usually come without pedals or with flat pedals. We recommend using clipless pedals and MTB shoes because the advantages of being clipped-in outweigh the disadvantages.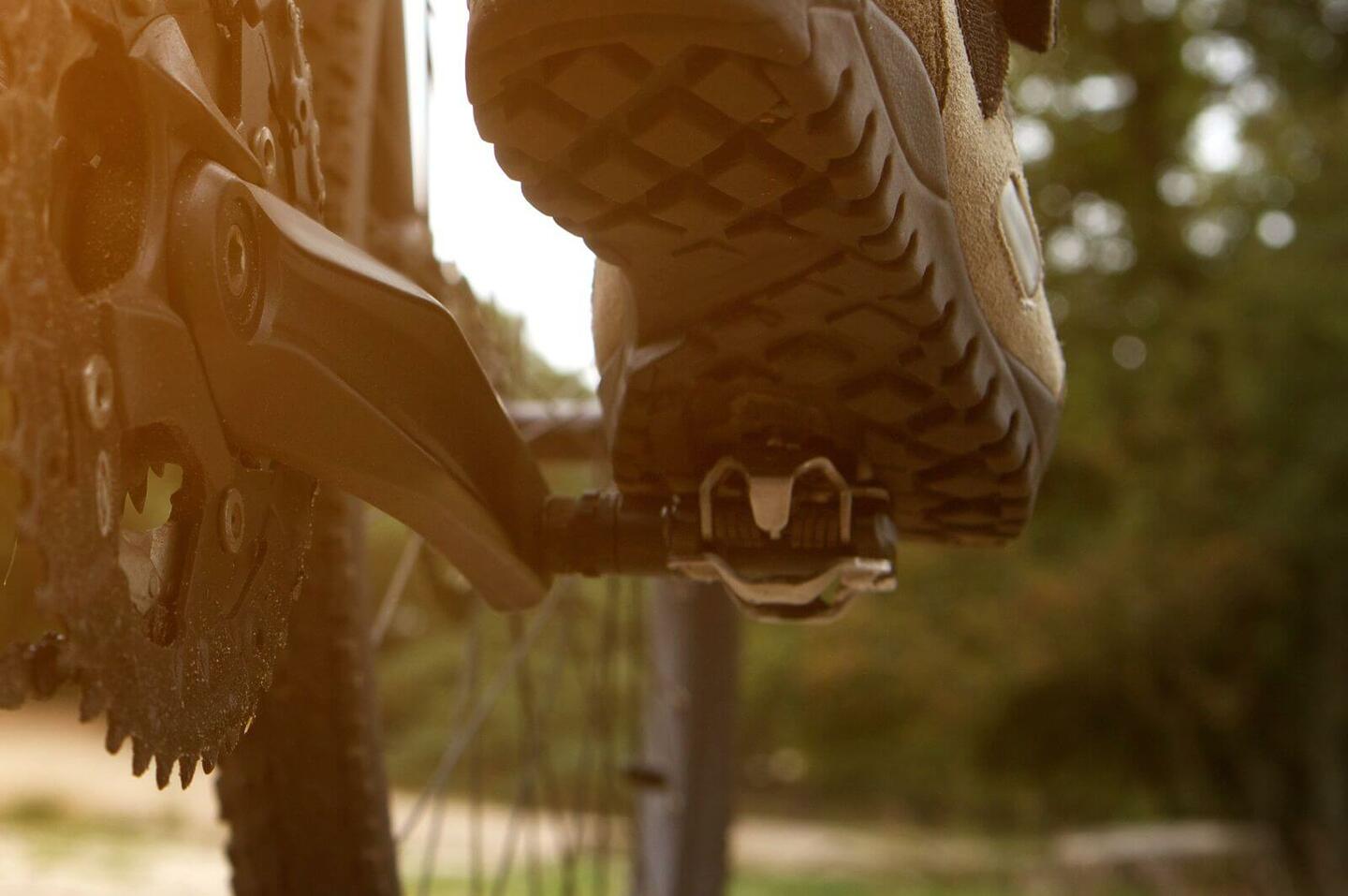 Advantages:
More control and safety. Prevents your foot from slipping off the pedal on a downhill or a bump.

Improved power transfer. 

Rounder pedal stroke.

You can pull up the bike to avoid obstacles.
Disadvantages:
You have to buy special shoes.

You need to practice clipping in and out to be able to get your foot out quickly and timely.

If the cleat or pedal gets muddy, it is difficult to clip in. 

They require prior adjustment and some minor maintenance.
You lose the above advantages when you decide on flat pedals, but you gain freedom for your feet and you save money because no maintenance is necessary and you don't need special shoes. However, if you are going to use your mountain bike a lot, get some good-quality metal flat pedals and stiff-soled cycling shoes to be as comfortable and safe as possible.
If in doubt, you can opt for single-sided clipless pedals, flat on one side and clipless on the other. 
So much for the basics. We could go on talking about the saddle, handlebars, dropper seatpost and other components, but all the information above is more than enough to buy your first MTB and we promised to keep the guide simple.