If you practice cycling and want to upgrade your bike gear, take a close look at the following list of 7 expensive improvements that are unnecessary to most cyclists. To be fair, some of them result in marginal gains, while others can make your bike look flashier and improve the aesthetics. There are one or two that could take your bike to a higher, but not the most practical level. In the end, you have to ride that bike, and by implementing some of these "upgrades" you might be compromising comfort and safety, aside from wasting a lot of money.
Oversized pulley wheel system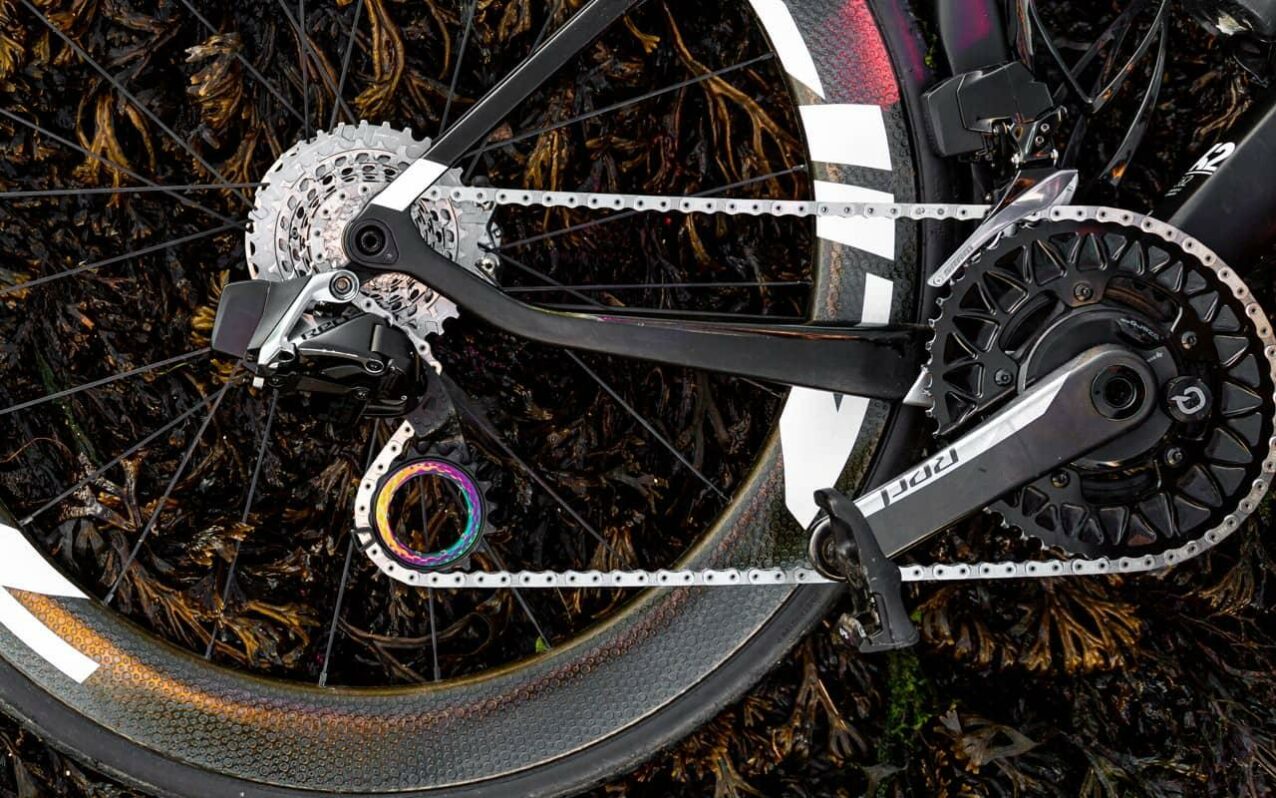 Given the price (€200-800) and the power savings it's meant to generate (2-3 watts) it is indeed an unnecessary upgrade. There must be a reason why professional teams and cyclists hardly ever use such systems.
Ceramic bearings

We have previously talked about ceramic bearings in this blog post. Quality steel bearings from brands like NTN, NSK or SKF are way cheaper than ceramic ones, which have less to offer than derailleur pulleys.
Top-tier groupsets

Brands like Sram, Shimano and Campagnolo have top-tier groupsets that, while being just as functional and efficient as those from a lower range, are quite expensive in comparison. The only positive aspect of this upgrade is the weight (200-300 g), because when it comes to aesthetics it's all a matter of personal taste. If you do decide to switch to a top-tier groupset to reach a certain status or reputation, it's your choice, but don't look down on any cyclist using a more affordable groupset like the Shimano 105.
Now, electronic or mechanical groupset? Both are excellent choices. The problem is that mechanical groupsets are becoming less and less common. You might not need an electronic groupset, but if that's the manufacturer's current preference, sooner or later it is bound to become the only option available.

Electronic groupsets, as well as disc brakes, are a lifesaver for people with any wrist, hand or finger injuries, and stop many cyclists from giving up on the sport.
Top-tier pedals
Let's compare several models from different brands focused on MTB and road cycling:

When it comes to MTB, Shimano XTR and XT are practically the same. The XTR ones have a list price of €130-150 and weigh 312 g. The XT ones cost around €80-100 and weigh 339 g. If we set the bar a little lower we have the Shimano PD-M540 pedals for €60-70 (these weigh 352 g).

Now to road cycling: you could have the Wahoo Speedplay Nano pedals for around €450, and these weigh 171 g. A smaller version of them costs around €150 and weighs 232 g. Another option would be the Look KéO Blade Carbon Ti Ceramic, with a list price of €280-300 and 190 g of weight. The same model but without a titanium spindle and without ceramic bearings would cost €130-150 and weighs 220 g.

Pedals are the same case as groupsets: we get equal functionality and performance. The key here is the weight, and it's not that easy to drop a few grams in cycling if we want our bike to be as light as possible.
Ultralight and ultra expensive bottle cages
This might be the most unnecessary bike upgrade in this whole article, especially when it comes to the most expensive and exclusive models. You're only saving some grams in weight and, depending on the model, not even that, as there are plenty of plastic bottle cages that are lighter than others made of titanium or carbon. Moreover, they might not be as effective and your bidon might fall out with every little bump on the road.
Tubular tyres
These are not an option for MTB as they're not practical, not even for competition.

Tubular tyres can have advantages and disadvantages in road cycling, as we have already explained in this previous article. When it comes to advantages, lightness is the only one that's relevant today, because conventional tube/casing technology and tubeless tyres have achieved a similar or even superior performance when compared to tubular tyres. This is such that so many professional teams have switched to tubeless tyres.
Aero isn't everything
The bike brand Specialized popularized the slogan "Aero is everything", but we have to disagree with this: not everything has to be aero, as this feature might not work for the vast majority of cyclists. The reasoning behind this is that the benefits aero offers are based on wind tunnel research and only increase with speed. Take a look at the following example to understand this better:

The Swiss manufacturer Scott claims that their newest Scott Foil model is 20% faster, and that a cyclist would be able to ride 40 km at 40 km/h in 1 minute 18 seconds less than it would take with the previous model of Scott Foil. Now, if you think you can already ride 40 km at 40 km/h let us know in the comments, as we don't know many non-professional cyclists capable of this.
Opting for aero components might not always be necessary when it comes to wheels either. Having a deeper rim doesn't mean you will ride better and faster, as a pair of wheels with unnecessarily deep rims might be aerodynamic but can also cause instability and compromise safety on the bike. The ideal rim depth for most cyclists should be between 30 and 40 mm. If you are a heavier cyclist, ride in competitions and/or have sufficient technical skills, you can go for a rim deeper than 40. 60 or over, only for individual time trials and triathlon.
Compromising comfort or safety to keep it lightweight
"Strong. Light. Cheap. Pick two". But we have to add "Comfortable" to the mix. Every cyclist is looking for ways to take some weight off of their bike, but the vast majority of ultralightweight bike components don't offer any of the aforementioned features, not even two of them.

Ultralightweight bike components are not only ultra expensive, they can also put your safety and comfort at risk, especially when it comes to imitation brands or falsifications, when they're not properly installed or not adequately used (an incorrect torque setting, an inadequate cycling discipline…) or when you surpass the cyclist weight limitations set by most manufacturers.
Now, we can't deny that most of the time we put our whims and wishes before our actual needs, and so we replace the Ultegra with the Dura-Ace, or get ourselves that pair of deep rim wheels we actually don't need. In the end, our bikes are earned with our own hard work. If any of the aforementioned upgrades makes you happy and doesn't put your safety at risk or makes you give up on comfort, then go get it. Enjoy cycling and enjoy your bike, that's what this is all about.