A clean and properly oiled chain not only prevents the drivetrain components from wear, so that the bike works more efficiently, saving you time and money, but it can also help to improve speed with no extra effort. The problem is that chain maintenance is something most cyclists don't pay enough attention to.
In this blog post, we'll be discussing what the second stage in chain maintenance should be: lubrication. But before we dive into that, make sure you thoroughly clean the chain first. A dirty chain will result in mud sticking to the lubricant and creating an abrasive paste that could damage the chain itself, as well as other components within the drivetrain.

There are many chain lubricants in the market and choosing the right one is crucial, which is why this task can come across as a bit discouraging. To help you out, we'll take a look at different categories for chain lubricants and select the best ones in each of them.
Types of lubricants
Dry lubricant
This type of lubricant is to be used under dry climate conditions. It's extremely lightweight, and features a combination of oils with a liquid or solvent designed to allow the lubricant to fully coat the chain's side plates, rivets and rollers. The use of this lubricant results in a relatively clean chain, and guarantees a good performance. Still, a heavy storm or just merely washing your bike will force you to clean the chain and reapply the lubricant all over again.
We recommend: Smoove Chain Lube
Wet lubricant
Wet lubricants are to be used under humid climate conditions. The composition is similar to either thick oil or a lighter type of grease. They work long-term, and can withstand heavy downpour, but can also become a dirt magnet. Please beware, as wet lubricants can be quite messy, not only during the application process but also when in contact with the hands, legs or cycling socks.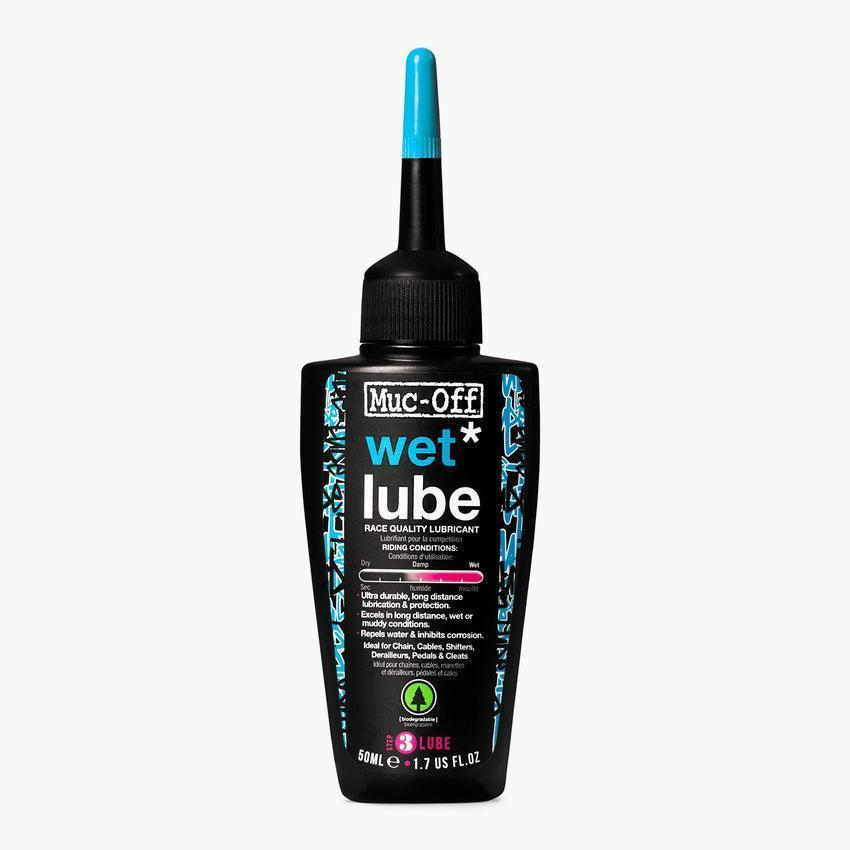 We recommend: Muc-off Bio Wet Lube
Wax-based lubricant
Wax-based lubricants are becoming quite popular, as they are versatile enough to work under both humid and dry climate conditions. The composition of this type of lubricant is refined wax particles that emulsify in a carrier fluid. Said fluid helps these particles reach every nook in the chain, and then evaporates itself leaving just the wax. This wax keeps the chain well covered and protected, and the risk of getting dirt stuck to it is lower.
However, in order to make the most out of wax lubricants, it is crucial to remove any remains of grease or old lubricant, making sure the chain is as clean and dry as possible.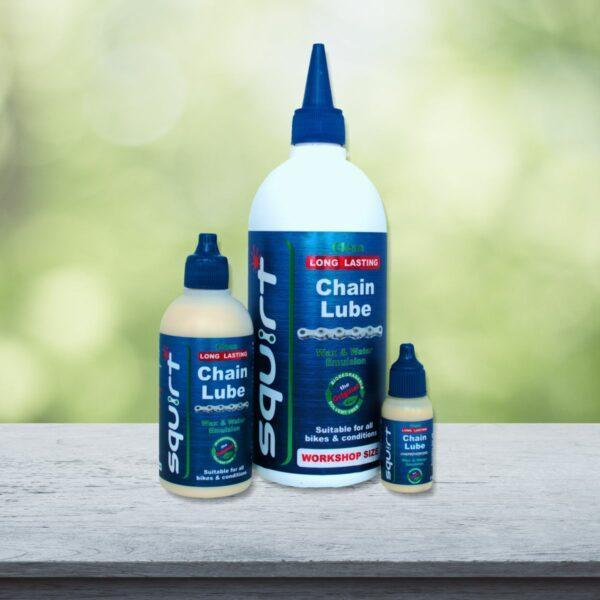 We recommend: Squirt Chain Lube
Immersive waxing
This method requires using refined wax. You need to melt the wax in a pot, and then fully submerge the chain in it so that all the nooks and crannies get filled with liquid wax. Make sure the chain is well coated and then take it out and leave it to dry. Once dry, the mobile parts of the chain will be lubricated by the wax, and dirt won't stick to it. With the first few pedal strokes after mounting the chain back in place it will feel a bit stiff, but it's a matter of minutes until it loosens up a bit and the wax reduces the friction. The chain is now considerably more efficient than it was before.

This method is quite expensive, and since it requires a spotless chain, you might need an ultrasonic cleaner or deeper degreasing procedures. Once the chain is waxed, all it needs is water to clean both the chain itself and the drivetrain. This method means you most likely won't need to wax your chain again for the next 800-1000 km.
We recommend: Silca Secret Chain Blend
Ceramic lubricant
This new generation of ceramic lubricants with microparticles from different materials is supposed to reduce friction and wear, but it tends to be quite expensive.
Research on the friction and longevity of these lubricants seem too good to be true, and testing shows ambivalent results. Given their price, we do not recommend this type of lubricant for day-to-day use, but they are a good option if your primary goal is improving performance and saving energy by eliminating friction.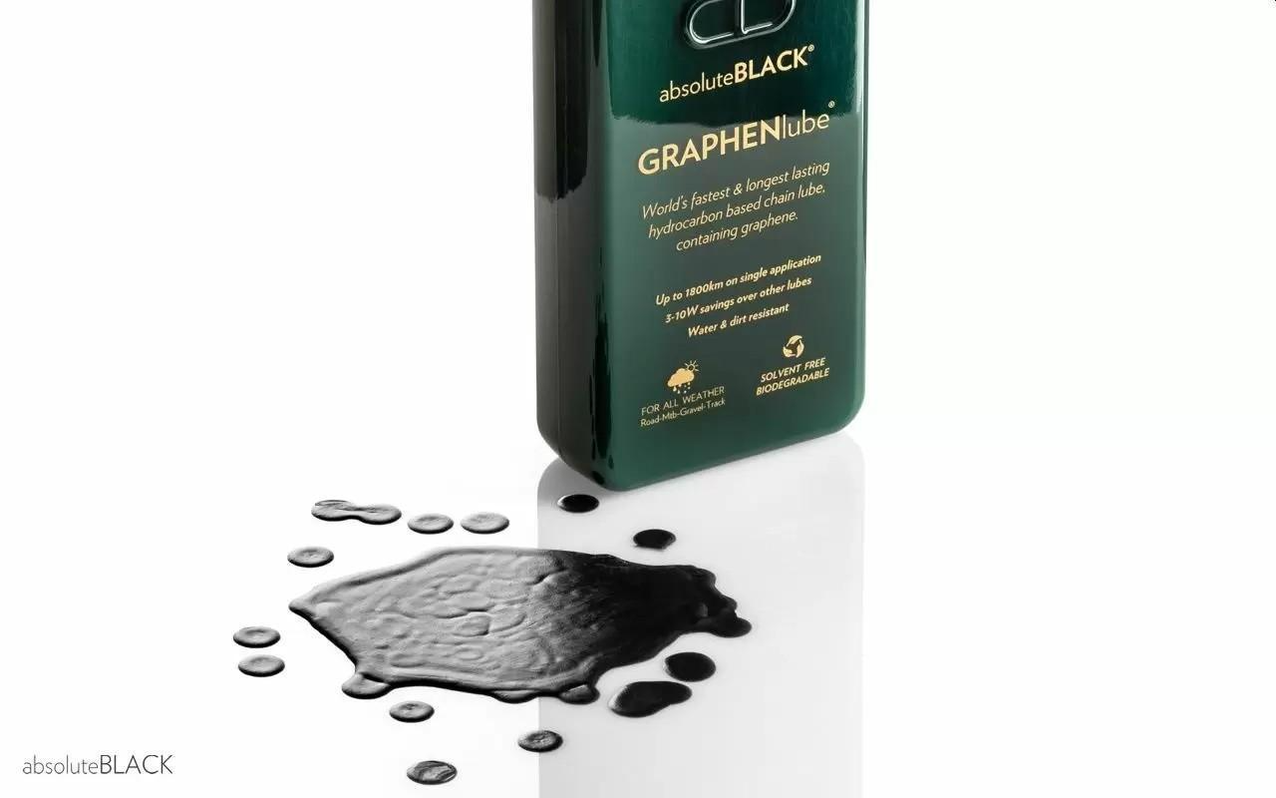 We recommend: absoluteBlack GraphenLube
What type of lubricant should I use?
Choosing a suitable lubricant depends on several factors, such as the type of bike, cycling style and modality, climate and terrain conditions and how much time you're spending on maintenance.

If you normally ride on muddy and humid terrains, you'll need a stronger lubricant that is also water-resistant. On dry terrains, a lighter lubricant is just enough. While wax-based and ceramic lubricants guarantee a cleaner and more durable result, they are more expensive and require some previous steps to prepare the chain for lubricating. On the other hand, they are easier to apply and give similar results to other processes such as immersive waxing. Immersive waxing is not for cyclists with tight budgets or little time.
Our personal recommendation for all kinds of cyclists is a relatively cheap wax-based lubricant such as the Squirt.
How to use the lubricant?

Apply just a small drop on each roller, never on the cassette or crankset. Once applied, move the drivetrain to the back so that the lubricant can seep into the rollers. Let it set for 10-15 minutes until the carrier fluid evaporates, and then, clean up the excess with a cloth. While falling short on lubricant is bad enough, as it won't seep properly into all the chain links, overlubricating your chain is even worse, as you know it is a dirt magnet.
Are expensive lubricants worth it?
It depends, but the rule of thumb is: the further up in the performance scale, the faster the price is going to rise in comparison to the benefits you'll get.
While high-end lubricants can reduce friction slightly better than regular types of lubricant, keep in mind that friction will still be considerably reduced with the latter, which means that the marginal gains of 1-2% coming from the most expensive options might not be worth the cost for most cyclists.
High-end lubricants, such as the ones Silca, absoluteBLACK and CeramicSpeed, stand out in terms of improving performance and pedaling smoothness. When cycling, a silent drivetrain can make it seem like we're going faster even though it's probably all in our heads. However, the truth is sound implies there's some friction going, and the higher the friction, the poorer the performance. Don't forget that these expensive premium lubricants have many advantages, but require a more complex maintenance process and attention.
All in all, choosing the proper lubricant and using it correctly can make a huge difference. Different types of lubricant have specific benefits, but it's important to remember that regardless of what kind of lubricant you use, a dirty chain can significantly reduce its performance and lifetime. This is the reason why keeping a clean and properly lubricated chain is crucial to guarantee an optimal overall bike performance, as well as a pleasant cycling experience.