There are many unisex cycling garments, but there are also many physical differences between men and women. Thus, female cyclists looking for the best cycling base layer that adapts perfectly to the female body shape need a product designed specially for them. Base layers are designed to help regulate body temperature thanks to optimal breathability, and they are made of fabrics that wick away sweat and moisture to maintain our skin dry.
The first paragraph already mentions two of the four key factors in choosing a base layer:
Fit

Fabrics

Sleeve type

Key details and finishing 
Fit
A base layer for women has a specific shape tailored to our curves. If you don't have a large chest and you are very slim, a unisex base layer might be O.K., but no matter the breast and hips size, a women's base layer will always offer more comfort and freedom.
Proper size is essential. Women's sizing is smaller than unisex. If you are between two sizes, choose the smaller one because the fabric is very flexible. It stretches easily to fit your body.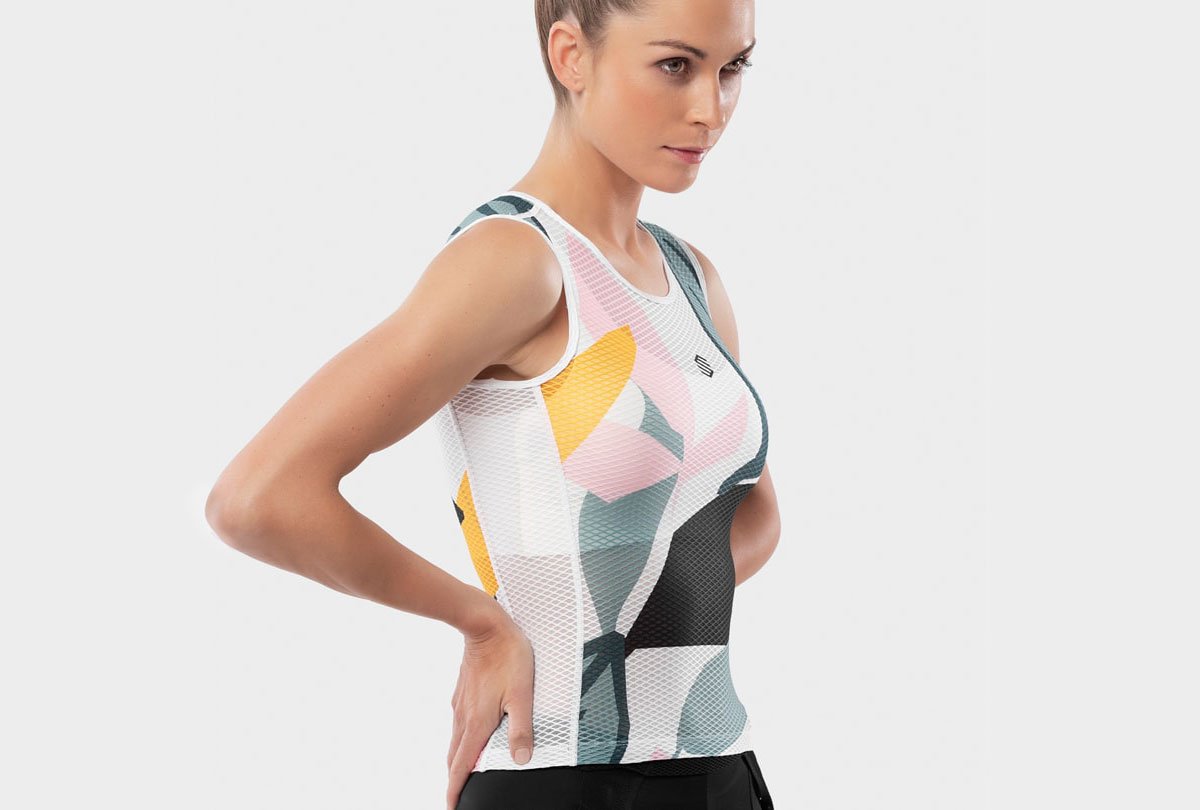 A snug fit and the right size are key not only for the base layer to do its job. They are also essential so that the garment doesn't get wrinkled or bunched up under the bib shorts, cycling jersey or jacket. It's uncomfortable, can cause chafing and it simply doesn't look great.
Fabrics
There is no difference in fabrics among women's and men's models. We have talked about the three main options in our guide to cycling base layers:
Synthetic fibers either with antibacterial and anti-odor treatment or without it. They dry up quite fast.

Merino wool. Natural fabric with antibacterial properties. It takes longer to dry up.

Blend of merino wool and synthetic fibers. It's particularly well-fitted, lightweight, and quick-drying.
In Siroko's collection of cycling base layers for women there are models using the first two types: 100% merino wool or synthetic fibers (polyester and elastane).
Let's take this opportunity to answer a burning question that is sure to bring relief to many women and men:
Are merino wool base layers itchy?
No, even if they are 100% merino wool, they will not irritate or itch your skin. The reason is that, unlike other wool fibers, merino wool is very fine and thin. The average merino wool strand is between 16.5 to 24 microns in diameter (depending on sheep's genetics, diet, climate, etc.), while a normal sheep's wool can be twice as thick, and a human hair is around 30 microns.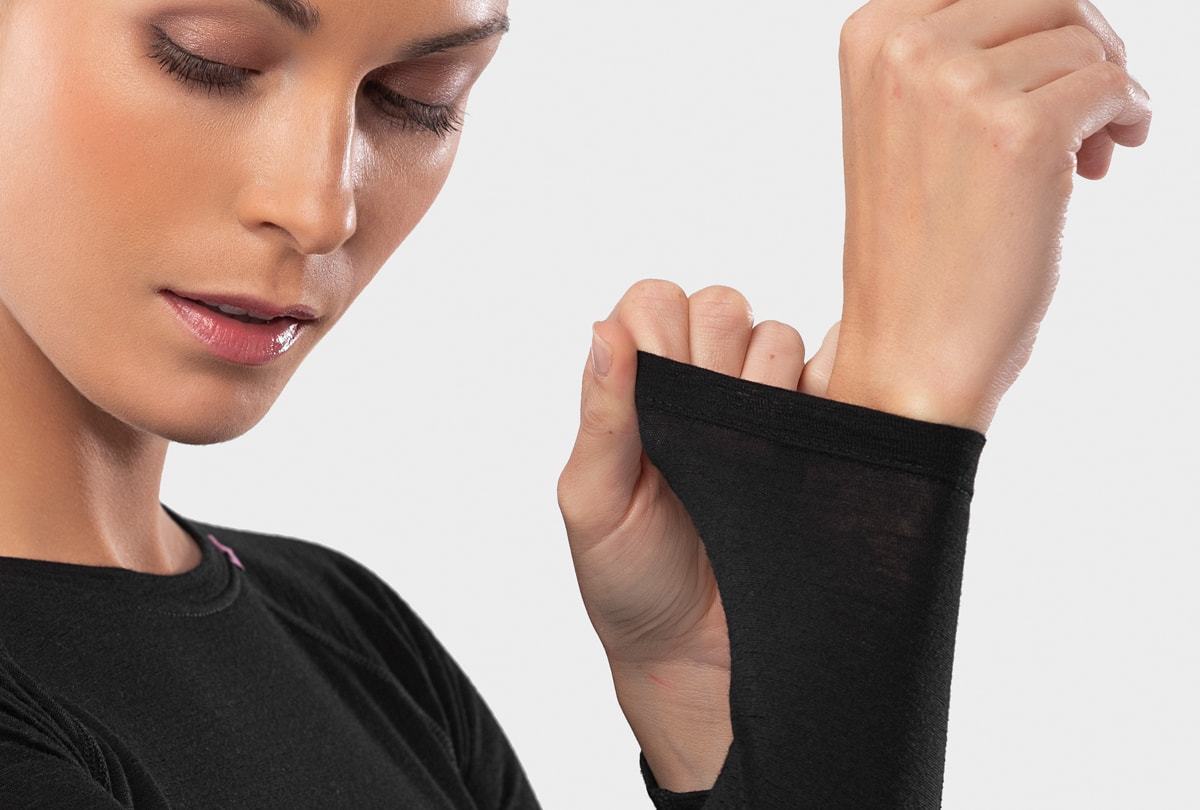 As merino fibers are so fine and thin, they are also very flexible and gently adapt to our skin, so they are never itchy; quite the opposite, they are soft and very pleasant to the touch.
Sleeve type
Men's upper body and arms are different from women's, so logically, sleeve sizes in women's base layers are smaller.
According to sleeve length there are also three types of base layers:
Long-sleeved

Short-sleeved

Sleeveless
The most common fabric + sleeve-type combinations result in the following four models:
Sleeveless base layers made of synthetic mesh fabric.

Short-sleeved base layers made of synthetic mesh fabric.

Short-sleeved base layers made of merino wool or merino wool + synthetic fiber blend.

Long-sleeved base layers made of merino wool or merino wool + synthetic fiber blend.
Type one, three and four from the list above are available in women's (and men's) cycling base layers collections from Siroko.
Key details and finishing
These extra features really do make a difference. Let's start with the seams: there should be as few of them as possible, they must be flat, external and located in places where they do not cause discomfort or chafing.
Low, round neck line is optimal for summer base layers so that they do not stick out of the cycling jersey. The neck is a bit taller in merino wool base layers; it goes slightly above the collar bone to give you extra protection.
No matter what sleeve length you decide on, make sure your base layer has a diagonal seam from underarm to collarbone, called raglan sleeve. It guarantees a great ease of movement and it adjusts better to the position of our arms on a bike.
Now that you know how to choose the right women's base layer, take a look at our guide to cycling base layers; you'll learn when to use each model and how to combine base layers with short- or long-sleeved jerseys, cycling vests or winter jackets, depending on the season, the weather and how sensitive to temperatures you are.