In order to find the right pair of cycling socks for you, there are 6 key features you must take into account:
Thermal insulation
Breathability
Moisture absorption
Compression
Comfort
Personal preferences
In this cycling socks shopping guide, we'll take a look at all of them:
Thermal insulation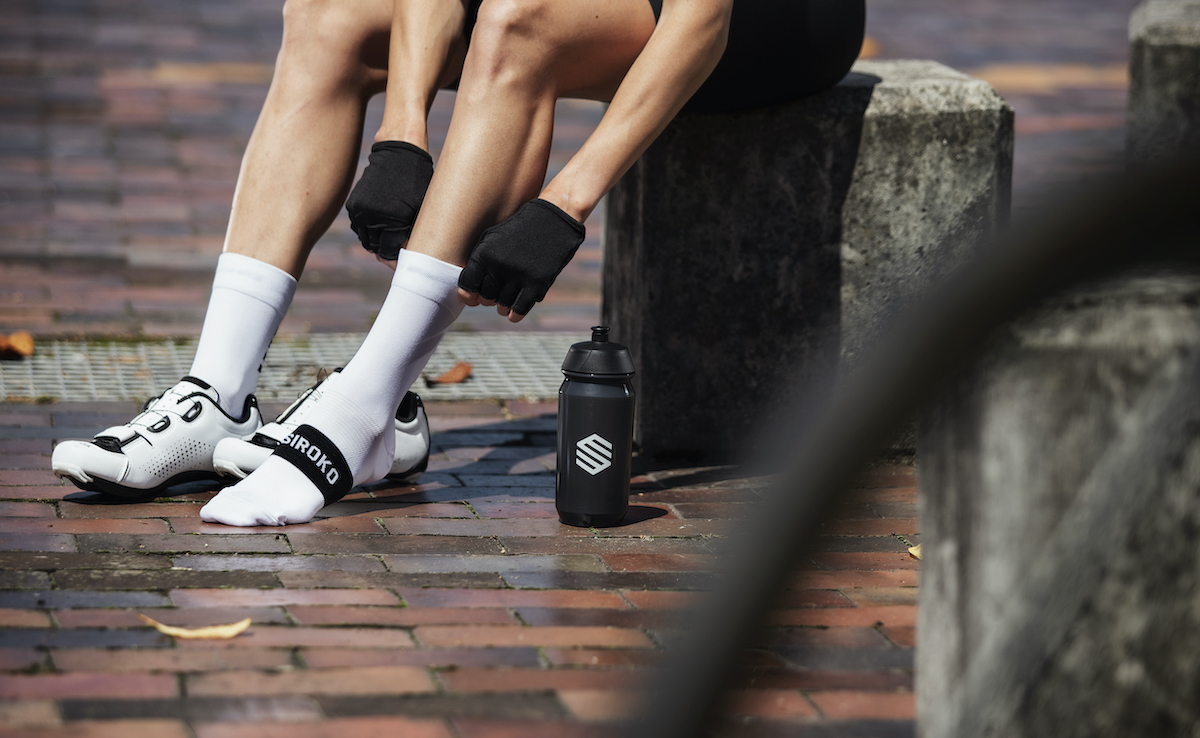 Most manufacturers offer mainly two types of socks: either for hot or cold temperatures.
You don't need thermal insulation for hot weather and so, thin and light socks made of breathable fabrics are used to provide comfort and keep your feet dry. There's a great variety of sock types within this category, ranging from ultra thin and lightweight for extremely hot temperatures, to more basic and regular styles that you can use in winter with overshoes or toe covers.
You do need thermal insulation for cold weather. Merino wool is the perfect material due to its insulating and thermoregulating properties. You can also find either thinner and lighter or thicker and heavier options among this type of socks.
There are also two types of socks designed for specific training requirements and weather conditions:
Water-resistant. They can be made using a fabric with a water-repellent coating and/or a water-resistant mid layer.
Aerodynamic. These are just like any pair of summer socks around the foot area, but from the ankle upwards they are made of elastane so that they fit like a second skin. They also feature openings in the fabric to favor airflow and reduce resistance.
Material
In order to achieve thermal insulation, breathability and moisture absorption, as well as compression and comfort, manufacturers use a combination of natural and synthetic fabrics. The most commonly used ones are:
Merino wool

Natural.
Soft. Not itchy.
Light. There are different weights that can make the socks heavier and thicker.
Thermal insulation. The reason why this fabric is mainly used for winter socks.
Thermoregulating properties.
It absorbs moisture very well and is highly breathable to keep your feet dry even in summer.
Antibacterial. Prevents unpleasant odors.

Polyester

Synthetic.
Resistant and durable. Keeps its shape.
Moisture- (water) and stain-resistant.
Poor breathability. Instead of wicking sweat away it stops it from getting out.
If not washed regularly, it might become a breeding ground for bacteria, fungi and unpleasant odors.

Nylon

Synthetic.
Elasticity, resistance and lightness.
Reduced breathability as it does not absorb much moisture.
It offers a certain level of protection against the wind.

Elastane (lycra or spandex)

Synthetic.
Elastic, resistant, breathable and light.
Keeps its shape.
Poor thermal protection.

Polypropylene

Synthetic.
Elastic, resistant, breathable and soft.
Moisture- (water) and stain-resistant.
When choosing the right pair of socks it is quite important to pay attention to the weight-heat ratio. Broadly speaking, the more weight, the more protection and thickness. In winter socks, the amount of merino wool is usually reduced and combined with other fibers to achieve a thinner and lighter sock, while maintaining most of the insulating properties.
Design and construction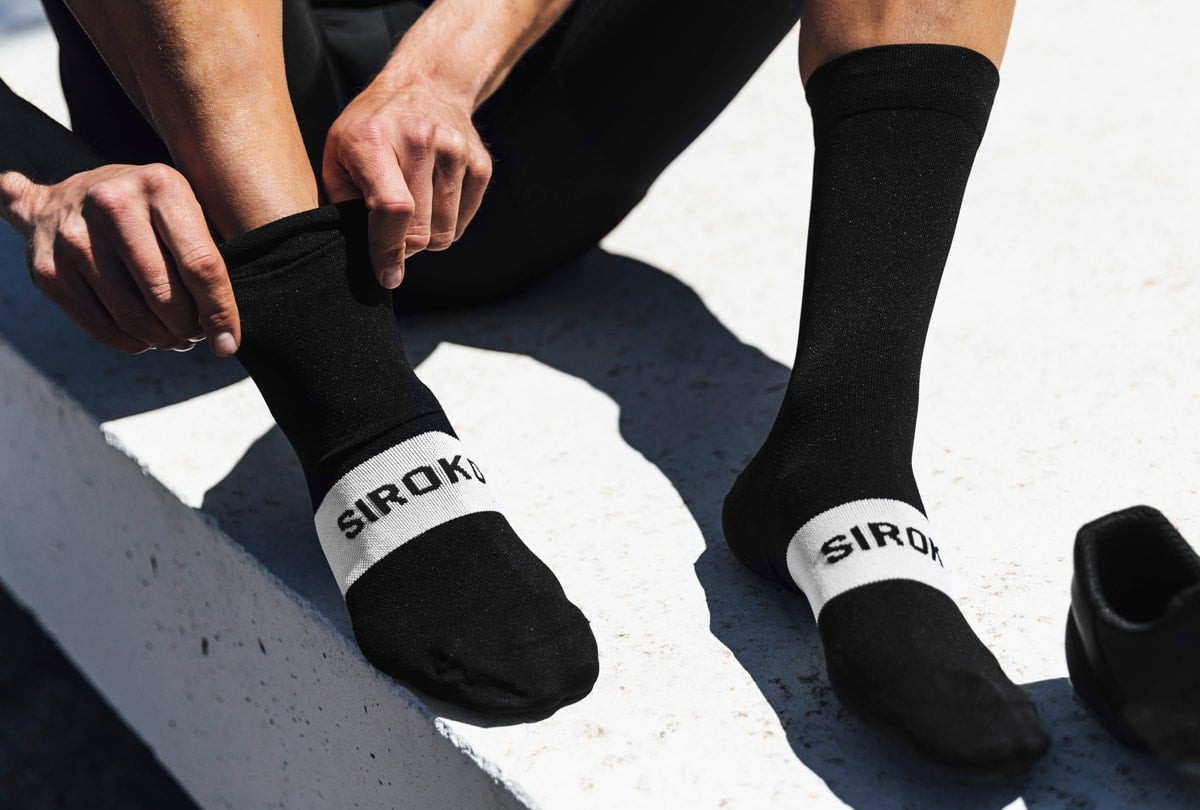 Apart from the materials used to make the sock, its design and construction affect the levels of compression and comfort. These are some key points to take into account:
No seams around the toes to avoid chafing.
Elastic arch band around the foot to keep the socks in place and prevent them from bunching up at the toe of the shoe.
Firm and elastic cuff so that the sock does not move.
Reinforced toe area with a thicker fabric or an insulating material to protect the foot from the cold and the wind, and also to avoid holes caused by our nails rubbing against the shoe.
Padding on the sole or the area where we exert most pressure when pedaling. A solution not to everyone's liking. Some cyclists prefer their socks with a bit of padding for extra comfort, while others don't want anything at all for a better contact between the shoe and the foot.
Less fabric on the heel area. There should always be enough fabric around the heel to protect your feet from friction, but have you ever felt your heels cold? You haven't, right? That's why some models (especially winter ones) use thinner fabric around the heels so that you can use the same shoes all year long.
Extra protection on the shins. Some models have a higher leg that feature windproof fabrics that offer extra protection under the bib tights or under your everyday clothes when you ride to work.
Sock thickness and size of your cycling shoes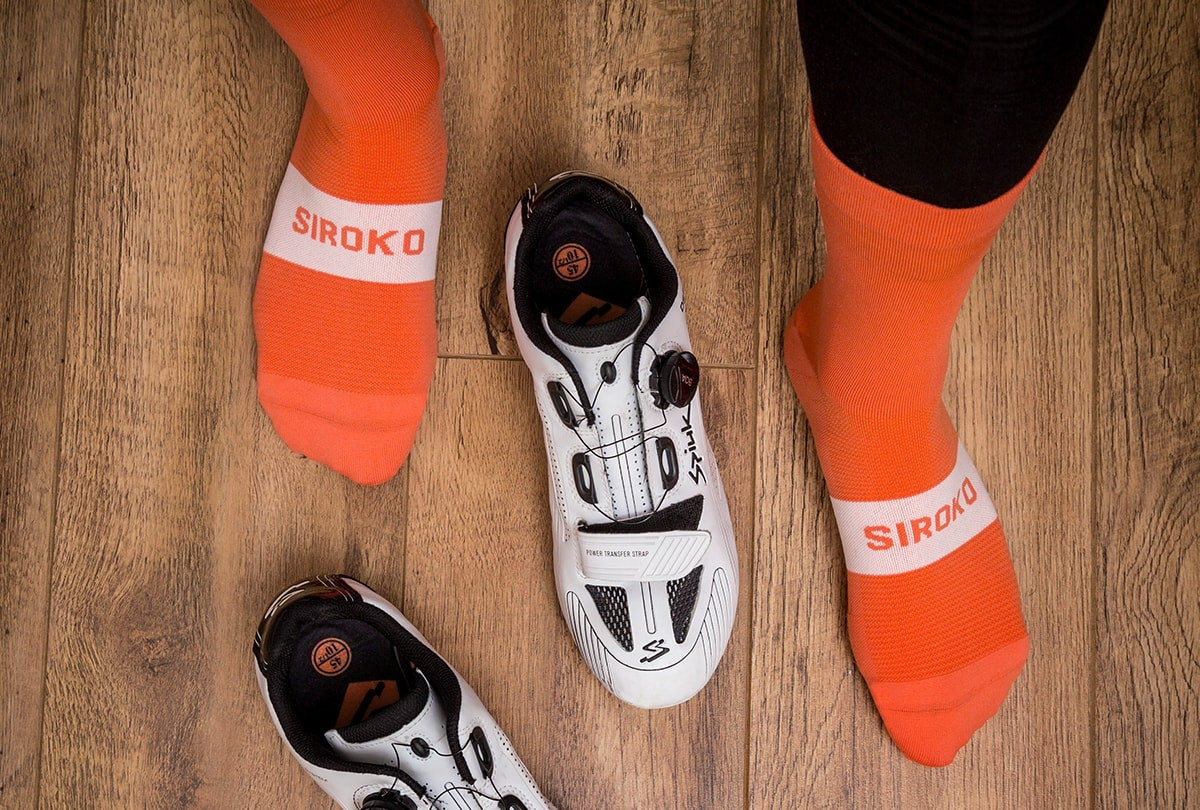 If you usually wear thick winter socks, be careful when looking for cycling shoes in the summer, as you risk getting shoes that are too tight if you try them on wearing thin, summer socks. As a consequence, when you put them on in the winter with thicker socks they won't fit you at all or – best case scenario – they won't be very comfortable.
If they don't fit at all, you'll have to wear thinner winter socks or get yourself half a size up in shoes.
If they do fit, but they feel too tight, you might end up feeling cold for two reasons: One, blood should be able to get to your feet to keep them warm, and two, if the sock is wrapped too tightly around the foot, the amount of warm air that serves as a barrier against the cold is reduced.
If you use the same shoes both in the summer and winter, make sure you take into account all these tips when purchasing a pair or when trying them on with summer or winter socks, especially if the latter are very thick.
Sock height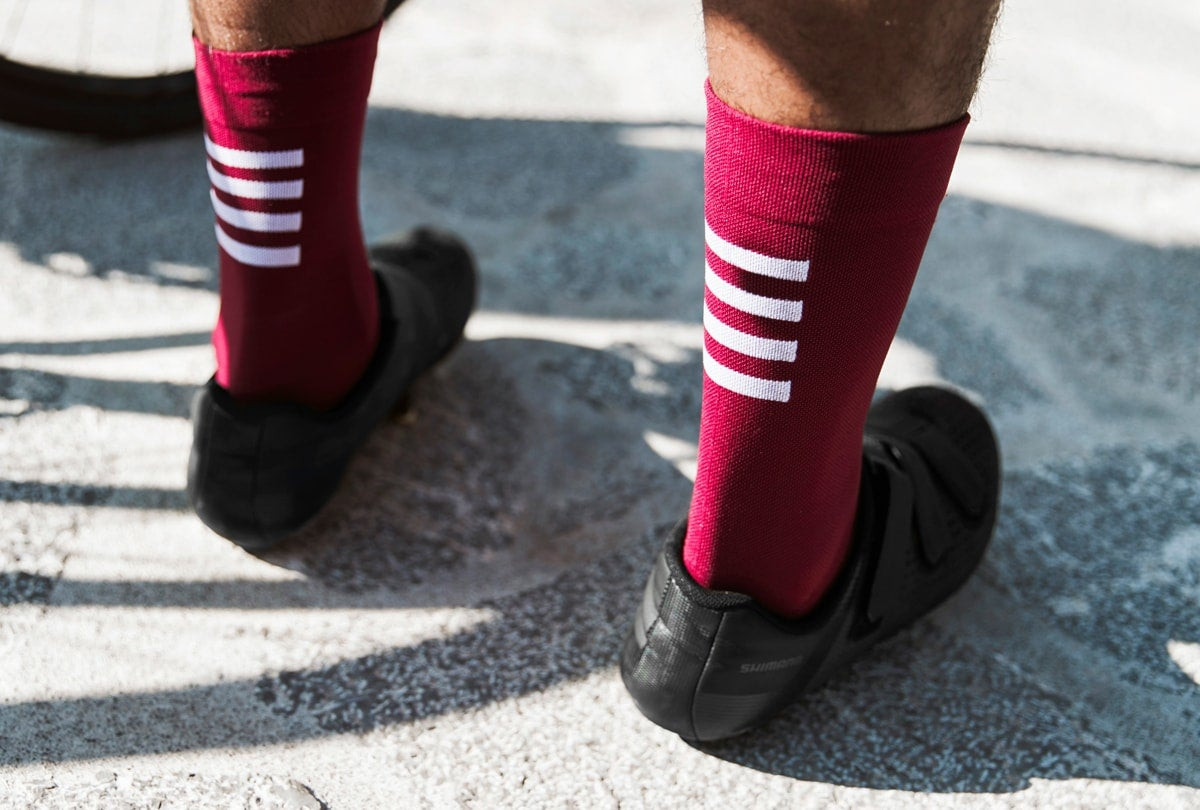 Sock height is measured from the heel to the top of the cuff. Use a ruler or a measuring tape to find out how high the sock will go on your leg:
Ankle socks. Below the ankle.
Low-calf socks. Above the ankle. Around 5.5″ or 14 cm.
Mid-calf socks. Around 7" or 18 cm.
Long-calf socks. Around 9" or 23 cm.
High long-calf socks. Covering most of the calf. Around 12″ or 30 cm.
Knee-high socks. These are usually compression socks, used right after a ride to improve recovery. It is uncommon to wear them while on the saddle but thermal knee-high socks can serve as an extra layer under the bib tights, so that your legs are warm below the knees.
Sock height is a choice that comes from either personal preference or fashion trends. Up until quite recently, most cyclists used low-calf socks. Later on, mid-calf socks became the standard, and now most riders go for long-calf socks. We have already talked about sock height in a previous blog post on written and unwritten rules of wearing cycling socks.
Colors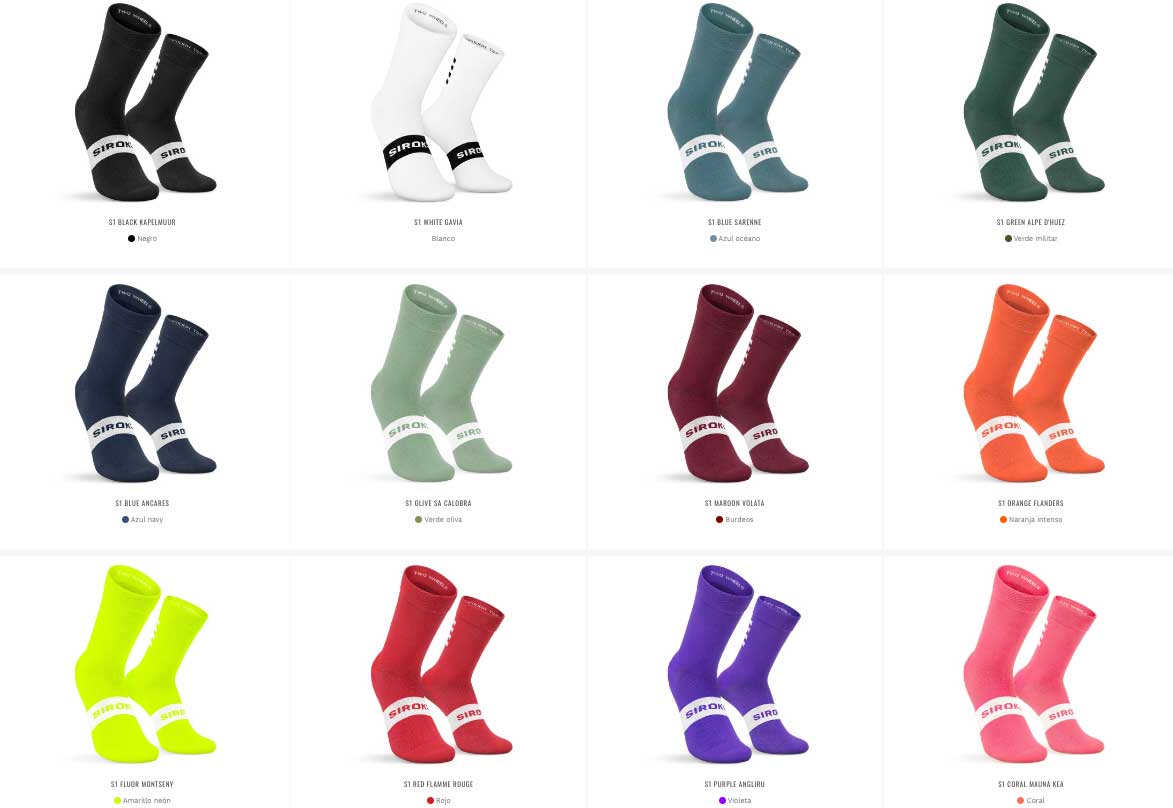 If sock height was all about tastes and preferences, colors and patterns are even more so. We can distinguish three main types:
Monochromatic. Black and white are a classic and the most common ones, but now you can find a great variety of shades available. They can feature different shapes, include a logo or be completely plain.
Different colors and simple patterns (logos, stripes, letters). If well combined with your bike and your cycling equipment they can be very visually appealing.
Patterned. These are the most daring and modern styles. There are several to choose from and you can even customize them to your taste. Combining them with the rest of your outfit might be a bit tricky but if you like bold styles, the socks are comfortable, and they bring some extra meaning to your life, then by all means, go ahead. Dress for comfort, for yourself; don't care what people say. There are also several studies that prove that what we wear has an impact on the way we think and how we act, so never undermine the positive effect that a pair of patterned socks can have on your workout. #socksdoping :))