Black Friday is here, so how about we talk a little bit about the origins of this day? Many avid shoppers probably have no idea where all this hullabaloo of deals, sales frenzy and endless promos come from. Let's look a little closer at Franklin D. Roosevelt and what he has to do with all this hype. Trust us, you'll be surprised by Black Friday's real story and the characters involved in its origins.
Now, let's go back in time all the way to the 19th century. You may think that Black Friday has its origins in the post-Thanksgiving sales aimed at clearing stocks before Christmas. However, the first use of the term has a darker (or brighter, depending on how you look at it) provenance, related to gold speculation and the financial crisis that broke out on Friday, September 24, 1869 in the USA. Yes, you read it right: 1869. Not exactly the time you'd expect to see your grandmother waiting in line in front of a Walmart.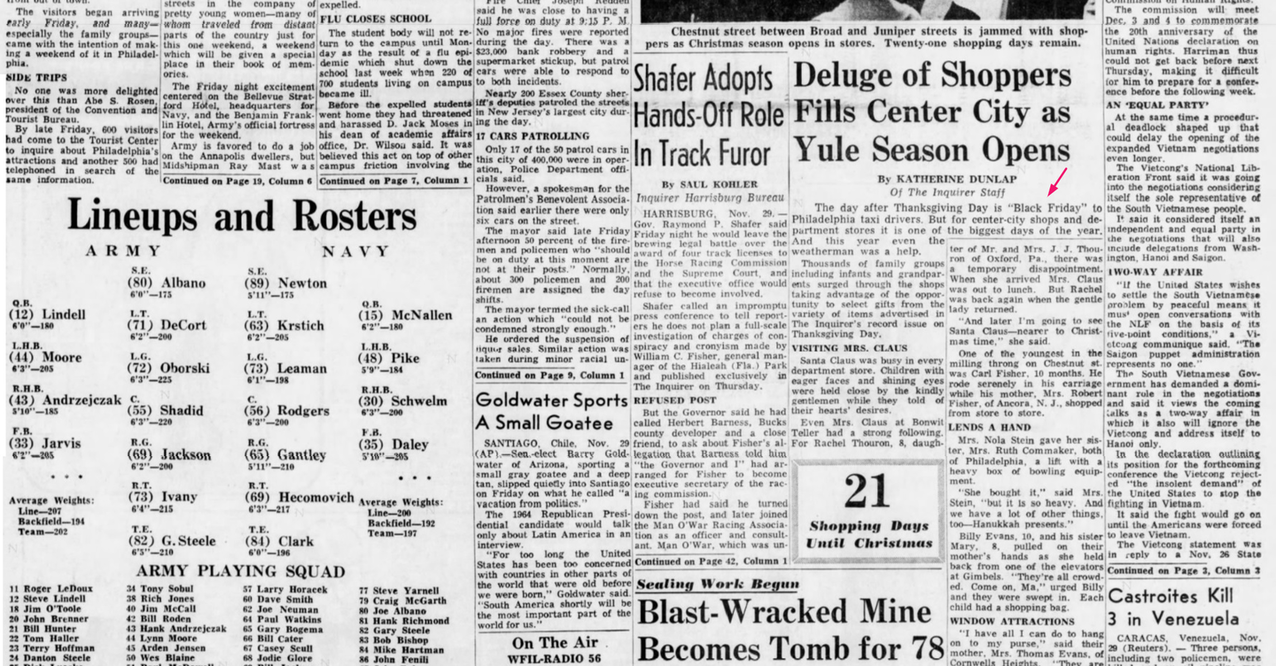 Another use of the term "Black Friday" was coined by Philadelphia and Rochester police in the 1960s to describe the car and pedestrian chaos that occurred the day after Thanksgiving due to the first day of Christmas holiday shopping and the Army-Navy football game. I'm sure the cops back then couldn't have imagined what came next. What would they have called these crazy customers pushing and shoving in lines, ready to fight for a 10% off on a TV set? Mad Friday?
The habit of starting the intense shopping period on these specific dates goes back to the early 20th century and the department stores like Eaton's or Macy's sponsoring the Santa Claus parade on Thanksgiving Day. Christmas was just around the corner and they were telling Santa where he could send his elves shopping.

Between parades and chaos in the shopping areas, the term began to catch on. It was here to stay. Not only among the police but, above all, in the media and among retailers. Moreover, the term made perfect sense for many people as these were the days when their numbers would go from red to black. The annual revenue figures were starting to add up.
Speaking of figures, let's take a look at some recent ones. In 2022, Black Friday broke its own record in the USA. Shoppers spent 9.12 billion dollars, according to Adobe Analytics. All that without queues, jostling and pitched battles. In 2022 only 32% of people surveyed in the USA were going to shop in person. That's 9% less than in 2021. The COVID-19 pandemic accelerated the shift towards online shopping that had been underway since 2003/2004. This trend gave rise to Cyber Monday in 2005, which became more successful than Black Friday itself, with $11.3 billion spent in the USA in 2022 on this huge online shopping holiday. Endless lines and people camping out in front of malls to catch the best deals are becoming a thing of the past.
So are the scenes of people running and fighting outside and inside stores during sales. Take this guy in Vancouver who suddenly felt like Indiana Jones and used his belt as a whip at the entrance of an Adidas store. Judging by the way it was portrayed in the press, this phenomenon was slowly becoming yet another holiday tradition. Hey, Black Friday is here with fights, people getting arrested, taser guns… Happy Holidays, America!

And here we are, in an era where Black Friday has ironically become its online version that extends way before and after Thanksgiving. With so much information and deals at our fingertips, it's easy to forget where it all came from. Now, some would say it's just a day of shopping and good deals. But for others, it represents a cultural phenomenon, a reflection of our society and how consumerism has shaped our traditions and holidays.
Remember what time of year you're in and what it meant not so long ago. Value what you saved up but also what you already have. And don't forget to share a smile and be thankful for those who, at Siroko just like any other brand, make this day/week/month possible. Think about the product design and marketing staff that have been working for months to fulfill your wishes, the person who leaves the package at your door or the person who attends you in a store, and all those elves who take part in the manufacturing process as well as those in Siroko warehouses that make sure you receive what you have ordered in time and in the right way.