What are bib shorts? Are they necessary for riding a bike? Are there any differences between bib shorts for women and bib shorts for men? Can a woman use men's bib shorts? By answering the most basic questions, beginner cyclists, regardless of their sex, will get all their doubts cleared out. And by answering more specific and technical questions on bib shorts for women, we will help female cyclists choose a good pair of bib shorts.
What are bib shorts?
As we have already explained in our guide on how to choose the best cycling bib shorts, they are an essential garment in cycling that consist of three main elements: chamois, suspenders and fabric, most commonly lycra. Their main function is to guarantee comfort, a good fit and breathability while on the bike.
What is a chamois?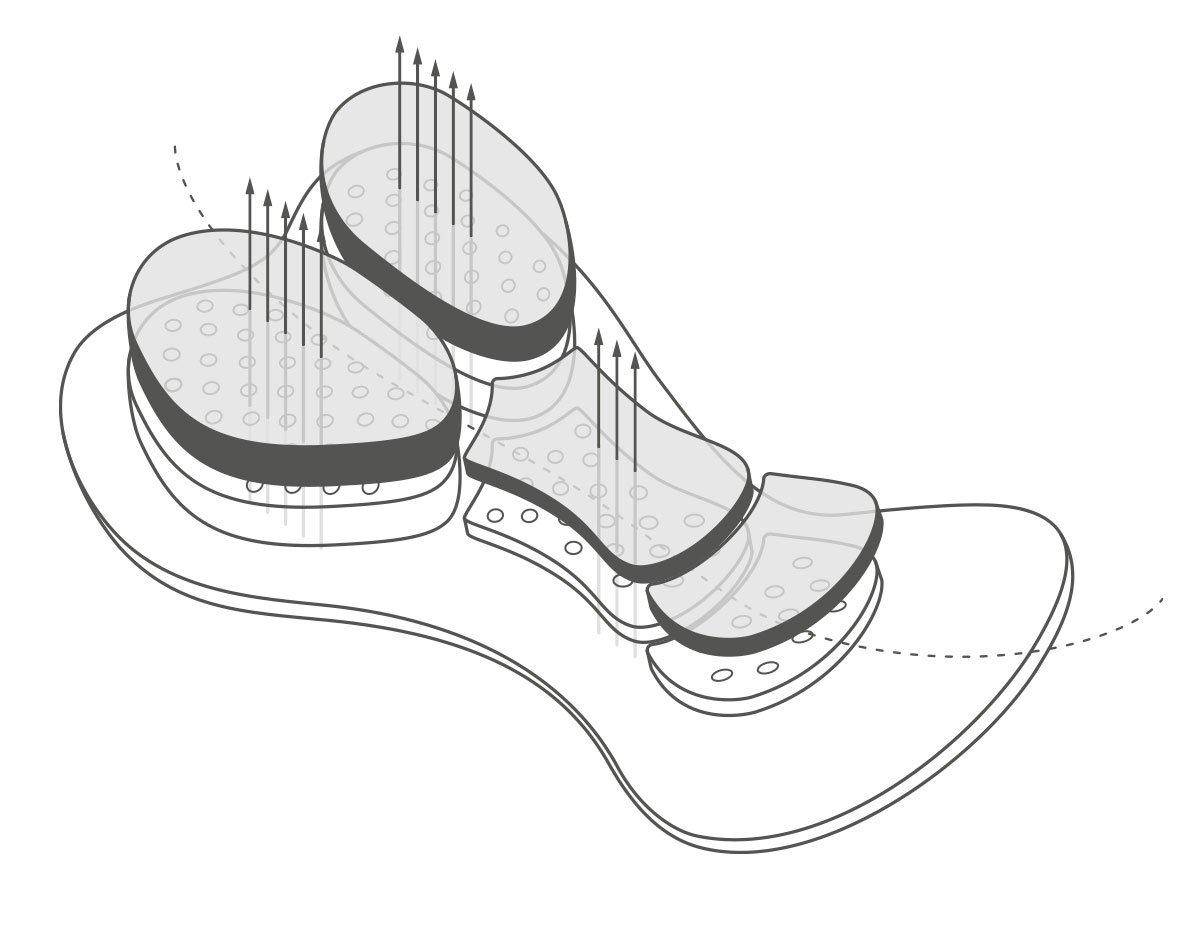 A chamois is the padding in the crotch area. The purpose of the chamois is to absorb part of the pressure of our own bodyweight from sitting on the saddle, to dampen vibrations and any impacts on the road, and to reduce chafing from pedaling.
Is it necessary to wear bib shorts to ride a bike?
No, it's not. The only thing you need to take up cycling is a decent bike and willingness to start pedaling. You don't need bib shorts to ride around the city. If you use the bike once in a while and go on shorter rides (lasting less than one hour), wearing bib shorts will help you feel more comfortable, but a good saddle is more than enough. However, in any other circumstances, bib shorts will make your rides more enjoyable. Plus, they are essential for mid- and long-distance rides.
What are the differences between bib shorts for women and bib shorts for men?
Both the chamois and the suspenders, as well as the size and cut, are different. Let's take a look at these differences in more detail:
The chamois in bib shorts for women is a little wider, as women's sit bones are wider apart than men's. Plus, the chamois in women's bib shorts doesn't have a central channel, it is also shorter and features a thicker and longer padding area in order to protect the female private parts.
The suspenders are designed to comfortably fit the shape of the female chest. There are several options to choose from: extra curvature to avoid pressure on the breasts, cross-shaped suspenders, just one single suspender at the front or, as you can see in Siroko's cycling bib shorts for women, suspenders with straps extending slightly outward to avoid going right over the breast.
The cut is narrower around the waist and wider around the hips. The inner leg is usually shorter, but varies depending on the model.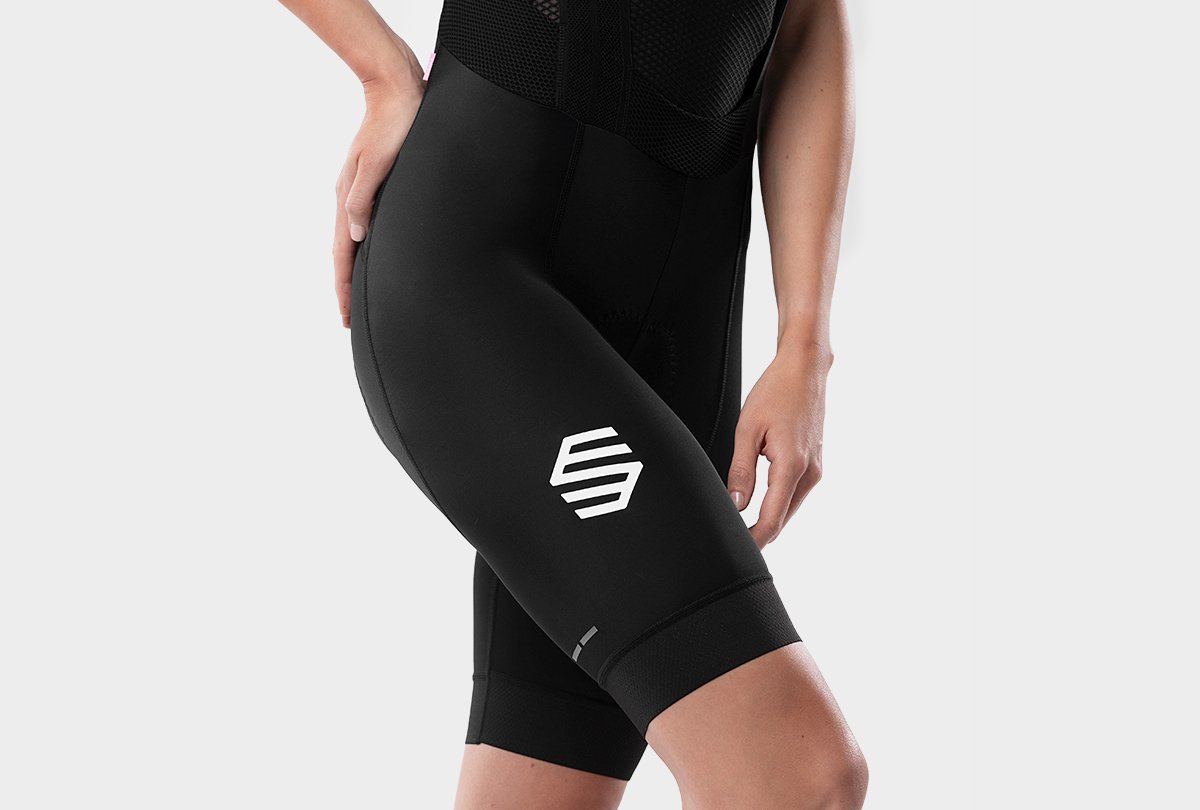 Women's sizes are smaller than men's. Regardless of your sex, it is always key to take your own body measurements and check the size chart, as they are not universal and each brand has their own measurements.
TIP: Cycling clothes must be tight-fitting. If you are between two different sizes, choose the smaller one, as the fabric is elastic and will adapt to your body. You shouldn't feel that the garment is too tight because then you'll be uncomfortable, especially on mid- and long-distance rides. Your bib shorts can't be too loose either, as the chamois won't stay in place, causing chafing and discomfort.
Can women wear bib shorts for men?
Sure, as long as the size is right, and the chamois, the cut and the suspenders feel comfortable.
Can men wear bib shorts for women?
If as a man you want to try a pair of women's bib shorts and you feel comfortable in them then go for it. There are male cyclists who, in order to avoid tan lines, use bib shorts with shorter inner leg length, such as women's styles.
How do I pee when I'm wearing bib shorts?
It is always easier for men because this garment is very elastic, so they simply pull down the front part and pee. Women, on the other hand, have to take off the jersey first. We are used to this extra level of difficulty, but some brands have designed special zippers and suspenders that let women urinate without taking the jersey off.
Using underwear or going commando?
You should never wear anything underneath your bib shorts. Wearing underwear is one of the most common mistakes in cycling. Placing another layer in between your skin and your bib shorts will cause chafing, injuries or tearing. It will also feed a breeding ground of bacteria, as underwear does not have enough breathability compared to the chamois or lycra, and causes heat and humidity to build up.
Which pair of bib shorts should I choose? Expensive or cheap? Basic, regular or premium quality?
This depends on your budget and what you're going to use the bib shorts for. The longer you spend riding your bike, the better your bib shorts need to be.
If you're a beginner riding short distances, you'll be comfortable using basic quality bib shorts like Siroko's Brabant.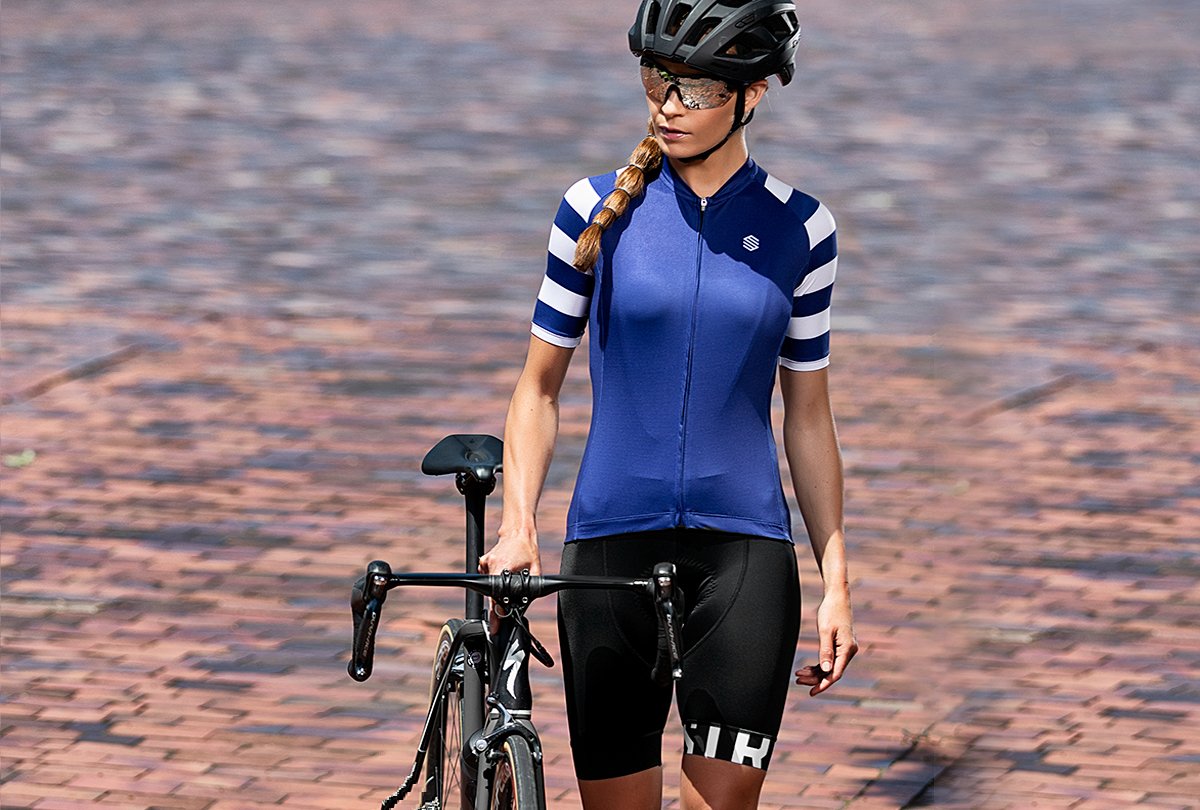 This model features:
Strato chamois for women that allows you to go on three-hour rides without any discomfort.

Suspenders exclusively designed to adapt to the female body shape.

Multipanel cut plus high-compression polyester and elastane fabric.

A wide elastic band on the legs with inner gripper.

UPF 50 protection against ultraviolet radiation.

Reflective detailing for security (330 CD/LUX).
Being a beginner does not mean you have to settle for basic quality bib shorts. There are more expensive models, such as Time Trial or Jungle, that offer better performance and are more versatile.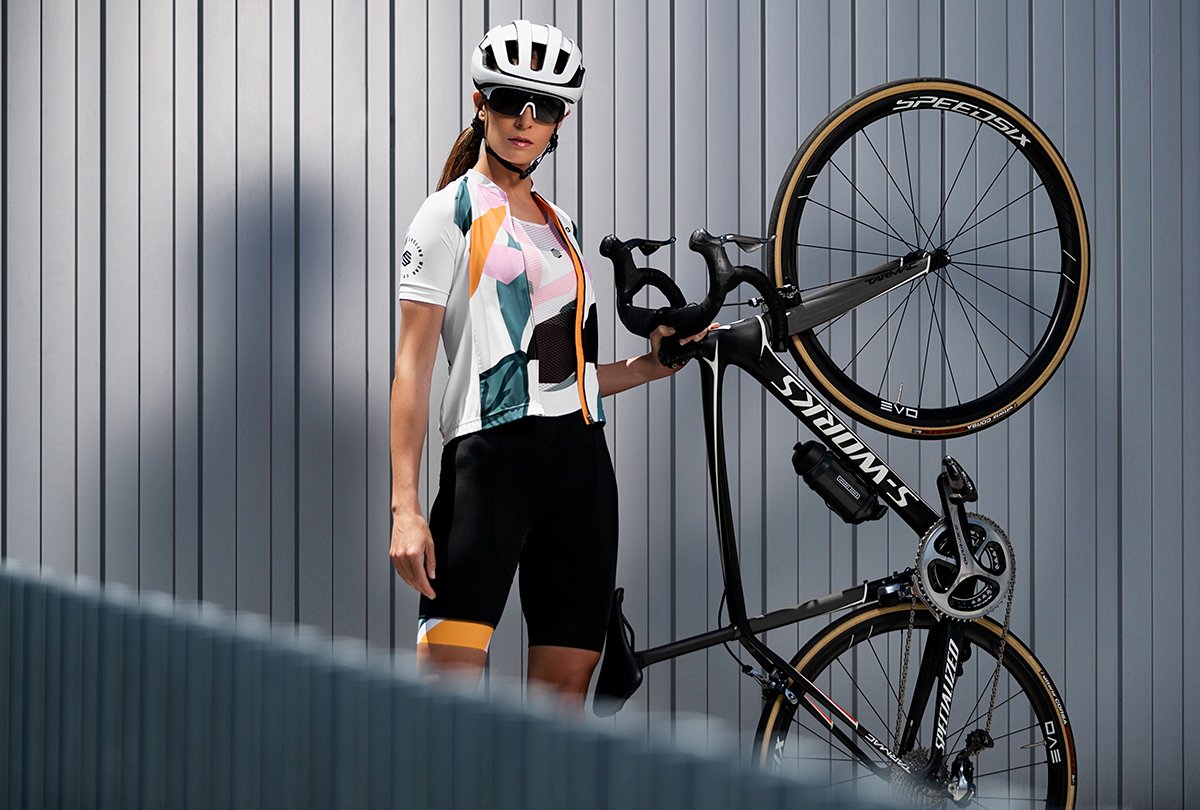 Such mid-range bib shorts feature:
Strato+ chamois, ideal for eight- to ten-hour routes and competitions.

Polyester, elastane and nylon Ultrafit fabric.
Price is always key in choosing your bib shorts, and premium quality bib shorts are more expensive. Siroko's SRX Pro Aero Race are premium cycling bib shorts for women that offer:
Strato++ chamois with Elastic Interface® technology, double density and bacteriostatic fabric. Suitable for ten- to twelve-hour routes and competitions.

Ultralight suspenders specifically designed for women. Made of nylon and elastane.

High-compression fabric with

Italian MITI panels and Racefit cut.

Powerlength elastic bands with extra silicon gripper.

UPF 50 protection against ultraviolet radiation.

Reflective detailing for security (450 CD/LUX).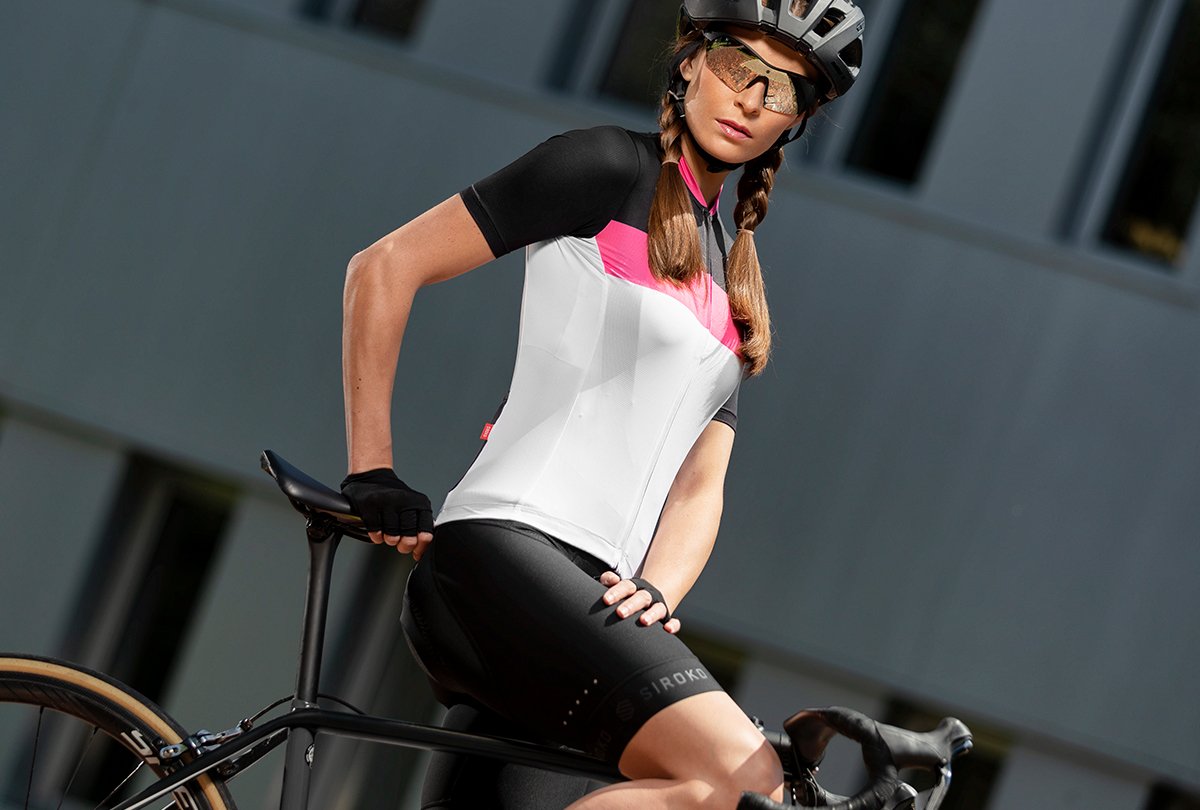 Once you've decided which model you want, make sure you choose the right size for you, don't use underwear, and find a saddle designed for women, because no matter how good your bib shorts are, if the saddle is not comfortable, you'll end up suffering. Imagine getting very expensive and comfortable pajamas, but having an old, ill-fitting mattress. You wouldn't sleep well despite your comfy pajamas, right? Well, the same goes for bib shorts and the saddle. They have such an intimate relationship that in order to enjoy cycling to the fullest, you need the right saddle and the right pair of bib shorts.