X-MAS DEALS - LIMITED STOCK
Product added to cart
BX Envalira
Heren lange fietsbroek
CHRISTMAS -50%
Bespaar vandaag $111
Bespaar vandaag $111
Bespaar vandaag $111
Bespaar vandaag $111
Bespaar vandaag $111
Bespaar vandaag $111
Ontvang je bestelling tussen woensdag 13 en donderdag 14 december

Nu op voorraad

Nu op voorraad

Nu op voorraad

Nu op voorraad

Nu op voorraad

Nu op voorraad
Thermoregulerende stof
Winddichte stof op dijen, scheenbenen en onderrug
Multipaneel model van polyamide, elastaan en polyester
Lumbaal steunpaneel
Strato+ zeem gemaakt met Belgische Recticel
Extra lichtgevende reflecterende details (330 CD/LUX)
Elastisch enkelmanchet
UPF 50
Bretels:
80% Polyester / 20% Elastan
82% Nylon / 18% Elastan
Broek:
77% Nylon / 23% Elastan
90% Polyester / 10% Elastan
85% Nylon / 15% Elastan
Herbeleef de meest epische hellingen van La Vuelta. De BX Envalira lange fietsbroek is ontworpen om de beste prestaties te leveren voor fietsers op hoog niveau. De Strato+ zeem is gemaakt van Belgisch Recticel-materiaal dat rekent op verschillende dichtheden om maximaal comfort te bieden. Ideaal voor routes van acht tot tien uur en wedstrijden.
Deze stijl werd speciaal ontworpen met geavanceerde materialen met hoge compressie voor een uitstekende pasvorm. Het bevat ook ultra-lichte bretels. De stof, gemaakt van polyester, nylon en elastaan, heeft een geborstelde binnenkant voor een uitstekend gevoel van zachtheid en comfort, en een buitengewone thermische isolatie. Winddichte panelen op de schenen, dijen en onderrug maken de fietsbroek tot een echt schild tegen wind en vocht.
De UPF 50 rating beschermt je huid tegen ultraviolette straling. Reflecterende details zorgen voor een goede zichtbaarheid en veiligheid op de weg. Wat is jouw ultieme terrein?
Handwas koud
Niet bleken.
Net strijken.
Niet chemisch reinigen.
Niet in de droger.
Als sommige stoffen tegen ritssluitingen, klittenband, rugzakken of andere accessoires schuren kunnen ze tijdens het gebruik of het wassen gaan pillen, wat niet als een productdefect wordt beschouwd.
Maattabel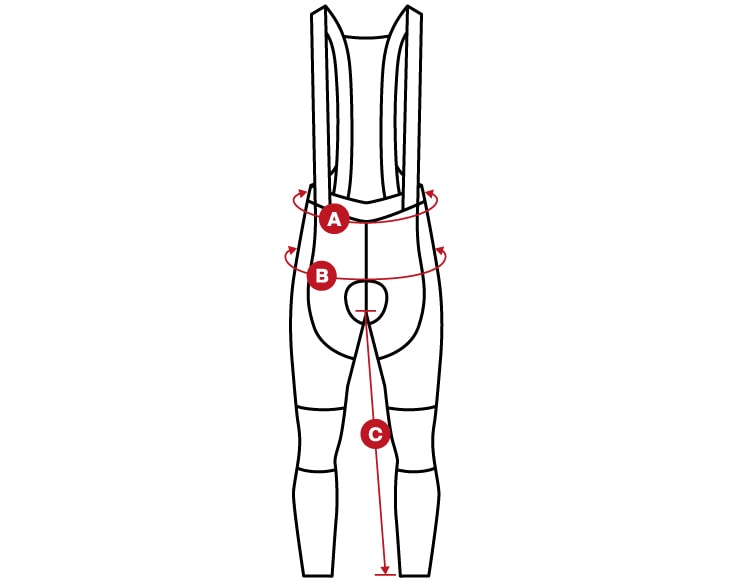 XS
S
M
L
XL
XXL

A

Middel

56
60
64
70
76
82

B

HEUPEN

68
72
76
81
86
91

C

BINNENBEENLENGTE

66
68
70
72
74
76
XS
S
M
L
XL
XXL

A

Middel

22
23,6
25,2
27,5
29,9
32,3

B

HEUPEN

26,8
28,3
29,9
31,9
33,8
35,8

C

BINNENBEENLENGTE

26
26,8
27,5
28,3
29,1
29,9
Thermoregulerende stof
Winddichte stof op dijen, scheenbenen en onderrug
Multipaneel model van polyamide, elastaan en polyester
Lumbaal steunpaneel
Strato+ zeem gemaakt met Belgische Recticel
Extra lichtgevende reflecterende details (330 CD/LUX)
Elastisch enkelmanchet
UPF 50
Bretels:
80% Polyester / 20% Elastan
82% Nylon / 18% Elastan
Broek:
77% Nylon / 23% Elastan
90% Polyester / 10% Elastan
85% Nylon / 15% Elastan
Zorg dat je volledig uitgerust bent
De lange fietsbroek uit de BX-serie van Siroko is ontworpen om de perfecte combinatie van comfort en prestaties te bieden aan zowel amateur- als profwielrenners. Het ontwerp is gebaseerd op thermoregulerende en winddichte stoffen en biedt een professioneel en veelzijdig product, dat in staat is de beste prestaties te garanderen tijdens extreme inspanningen en bij lage temperaturen. Een geweldig product dat een evenwicht biedt tussen comfort, kwaliteit en prestaties.
Versla de koude en winderige weersomstandigheden tijdens je volgende fietstocht. Dankzij diepgaande onderzoeken kunnen wij je de ideale combinatie van thermoregulerende stof en winddichte bescherming bieden, zodat jij je kunt concentreren op het leveren van topprestaties zonder afbreuk te doen aan het comfort op het zadel.
Perfect voor uitdagende tochten van acht tot tien uur. De Strato+ zeem biedt een buitengewone veelzijdigheid en comfort. De dikte bevordert een optimale anatomische pasvorm.
Het schuim met dubbele dichtheid beschermt je lichaam door kleine trillingen te verzachten en ongewenste schuring te voorkomen. De samenstelling van de Microsense-stof van hoogwaardig Belgisch Recticel-materiaal, dat zorgt voor een optimaal ademend vermogen en prestaties, is de finishing touch van deze collectie lange fietsbroeken.