NEW SEASON SALE - LAST CALL

Alle maatwisselingen zijn GRATIS

NEW POWER EXPLOSIVE COLLECTION - KIJK NU
Product added to cart
Thermisch fietsvest heren
Bespaar vandaag $48
Bespaar vandaag $48
Bespaar vandaag $48
Bespaar vandaag $48
Bespaar vandaag $48
Bespaar vandaag $48
Ontvang je bestelling tussen woensdag 4 en donderdag 5 oktober

Nu op voorraad

Nu op voorraad

Nu op voorraad

Nu op voorraad

Nu op voorraad

Nu op voorraad
Dubbellaagse stof met ITTTAI® Waterproof Technology
10K WATERDICHT
Ademend vermogen tot 6.000 g/m²/dag
PrimaLoft® Gold Insulation Eco
Rits in twee richtingen
Twee zijzakken op de rug
Reflecterende details op voor- en achterkant
Hoofdstof:
85% Polyamide / 15% Elastan
Het SRX Ultra Warm thermisch fietsvest is ontworpen om betere bescherming te bieden tegen wind, kou en regen dankzij de hoogwaardige stoffen en afwerking. Ontwikkeld met ITTTAI® en PrimaLoft® technologieën voor optimale isolatie.
De dubbellaagse stofstructuur combineert polyamide, elastaan en polyurethaan, voor een professioneel prestatieniveau. De buitenste laag is waterafstotend (DWR-coating) en elastisch voor meer bewegingsvrijheid. De binnenlaag is een waterdicht (10.000 mm waterkolom) en ademend (tot 6.000 g/m²/dag) polyurethaan membraan. Het is voorzien van PrimaLoft® Gold Insulation Eco van 100% gerecycled polyester.
Met twee zijzakken op de rug, een rits in twee richtingen en reflecterende details. Perfect voor uitstapjes in onvoorspelbare weersomstandigheden.
Handwas koud
Niet bleken.
Net strijken.
Niet chemisch reinigen.
Niet in de droger.
Als sommige stoffen tegen ritssluitingen, klittenband, rugzakken of andere accessoires schuren kunnen ze tijdens het gebruik of het wassen gaan pillen, wat niet als een productdefect wordt beschouwd.
Maattabel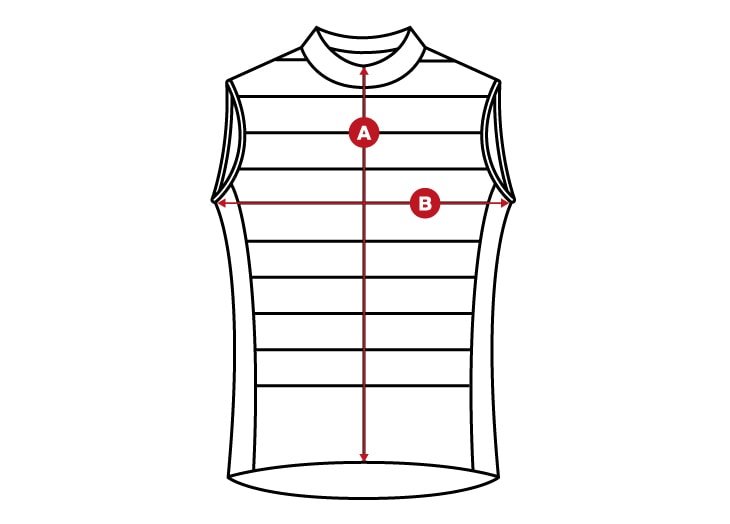 XS
S
M
L
XL
XXL

A

Lengte

45
47
49
51
53
55

B

BORST

45
47,5
50
52,5
55
57,5
XS
S
M
L
XL
XXL

A

Lengte

17,7
18,5
19,3
20,1
20,9
21,7

B

BORST

17,7
18,1
19,7
20,7
21,7
22,6
Dubbellaagse stof met ITTTAI® Waterproof Technology
10K WATERDICHT
Ademend vermogen tot 6.000 g/m²/dag
PrimaLoft® Gold Insulation Eco
Rits in twee richtingen
Twee zijzakken op de rug
Reflecterende details op voor- en achterkant
Hoofdstof:
85% Polyamide / 15% Elastan