It's too cold to wear just a jersey and a thermal base layer, even if it's made of merino wool, but if we put on a winter jacket we immediately get too hot. Although this can happen at any time of the year as the weather in some corners of the world can be very changeable, it is fall and spring that make us hesitate most when choosing the right outfit to avoid getting cold and overheating at the same time.
Long sleeve cycling jerseys might be the answer, but you probably have many questions: Is it worth buying a long sleeve jersey? Which one should I choose out of so many models? What temperature range is each one suitable for? Since the variety of styles on the market is enormous, we're going to explain the different types of long sleeve jerseys, their characteristics and what you should look for in such a garment:
Types of Long Sleeve Jerseys
There are three main types:
Water resistant long sleeve jerseys.
Summer long sleeve jerseys
Same features (fabrics, cut, fit, pockets and reflective detailing) as the short sleeve version. 

Ultra-lightweight.

For temperatures between 10-15 °C combined with merino wool thermal base layer underneath.

For temperatures above 15 °C combined with sleeveless mesh base layer.

For temperatures above 25 °C we need to make sure it is made of the right fabric as the long sleeve itself does not make us feel warm.

Siroko's SRX long sleeve jerseys

can be worn even on the hottest summer days.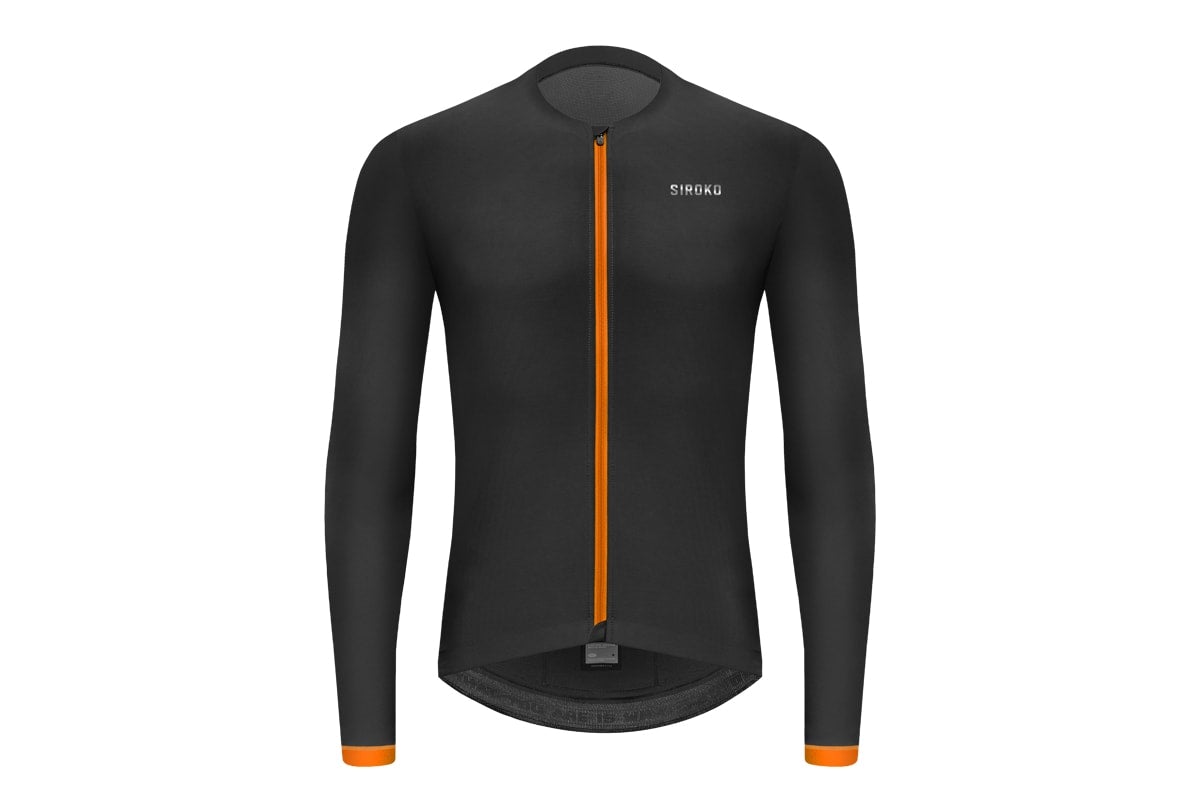 UPF (Ultraviolet Protection Factor) to protect cyclist's arms.

Avoiding the tan lines inevitable in a short sleeve jersey.

For people with very fair or delicate skin, allergy to the sun or to sunscreens.

Protecting wounds, burns or tattoos from the sun.
Long sleeve jerseys with thermal protection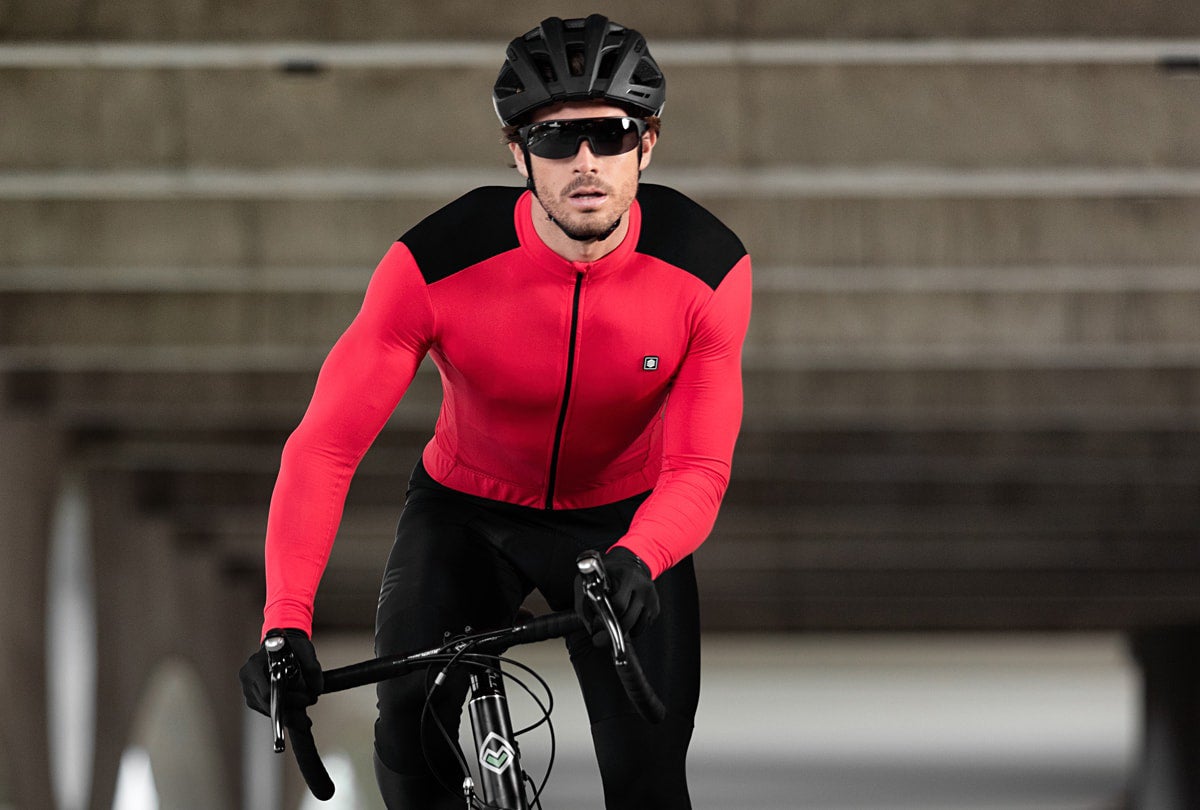 They use technical fabrics offering different degrees of thermal insulation and protection, as well as good breathability in order to evacuate body heat and avoid overheating or retaining moisture inside.

The fabrics can be synthetic (polyester, nylon) or natural (mainly merino wool).

Wide range of models and prices depending on the type of fabric.

For temperatures around 10-15°C choose the most lightweight, compact, versatile models without fleece lining, designed as a protective layer on top of the short sleeve jersey and/or base layer. Perfect for cold mornings or long descents in the high mountains as they are easy to put on, take off and tuck in the pocket. They're also great for cyclists who train hard or tend to get hot.

For temperatures below 10-12°C look for long sleeve jersey models that offer almost as much protection from the cold and wind as a winter jacket. With fleece lining, tight-knitted fabric and high collar.

You can extend the temperature ranges of the two types described above by adding different layers on top (windproof vests, winter jackets…), underneath (different base layers or short sleeve jerseys). You can even combine both garments as sometimes the difference between a lightweight thermal cycling jersey and a summer long sleeve jersey, and a thermal cycling jersey with fleece lining and a winter jacket is minimal.

Reflective detailing is crucial to make sure you are seen by other riders and vehicles at night or in low light conditions.

Other details that are a must in a cycling jersey include: large rear pockets, good zipper, flat seams with the right finish to avoid chafing and tears as well as an anti-slip system to keep the jersey in place.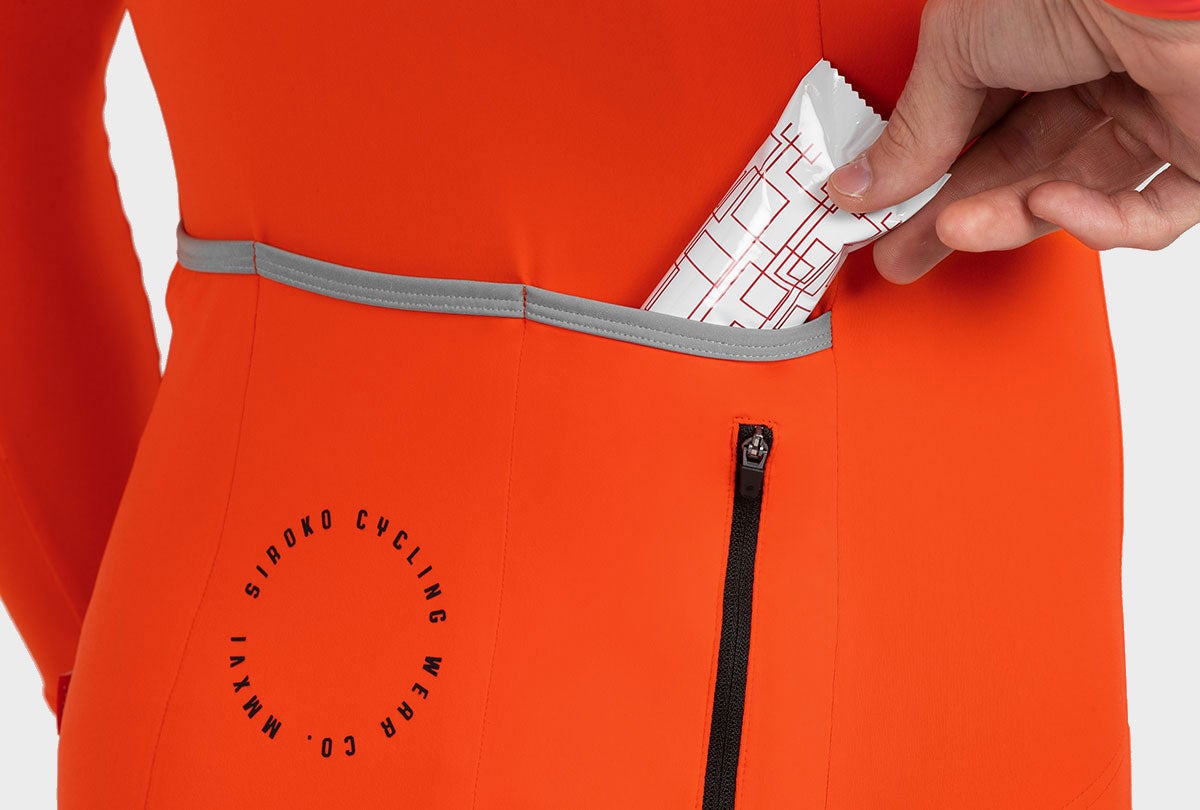 Water resistant long sleeve jerseys
Made of water resistant fabrics or textiles with a hydrophobic coating (water repellent).

Water repellency usually goes hand in hand with thermal protection. You get versatility, but you may lose breathability due to hydrophobic coating.

There are no waterproof long sleeve jerseys. Water resistance has its limitations and the protection level lowers with wear and tear. This is especially true for textiles with a hydrophobic coating. Luckily, there are products on the market that help retreat the fabric and restore its hydrophobic properties.

Water repellent models are usually pretty costly. Take this into account when deciding whether it is worth paying more for a garment that you may never need because it hardly ever rains in your area or because you simply do not like to ride in the rain.
We have already seen the three main types of long sleeve jerseys. We could include a fourth one: MTB-specific jerseys with a different cut than the road cycling models, more relaxed and comfortable, featuring a casual look (which makes them great for other modalities such as cyclotourism) and designed for the requirements of mountain biking. However, within the MTB long sleeve jerseys, you will actually find the three categories we have described above. That being said…
How to choose the right long sleeve jersey?
In order to make the right choice, you must first ask yourself two questions: What type of cyclist are you, and when are you going to use it? Depending on your answers, you shall choose one type or another. It is impossible to address all the possible answers because every cyclist is different, but here are some of them:
If you simply want it to protect you from the sun there is no doubt: go for a summer jersey with UPF 50 protection.

There is no room for hesitation if you need water resistance either, but remember that there are no waterproof long sleeve jerseys.

If you want a garment that is as versatile as possible, look for a model with a medium degree of thermal protection that can be combined with different layers on top and underneath. 

If you sweat a lot and tend to overheat while pedaling, look for a model with good breathability and sweat wicking properties.

If you are looking for the right winter garment, but you tend to get hot or the temperatures in your area do not drop below 10°C, and hence a winter jacket is too much, a long sleeve jersey with thermal insulation and wind protection will suffice.

If you are simply looking for a packable garment that is easy to put on and take off and that will protect you more than a vest on long descents, breaks or cold mornings, choose a lightweight model, with or without fleece lining, depending on your preferences.
Sometimes getting it right at first try is tricky but we hope this guide will help you find the long sleeve jersey that best suits your tastes and needs.