If you want to keep cycling when the cold, bad weather hits, there's one item of cycling apparel that you just can't do without: a pair of winter bib tights. They are most commonly used during the coldest seasons, but depending on where you live and how cold-sensitive you are, you'll probably make great use of them throughout most of the fall and early spring.
If you have never used a pair of bib tights, you probably have a lot of questions. Don't worry, in this post we will try to answer the most common ones. Let's get started!
What are winter bib tights?
It is a garment made of soft and warm fabric that, in addition to comfort, provides thermal insulation and protection against the cold and wind from the waist down to the ankles.
What kinds of bib tights are there?
Depending on whether or not they feature a chamois and suspenders:
Bib tights with both chamois and suspenders.

The most common type.

Bib tights with suspenders but without chamois. They are usually used on top of bib shorts with chamois.

Cycling tights with chamois but without suspenders. They are not very common in cycling.
Depending on the level of thermal insulation provided by the fabric:
For fall or spring. Protection between 15 and 10 °C.

For winter. Between 10 and 0 ºC.

For extreme cold. Recommended for temperatures below 0 ºC.
It is better to take the temperature ranges as a reference when shopping for bib tights as the seasons of the year are merely illustrative. Fall weather in Helsinki (Finland) is obviously way colder than in Barcelona (Spain). 
Naturally, there are also women's models with specific design, suspenders and chamois.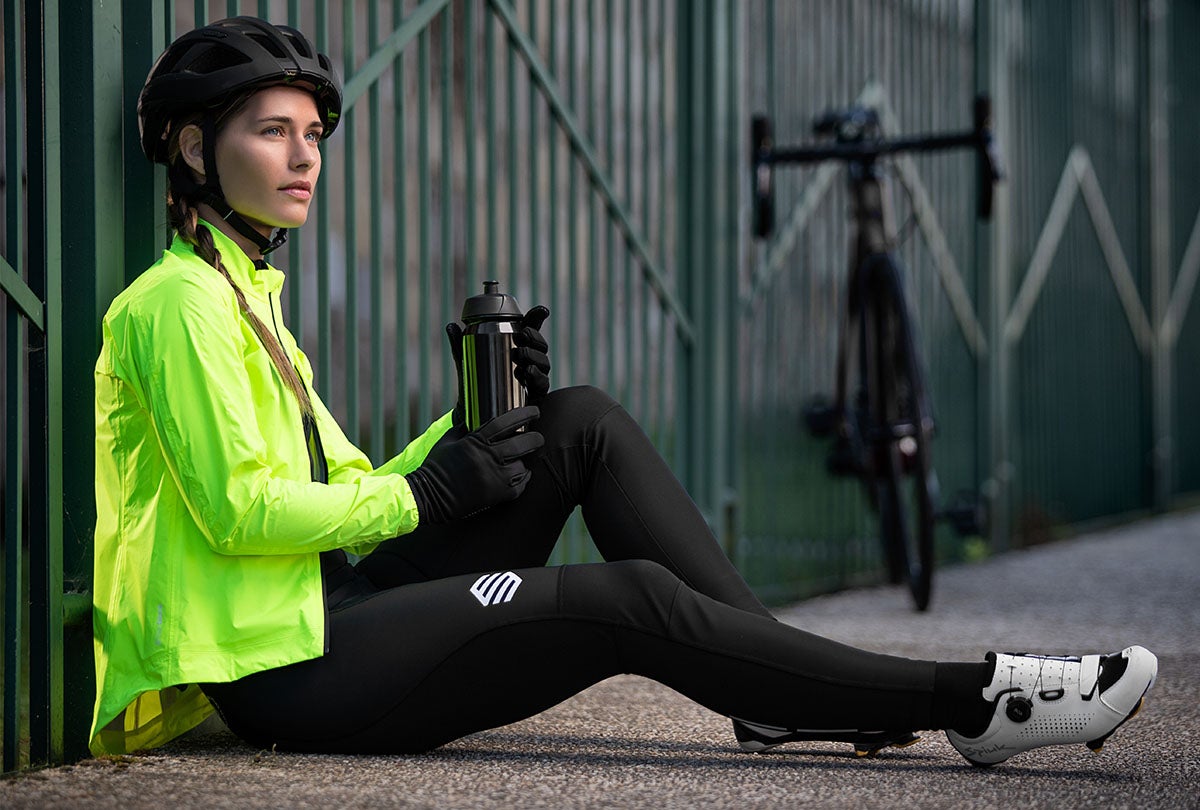 Cycling tights with or without suspenders?
Always with suspenders unless, for some reason, you cannot use them. The suspenders offer a better fit and support, preventing the chamois from falling down or moving.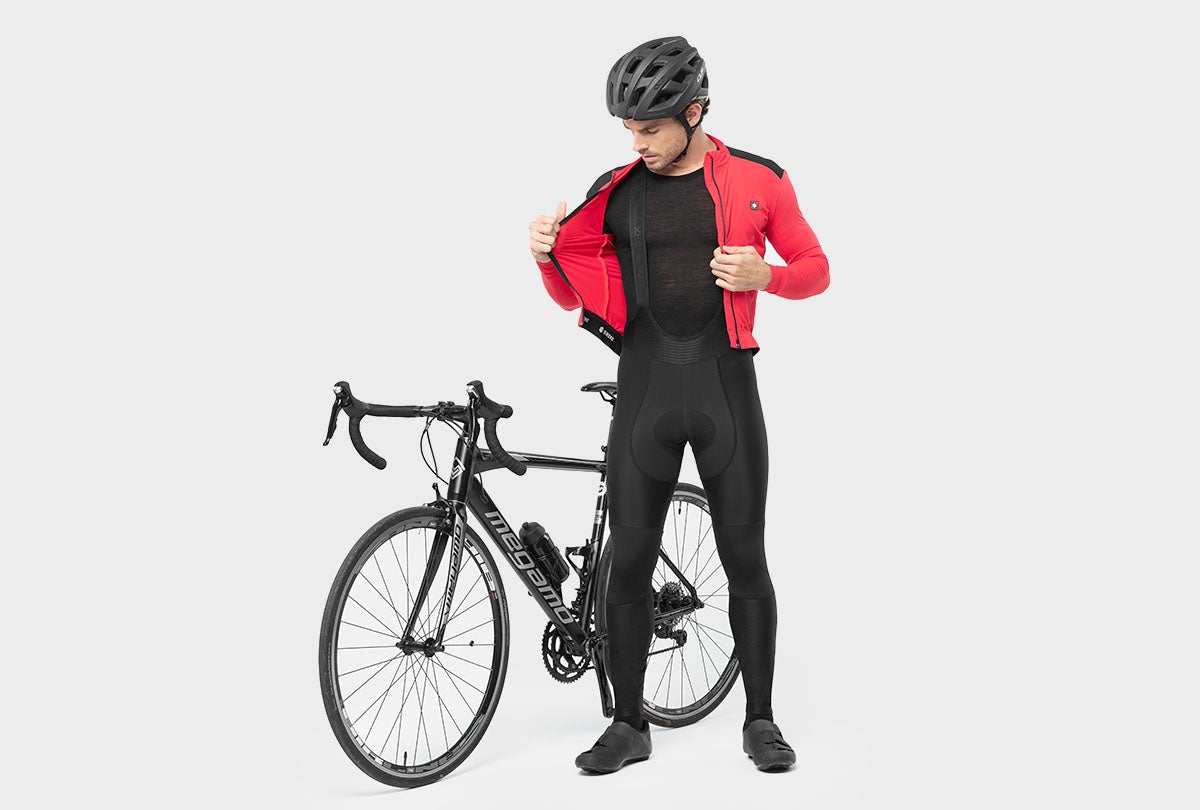 Cycling tights without suspenders need an elastic band and/or drawstrings around the waist so that the garment does not fall down while you're cycling. Such a fastening or extra-support element is usually very tight and quite uncomfortable. 
The suspenders also provide extra insulation to keep the entire core warm. 
Bib tights with or without chamois?
Bib tights with chamois are more comfortable, simpler and more practical but it is a very personal decision. There are cyclists who wear bib tights without chamois over bib shorts with chamois because this way they can simply put them on and take them off whenever they want. It's all a matter of personal choice.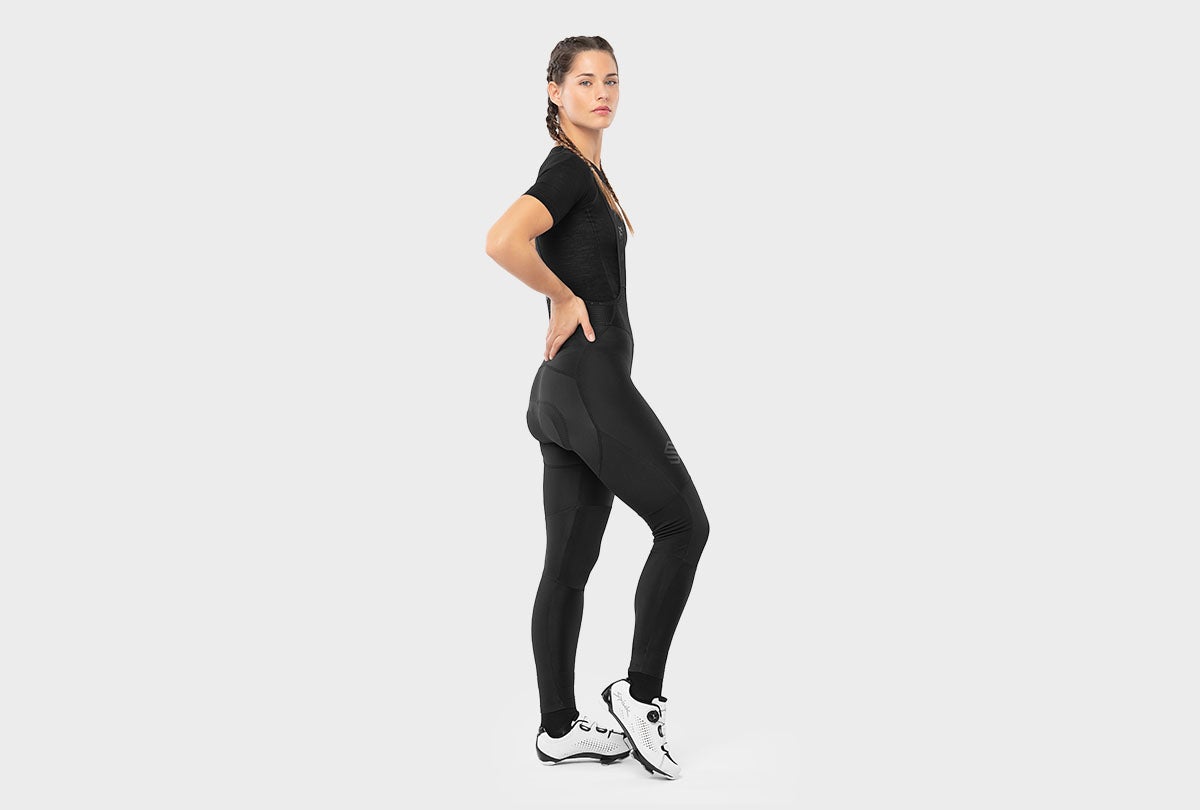 However, please bear in mind the following tips:
The bib tights without chamois always go on top of bib shorts with chamois. Never underneath.
Do not wear bib tights with chamois on top of or under bib shorts with chamois. The double chamois does not mean more comfort, on the contrary.
Don't go commando wearing bib tights without chamois.
Do not wear underwear.
Why do I need winter bib tights?
The reasons are as follows: 
To keep the entire lower back and abdomen warm.

To protect the knees from low temperatures.

To protect the legs from wind, cold and, depending on the model, also from water.

Fewer seams and suspenders than if you're wearing bib tights without chamois over bib shorts with chamois.

As they are warmer and more comfortable, you can go on longer rides and, if you want, go faster or further.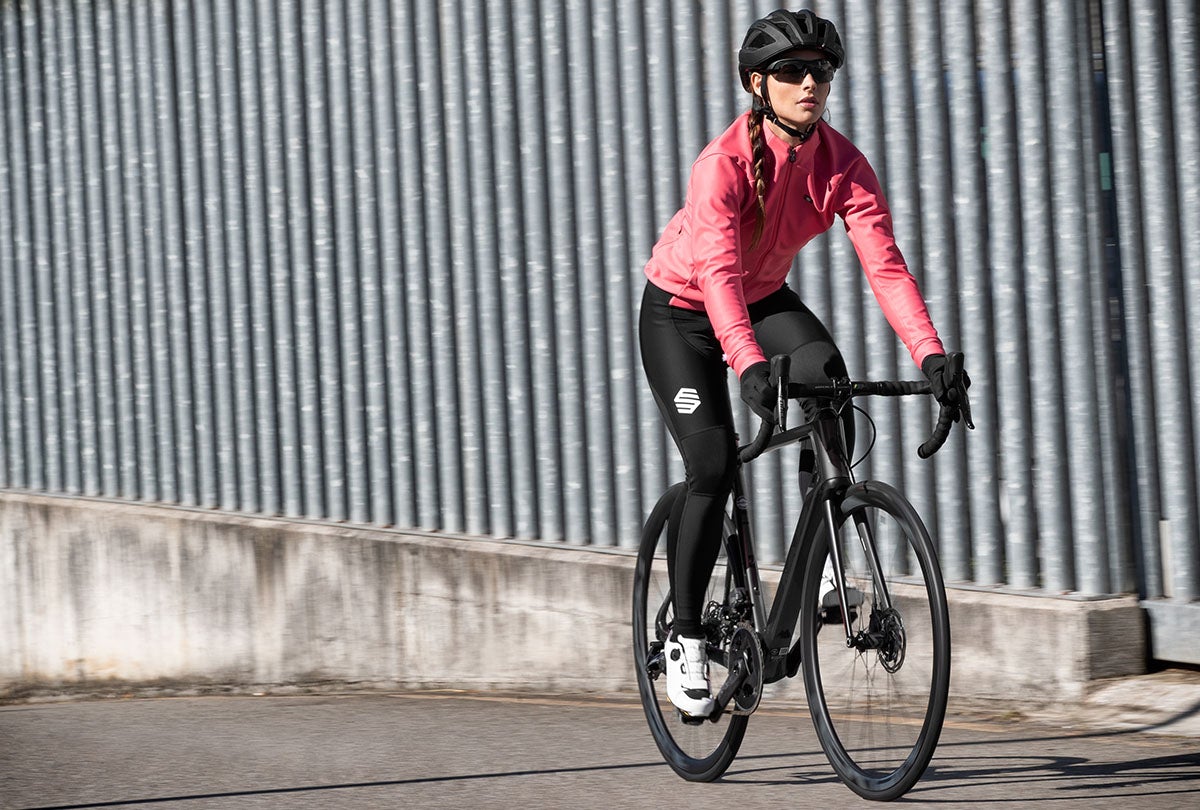 How to choose the right winter bib tights?
As we always say, every cyclist is different. Two cyclists living in the same city can react differently to cold or hot weather. Therefore, your decision depends on how temperature-sensitive you are.
Acclimatization to a certain area also matters. For instance: In the Canary Islands in winter, many Canarian cyclists wear bib tights while foreigners wear bib shorts.
The pace or intensity of your cycling workout and, of course, your personal preferences also play an important role.
Therefore, the first thing to consider is what the climate is like where you live and what type of cyclist you are.
That said, these are the main features you should take into account when choosing bib tights:
Fabric.

It is the most important element, as it is responsible for the right fit and protection against cold, wind and water. This is accomplished by using high-stretch technical fabrics with different weights and properties:
Insulating fabric.

A pair of winter bib tights should have at least one type of lining fabric that provides thermal protection against the cold.

Windproof fabric.

A shield against the freezing wind that blows in certain areas or at certain times of the year. Such a fabric can cover the whole garment or only the panels on the most critical areas.

Water resistant or water repellent fabric

. Featuring a DWR (Durable Water Repellent) coating that prevents drizzle or splashes from penetrating the fabric and soaking the bib shorts. It does not make the bib tights 100% waterproof as this would compromise their elasticity and breathability.



Chamois

. Check the manufacturer's instructions and choose the right type for you, given the time you will spend on the saddle. A good chamois should provide comfort by absorbing part of your weight, dampening vibrations from the ground and reducing chafing when pedaling. Women should use bib tights with a female-specific chamois.

Suspenders

. They should be elastic, but firm to hold the bib tights properly and keep the chamois in place. The upper part and the back area should be made of breathable fabric, since we will be wearing a base layer underneath and a winter jacket or a long sleeve jersey on top.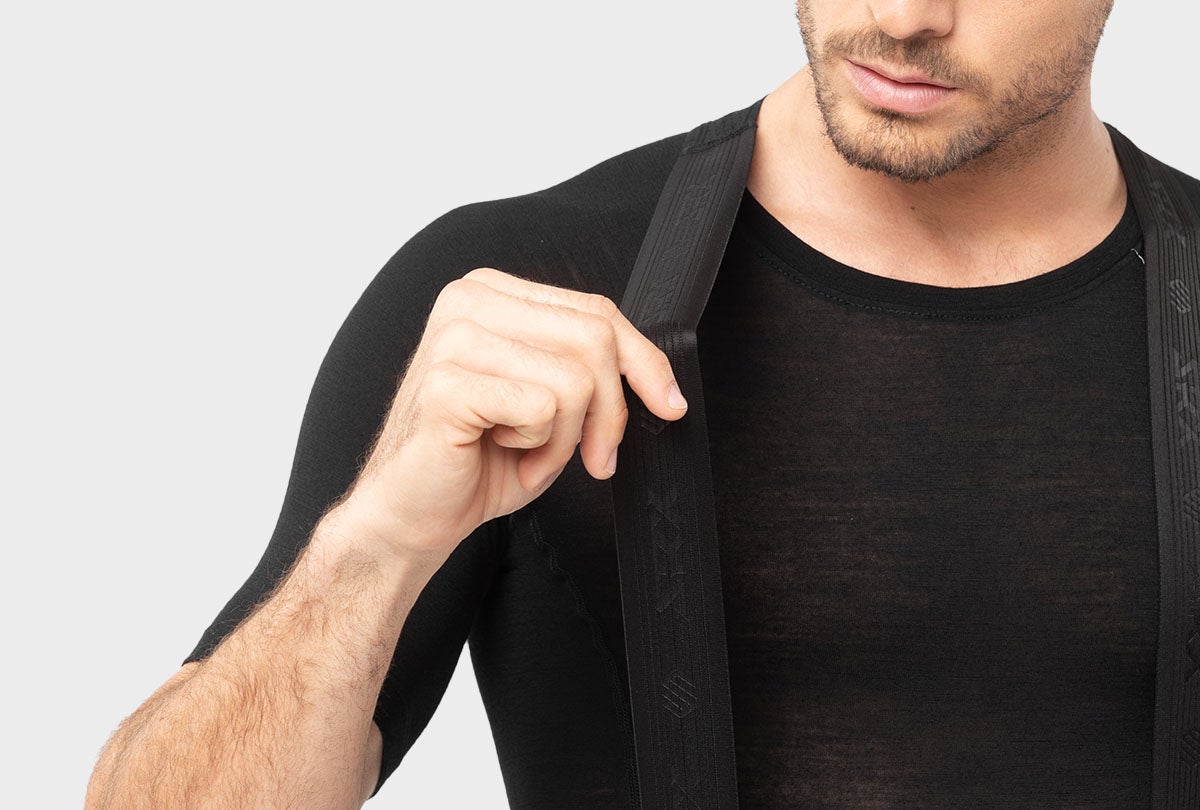 Women's winter bib tights feature specially designed suspenders to adapt to the female body shape.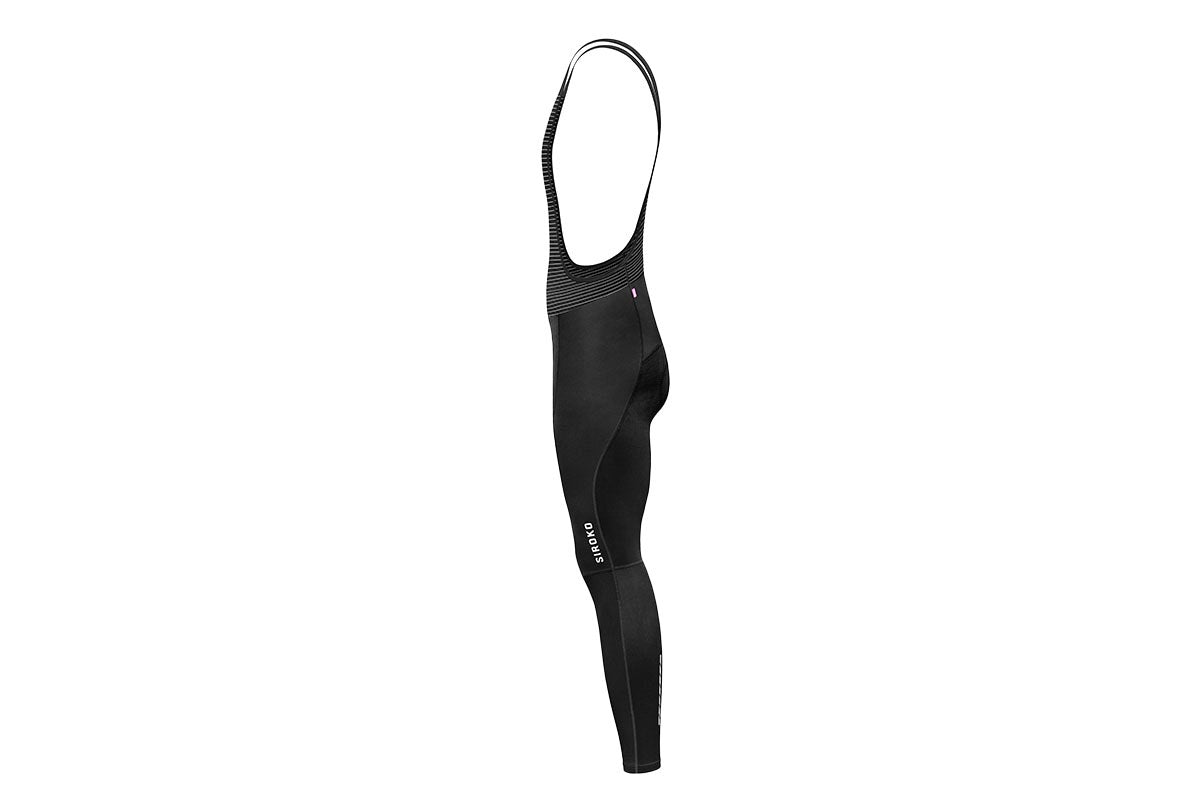 Fit and size.

The bib tights should fit snugly, like a second skin. They should not be too tight, as they'd limit our ease of movement, but they should not be loose either. Therefore, before buying a pair of cycling tights, take your body measurements and look at the manufacturer's size guide. Sizes are universal, but bodies are not, so even though the fabrics are elastic, there will always be a slight margin of error.

Reflective detailing.

An essential element to be seen and safe on the road. Reflective detailing is usually a logo or brand's name placed on the back of the leg at calf level or on the sides.
How do I pee in bib tights?
Let's wrap up the Q&A session with something we already discussed in the post on women's bib shorts. The issue remains the same. For men, it's a bit easier as the fabric of the bib tights is stretchy enough to pull down the front and pee.
It gets more complicated for women, and although there are several options, it's easiest to take off your winter jacket or jersey, lower the suspenders and pull down your bib tights. 
When it comes to bigger issues, both sexes are on equal footing, whether we need the break as badly as Tom Dumoulin or not.