Cycling in scorching heat and/or insufferable humidity can be fun but it can also become an experience you'd rather forget, depending on the cycling clothes you're wearing. That's why choosing the right clothing is key to avoid overheating your body even more and allowing it to cool down naturally as quickly as possible.
An inappropriate garment can compromise our safety or impair the proper functioning of another layer, making everything we wear – from head to toe – important:
Helmet with great ventilation
Choose one that has a fair number of vents to keep the air flowing. Avoid very closed off aero helmets and, of course, don't even think of wearing a time trial helmet in the heat wave if you are going on a medium or long ride; such helmet should be left for time trials. If you are a long-distance triathlete you are trained to withstand the heat but even so, there are aero helmets with ventilation and good aerodynamic drag coefficient at the same time.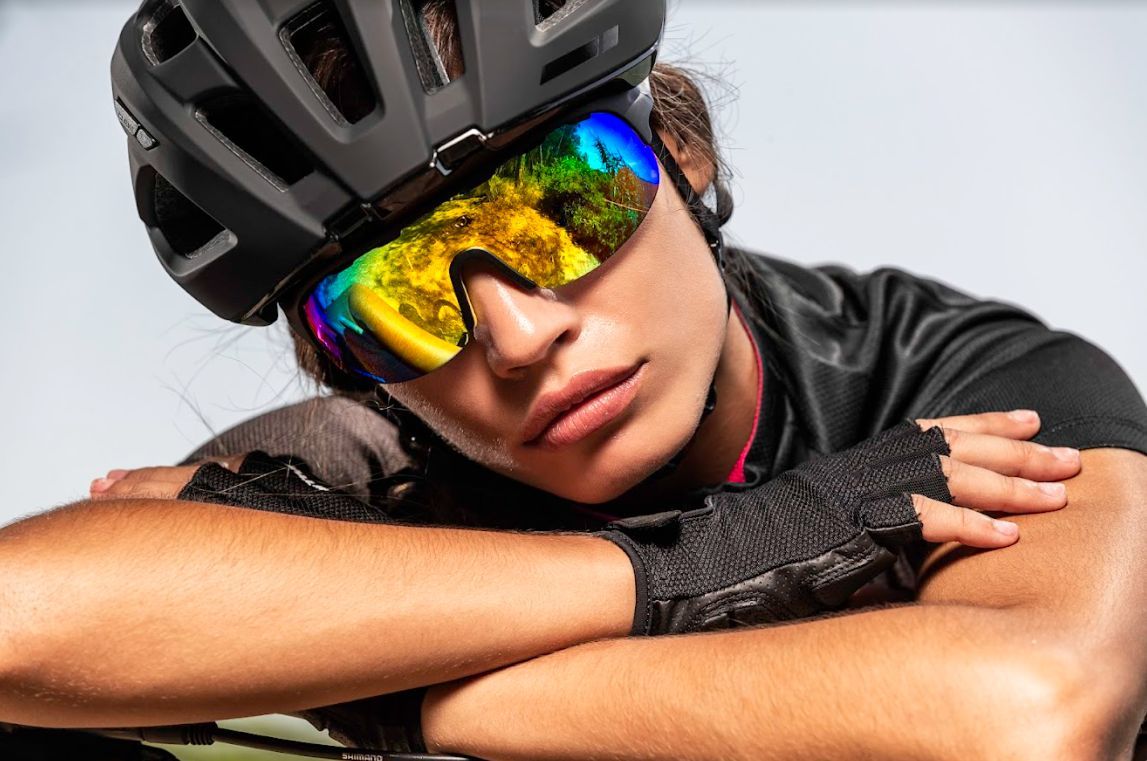 The helmet must be your size. Don't get one that is too big because even if it offers more ventilation, the fit is not right for you; let alone a helmet that is too small and tight as it will be even tighter after a couple of hours in the sun and will most likely give you a headache. 
Bandana rather than cycling cap
If your hair is very close-cropped, you have little or no hair, you may want to wear something under your helmet to protect your head from the sun and avoid sunburn. Although there are specific cycling caps for very hot weather conditions with very good breathability, it is best to use a cycling bandana or scarf. It's not that we want to be like Marco Pantani but caps tend to be too tight, their visor gets in the way and they always end up being hotter than a good cycling bandana – a much thinner, more adjustable and comfortable choice.
Bandanas also come in handy for cyclists who sweat a lot. They serve as a kind of base layer for the head, absorbing sweat, evaporating it thanks to the air entering through the helmet's vents and thus preventing it from dripping down our face and getting into our eyes.
Cycling glasses even when the sun is not shining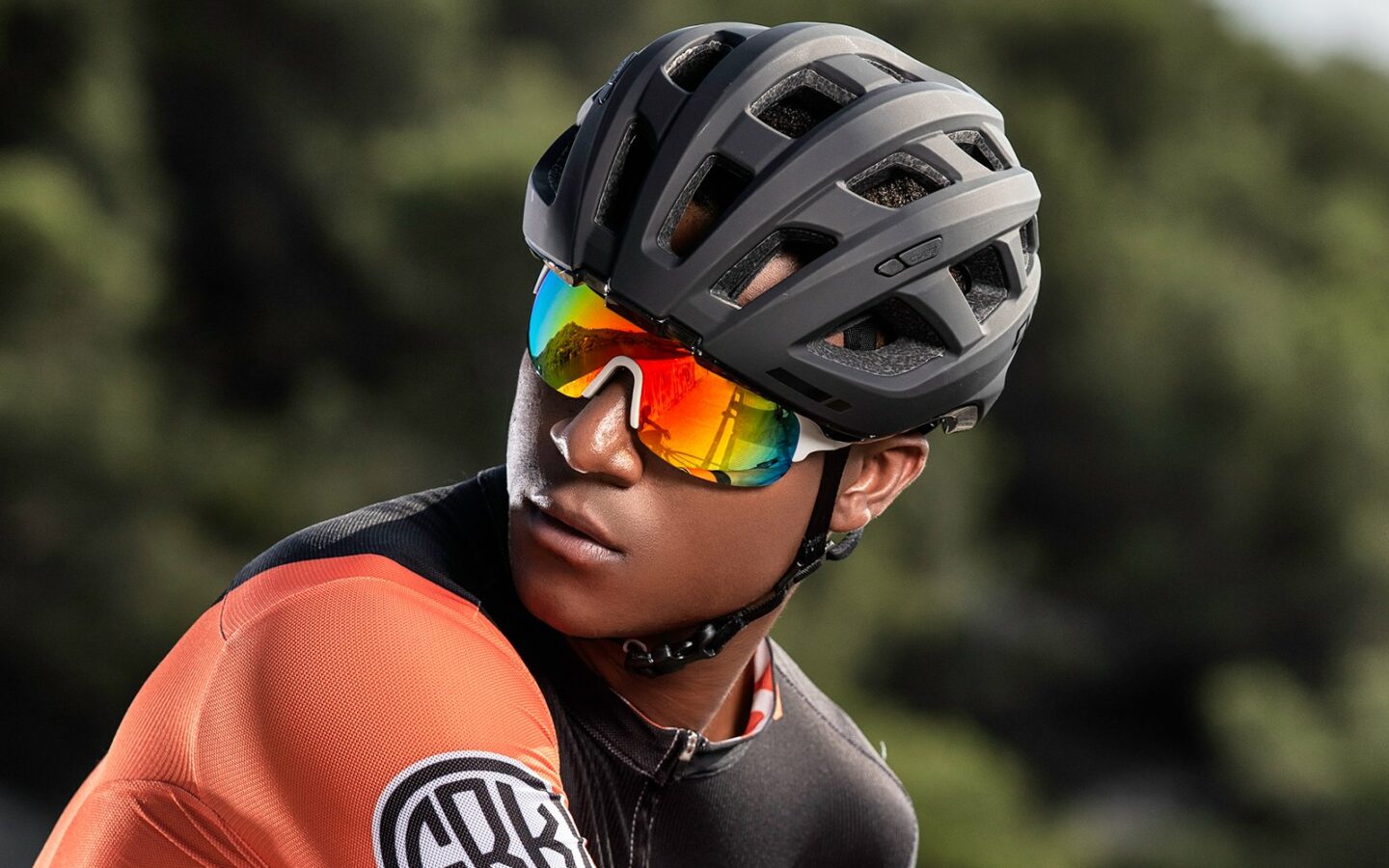 Aesthetics and sheer vanity aside, wearing cycling glasses is paramount when you're on a bike. No matter the temperature outside and whether the sun is shining or it's hidden behind the clouds, UV light is always there. Just as it is recommended to use sunscreen even if it's cloudy, you should also protect your eyes from UV rays, whether you see the sun or not. Take a look at Siroko's cycling glasses section and choose the model for you: K3, K3s, polarized, photochromic, mirrored… All lenses offer UV400 protection (blocking all UV rays with a wavelength of up to 400 nm).
Base Layer – Sports bra
Wearing a base layer or a sports bra under your cycling jersey when it's really hot may seem counterintuitive but it's actually a good idea. Summer base layers are made of lightweight, breathable mesh fabric perfect for warmer days.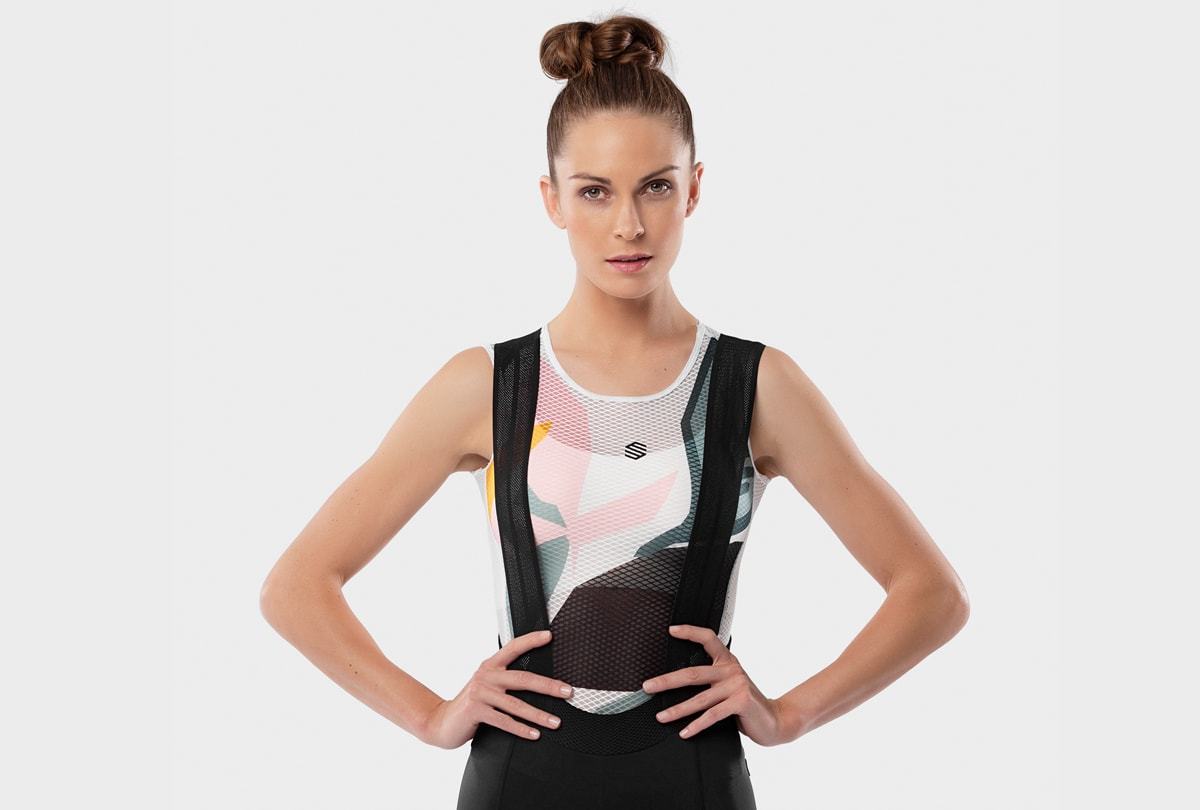 If you're not wearing a base layer and put on a cycling jersey that offers poor breathability and absorbs sweat without evaporating it, moisture is retained and stays in contact with your skin, not allowing your body to cool down quickly. On the other hand, if you choose to wear a base layer and a summer cycling jersey, the fabric dissipates moisture as you sweat and wicks it away to keep your skin dry and cool. This allows perspiration to act as a natural air conditioning system and, at the same time, provides protection for a downhill ride.
Although women's base layers are already designed to provide a good fit in the chest, cyclists who look for more support (due to larger breasts or personal preference) can choose cycling-specific and highly-breathable sports bras.
Summer cycling jersey
A summer cycling jersey should be made of a thin, lightweight fabric, which in addition to high breathability offers protection against UV rays, such as Siroko's SRX. Such a jersey can be worn directly on your skin or on top of a summer base layer because the fabric quickly wicks away moisture from sweat directly from the surface of your skin or from the base layer.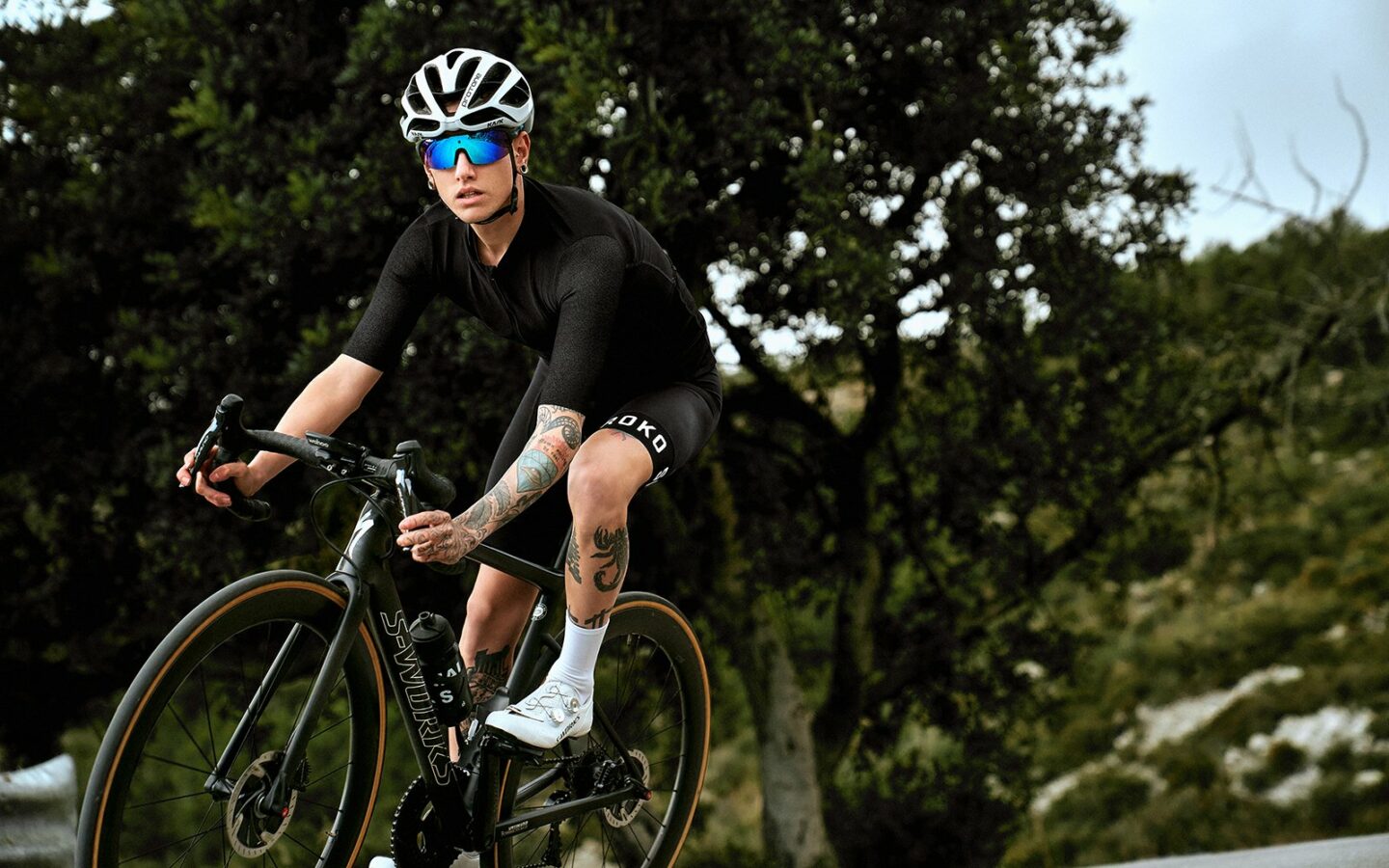 A cycling jersey specifically designed for high temperatures and humidity should consist of different panels providing extra protection or ventilation in particular areas: extra UV protection on sleeves and shoulders, and a thinner or mesh fabric in the areas where we sweat more to provide better ventilation and prevent overheating.  
Summer arm sleeves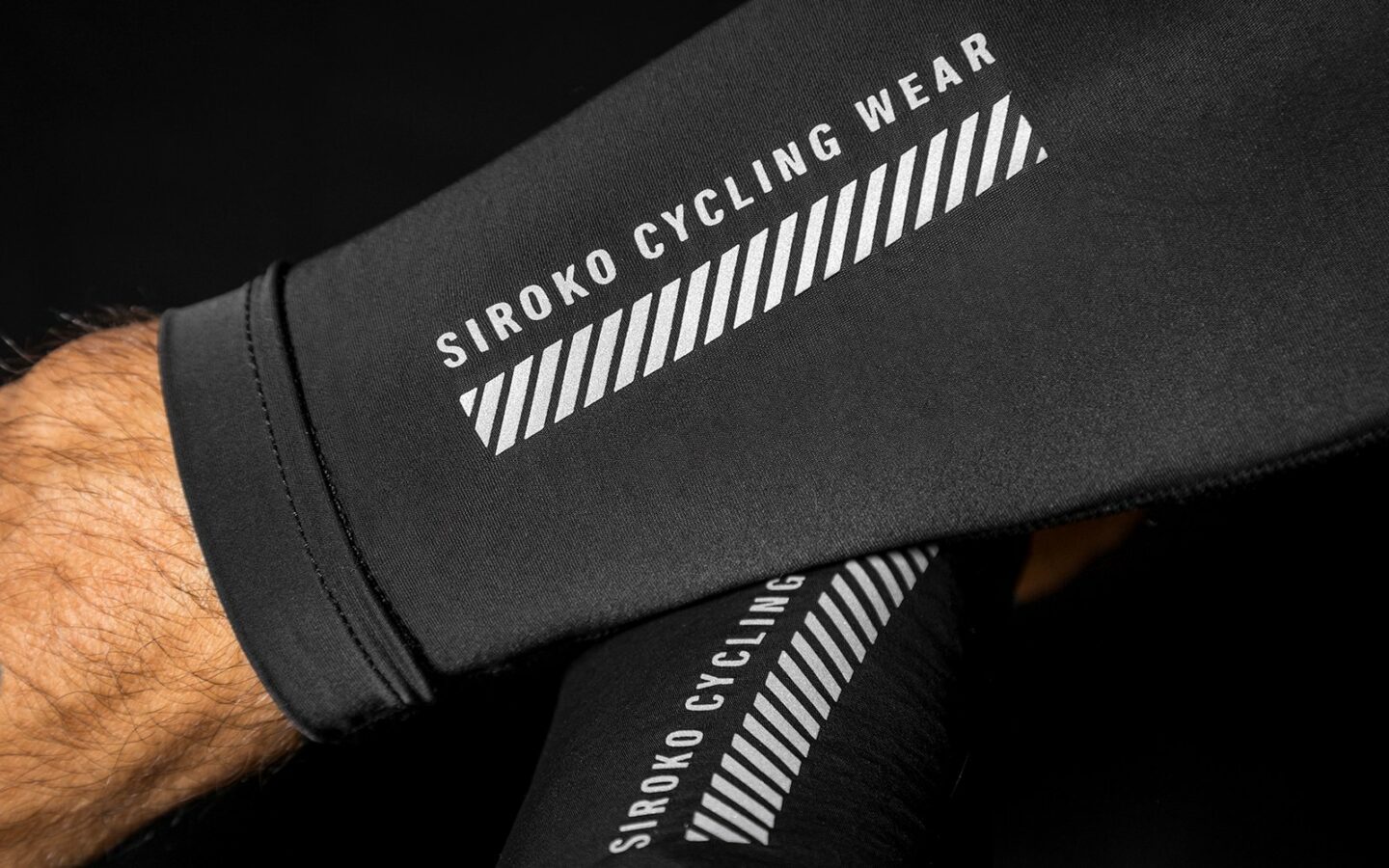 We have already talked about them in detail in this blog post. As all cycling accessories, they are not essential, but they do come in very handy thanks to their versatility. They do not take up much space and protect you from the sun without making you feel hot or hindering your body's cooling system.
Gloves
There are cyclists who, out of habit or for aesthetic reasons, are against gloves and take them off as soon as the temperature allows it. That's more commonly seen on the roads than in the mountains. Perhaps MTB riders have a greater danger awareness, and having to reach the ground with their hands makes them wear full-finger gloves for extra protection. In road cycling, where falls are less likely to occur, riders easily forget about the consequences of not wearing gloves, falling off the bike and ending up with their palms smashed against the ground.
That being said, gloves should be worn all year round. When it is very hot and/or humid, their role is twofold. First, they keep our hands dry so that we can grip the handlebars comfortably and safely, preventing slipping; and second, they help us wipe the sweat off our face.
Bib shorts
Hot and humid days won't be a problem if you wear high-end bib shorts such as Siroko's SRX. As they are made up of different panels, using specific fabrics and compositions in each of them, they provide firmness and support in the areas where it is most needed, and ventilation in body regions that are prone to sweating (mesh at the back, hips and waist). Comfortable and breathable suspenders are also essential, and so is a chamois that wicks away moisture and dissipates heat from the crotch. To find out more about how to choose a good pair of bib shorts, here is a shopping guide for you.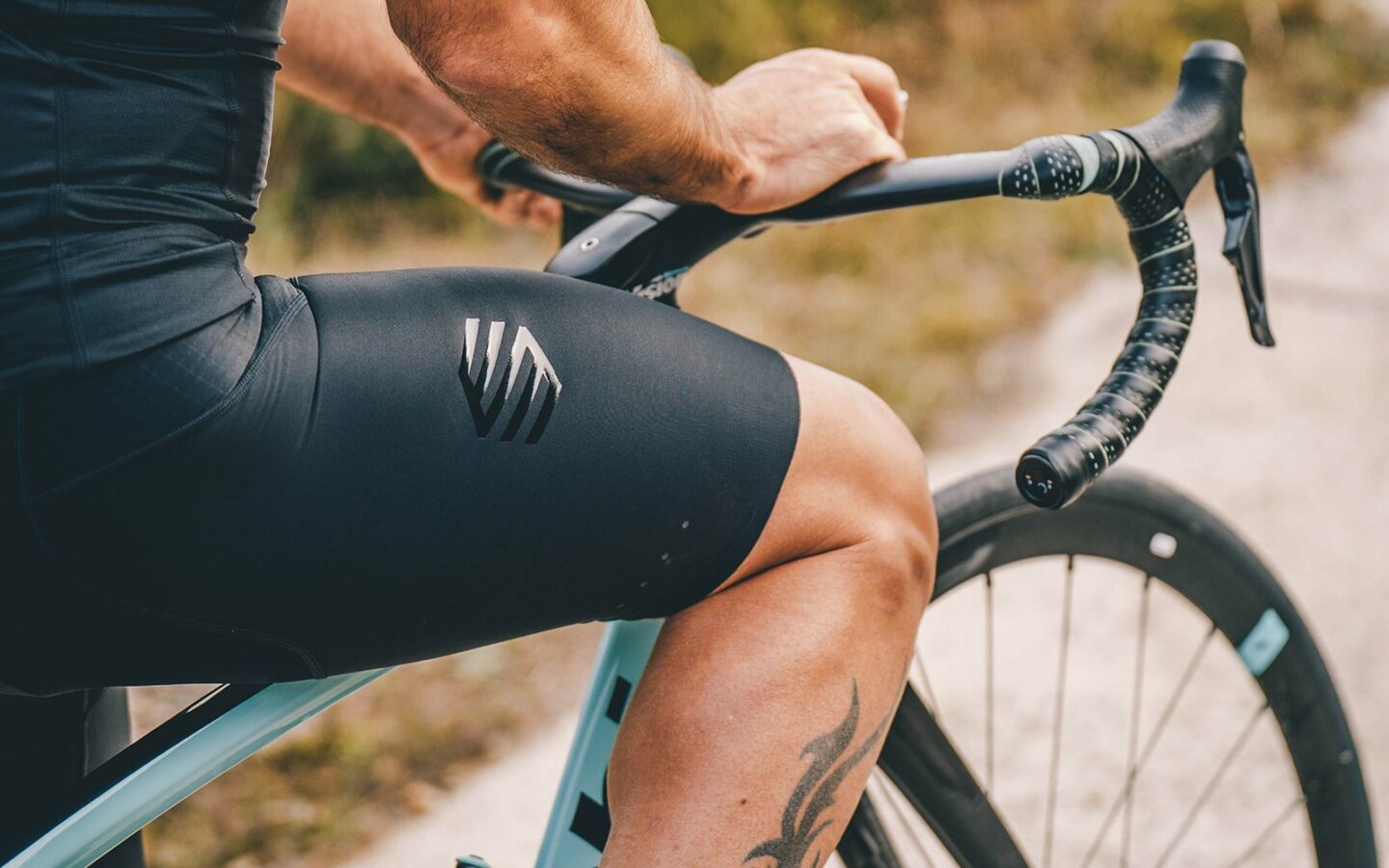 Specific models of bib shorts designed for high temperatures take lightness and breathability to the extreme. They are ideal if you live in an area where temperatures usually rise above 35°C, reaching 40°C or more. If it rarely gets that hot in your area, high-end bib shorts will do the job all year round. 
Socks + Cycling Shoes
The same goes for socks. Although there are specific models for high temperatures with a lighter, mesh-like fabric on almost the entire surface of the foot, a pair of good cycling socks is comfortable, lightweight and breathable enough to face temperatures ranging from 30 to 35 ºC.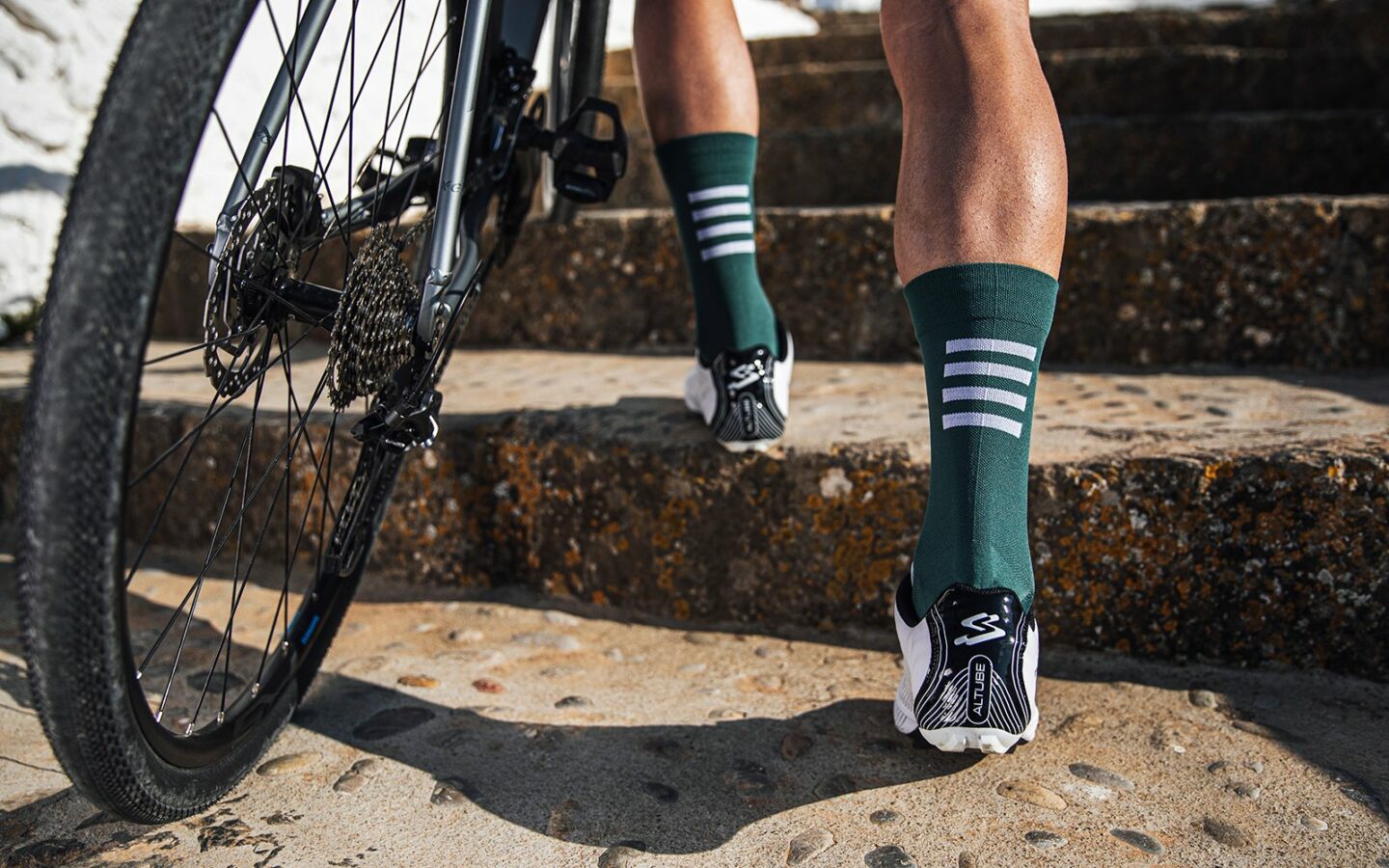 Ultralight summer socks certainly work very well in extreme heat or if you sweat a lot, but the key is to wear shoes that do not hinder sweat evaporation. If you wear cycling shoes that do not offer good ventilation, no matter how breathable your ultrathin socks are, the moisture will remain inside the shoe, and we all know that the feeling of wet feet during or after the ride is not a pleasant experience.
Ideally, you would want to have two pairs of cycling shoes: one with standard ventilation for cooler months, and one super-lightweight and highly-ventilated model for warmer seasons. However, as most of us have only one pair of cycling shoes, it's best to choose summer models and use shoe covers and/or regular cycling socks or merino socks, depending on how cold it gets.
Hold on! Before you head out to ride in the scorching sun, take a look at our 7 tips to beat the heat.