X-MAS DEALS - LIMITED STOCK
Product added to cart
SRX PRO Exclusive
Merino wool long sleeve cycling jersey
CHRISTMAS -65%
Save $124 today
Save $124 today
Save $124 today
Save $124 today
Save $124 today
Save $124 today
Receive your order between Monday 11 and Tuesday 12 of December

Now in stock

Now in stock

Now in stock

Now in stock

Now in stock

Now in stock
High-quality merino wool blend
Made in Portugal
Snug fit
Optimal thermoregulation
High breathability
Reflective detailing on the back
UPF 50+ rating
Fabric:
28% Merino Wool / 72% Polyester
Be in control of your own expectations. The SRX PRO Exclusive is a long sleeve cycling jersey made of polyester and high-quality merino wool. It combines great thermal insulation with optimal breathability at times of maximum effort, providing outstanding comfort for transition seasons and winter rides.
Its snug fit adapts perfectly to the cyclist's body, improving aerodynamics. It features an SBS semi-automatic zipper, three rear pockets and one extra pouch with a side zipper, as well as reflective detailing to guarantee optimal visibility on the road. Experience the power of technology.
Hand wash cold
Machine wash at 30ºC, use the recommended amount of detergent, separate the colors and use a laundry bag if possible.
Drip-dry and avoid prolonged soaking
Do not bleach
Do not iron
Do not dry clean
Do not tumble dry
The rubbing of some fabrics with zippers, Velcro, backpacks or other accessories may cause pilling during use or washing, which is not considered as a product defect.
Size chart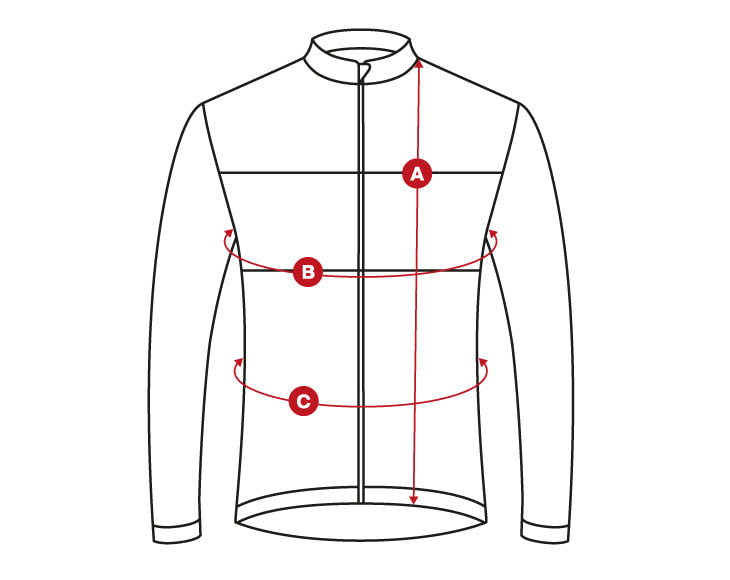 XS
S
M
L
XL
XXL

A

Length

56
58
60
62
64
66

B

CHEST

84
88
92
96
100
104

C

WAIST

70
74
78
82
86
90
XS
S
M
L
XL
XXL

A

Length

22
22,8
23,6
24,4
25,2
26

B

CHEST

33,1
34,6
36,2
37,8
39,4
40,9

C

WAIST

27,5
29,1
30,7
32,3
33,8
35,4
High-quality merino wool blend
Made in Portugal
Snug fit
Optimal thermoregulation
High breathability
Reflective detailing on the back
UPF 50+ rating
Fabric:
28% Merino Wool / 72% Polyester
Make sure you are fully equipped
The cycling jersey you need to protect yourself to the fullest when the cold and bad weather conditions kick in. Intense workout or just a short ride - always make sure you are fully equipped to enjoy your outings.
Ready-to-use for all outdoor activities
The Merino wool fiber is one of the finest and thinnest fibers in existence and yet it has an amazing ability to regulate body heat. Through a process called heat absorption, the fabric absorbs moisture and retains heat when temperatures are cold. However, when it is hot, through evaporative cooling the wool releases moisture leaving you feeling fresh. It is precisely for these reasons that this type of wool is one of the most widely used fabrics in the manufacture of technical sports gear.
Details that make the difference
Match your jersey with the rest of our cycling products: base layers, winter jackets, bib shorts, etc. A perfect fit, thermal insulation, protection and those extra features you will appreciate during your outings and training sessions, such as reflective detailing on the back and large pockets. Make sure you're ready to face any circumstances.