The sun can be a cyclist's best ally or greatest enemy. When the sun is shining, nothing can stop us from getting on our bikes, but let's not be careless, especially when we are wearing short-sleeved cycling jerseys and bib shorts, as our skin is highly exposed to the UV rays. While the sun keeps us warm and helps us generate vitamin D, we should avoid being continuously and unintentionally exposed to its rays without proper care and protection.    
There are three options to protect ourselves from UV rays when cycling: going out when the sun is not shining, applying sunscreen or wearing clothes that cover our skin. If you like cycling but you can't (or don't want to) go out early or very late to avoid the scorching sun, and you often forget to apply sunscreen before and during long rides, then the only way to protect your skin is to cover it with specific cycling clothing.
One of the garments that you can use are summer cycling arm sleeves with UV protection. The Climatik arm sleeves model from Siroko is designed to protect our arms from the sun and at the same time allow the skin to breathe naturally, cooling itself by sweating.  
They are made of a fabric with a UPF (Ultraviolet Protection Factor) rating of 50+. This term indicates the amount of ultraviolet radiation that the fabric allows to reach your skin. Siroko Climatik cycling arm sleeves provide the highest protection when it comes to sportswear: Only 1/50th of the UV rays pass through.    
In order to make you feel comfortable and fresh on the hottest summer days, our sleeves are made of ultra-lightweight and very elastic fabric, a blend of top-quality nylon and elastane. As a result, we have achieved four fundamental features in a pair of summer arm sleeves: 
Perfect fit

making them feel like a second skin, not causing any discomfort.

Excellent breathability

and sweat evaporation so the body can continue to cool down naturally.

Easily portable

. They don't take up any space in jersey pockets in case you want to put them on or take them off.  

Multi-functional.

They can be used not only as a full protection against the sun but also on chilly mornings or during long downhill rides.
Are summer cycling arm sleeves useful?
The answer is: yes, very much so. Even if you wear sunscreen, this cycling accessory can be used for a variety of reasons. To list just a few of them:
Avoiding tan lines from the cycling jersey.

People with very fair skin spending a fortune on sunscreens.

Cyclists with delicate skin, suffering from sun allergy or allergies to sunscreens themselves.

Keeping tattoos safe from the sun.

Protecting a wound, scar or recent burn.
In addition to the situations above and although its thermal properties are not comparable to those of Siroko's ColdBlock thermal arm warmers, the Climatik model can also be used on chilly summer mornings or evenings when we need just a little extra protection. Less cold-sensitive cyclists might actually find the summer model sufficient for other seasons or lower temperatures.
The misconception that black means hot and why Climatik arm sleeves are not white
If you follow this blog on a regular basis, you already know that we love science. Not only because it helps us design our products, but also because we can partially or totally debunk myths such as the one claiming that black is hot and that in summer it is better to wear white clothes.
Those of us who like to wear black clothes, both in the street and on the bike, no matter how hot the summer is, often hear this remark: "if you're hot, don't wear black clothes". It seems logical, but it's not that simple; even less so in cycling clothing where other very important factors affecting heat storage and dissipation come into play.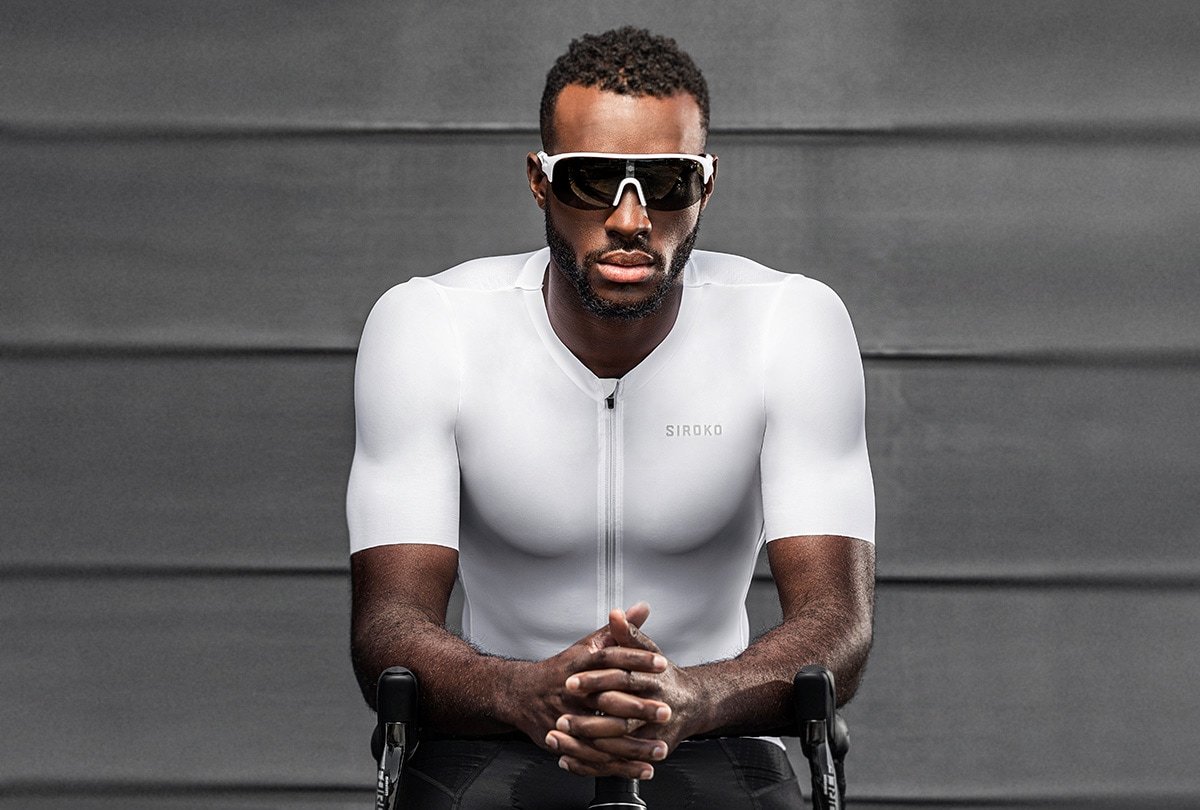 If we perform a simple experiment and leave a pair of SRX cycling jerseys, one white and one black, exposed to the sun for a few minutes, then simply touch our cheek with the fabric, we will notice that the white one is cooler. This is the origin of the myth: White reflects all light and black absorbs up to 98% of solar radiation, which is why it heats up.
It all seems easy until we take those jerseys out for a bike ride to see how they work when our body heats up and radiates energy. We don't see it because it's infrared, but it's how we lose our body heat. If you wear white, this energy (in the infrared spectrum) reflects back to your body and warms it up even more. Black, on the other hand, does not reflect this body radiation back, but absorbs and releases it instead, thus cooling us down. 
But before we all rush out to buy black bike accessories and clothes, let's hold on, it's not that simple. The color of the fabric is actually not that important. When we're on a bike, we're making a more or less intense effort and we're exposed to air drafts. Therefore, the garment we're wearing should – above anything else – be thin, lightweight, breathable and comfortable.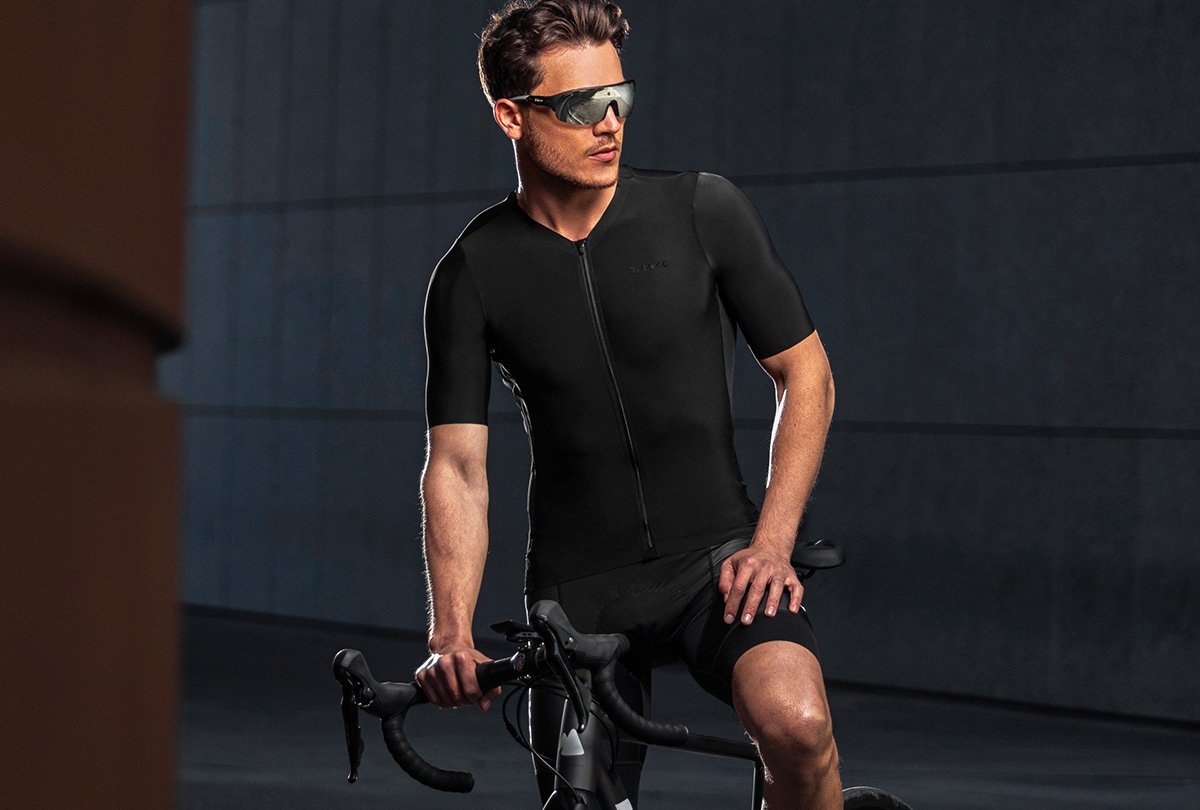 Your cycling jersey, bib shorts, arm sleeves or any other garment should not get in the way of proper sweating as it is the best way for our bodies to fight the heat. In addition, cycling clothing should evaporate sweat quickly, wicking away moisture to keep our skin dry and let it carry on sweating to cool down. That's why both SRX cycling jerseys and bib shorts as well as Climatik cycling arm sleeves are made of ultra-lightweight fabrics whose breathability guarantees that our natural air conditioning works properly.
So why are Climatik arm sleeves black? The answer is very simple: White sleeves stain more easily than black ones and it is more difficult to keep them spotlessly clean. At Siroko, we want our clothing not only to protect you but also to fit you well, even being washed time after time so that you can use it for the entire natural life of the fabric. Take a look at some tips on how to take proper care of your cycling clothing, follow the recommendations on the packaging and the label, and your Climatik arm sleeves will keep you company during many hours of sunshine.