Of all the parts that make up a bicycle, tires and tubes are (if everything goes smoothly) the first thing we need to change. To guide you through the varied and confusing world of tires we have put together this short and handy guide containing the following points:
When to change tires.
How to choose the right tire size for your bike.
How to choose the right tube and valve size.
When to change tires?
Changing your bike's tires may be due to wear and tear or a breakdown (cut, large puncture) that makes it unusable. Besides, tires have an expiration date and deteriorate over time, whether you use your bike or not. But how do we know when our tires are worn out or expired? Here are a few visible signs to help you detect it: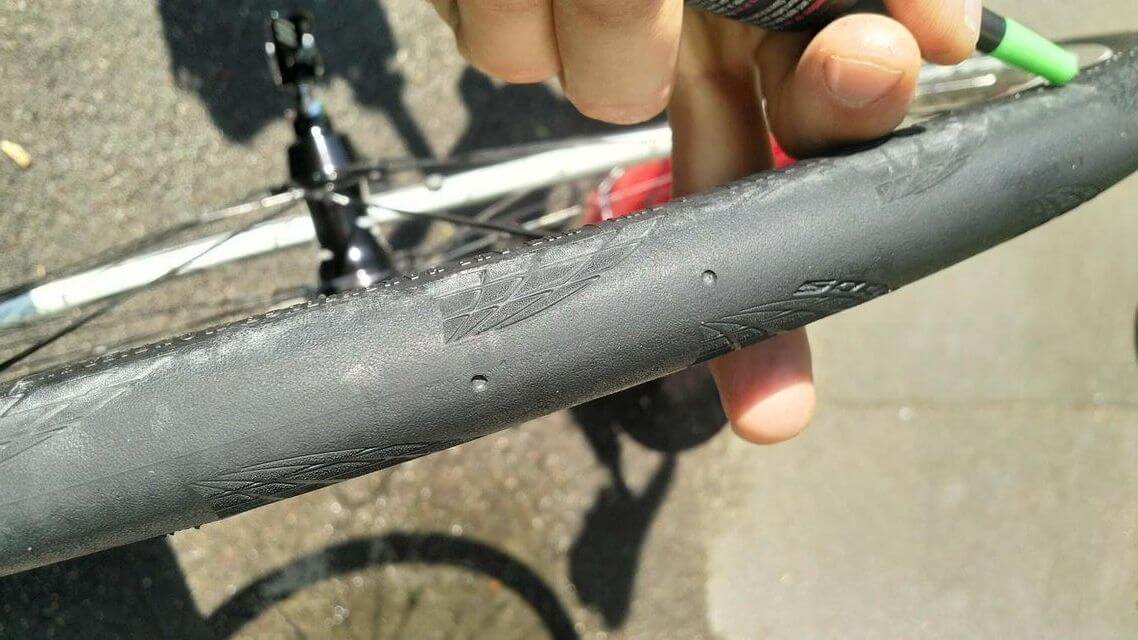 The tread wear indicators are not visible. These are small dimples in the center of the tire tread. Not all tires have them.
The treads or knobs (if there are any) are missing or damaged. It wears off in the central area first, but you can also lose or break knobs on the sides.
If you can see the casing, you have stretched it too far.
Irregularly shaped tread. It may be due to too little or too much pressure, or the casing may have been deformed.
Small cuts and holes where there are stones, pieces of wood, glass etc. that can cause a puncture.
If the rubber starts to crack or the tread lugs/knobs start to come off, the tire has expired.
Loose threads on the sidewalls.
These other non-visible signs may also indicate that it is time to replace the tires:
Frequent punctures.
More difficult steering.
Increased friction sound.
Skidding or lack of grip when braking.
Lack of stability when cornering.
How to choose the right tire size for your bike?
The easiest and most straightforward way is to look at the size of your current tire. There should be numbers on the sidewall indicating the outer diameter and tire width. It may look like this: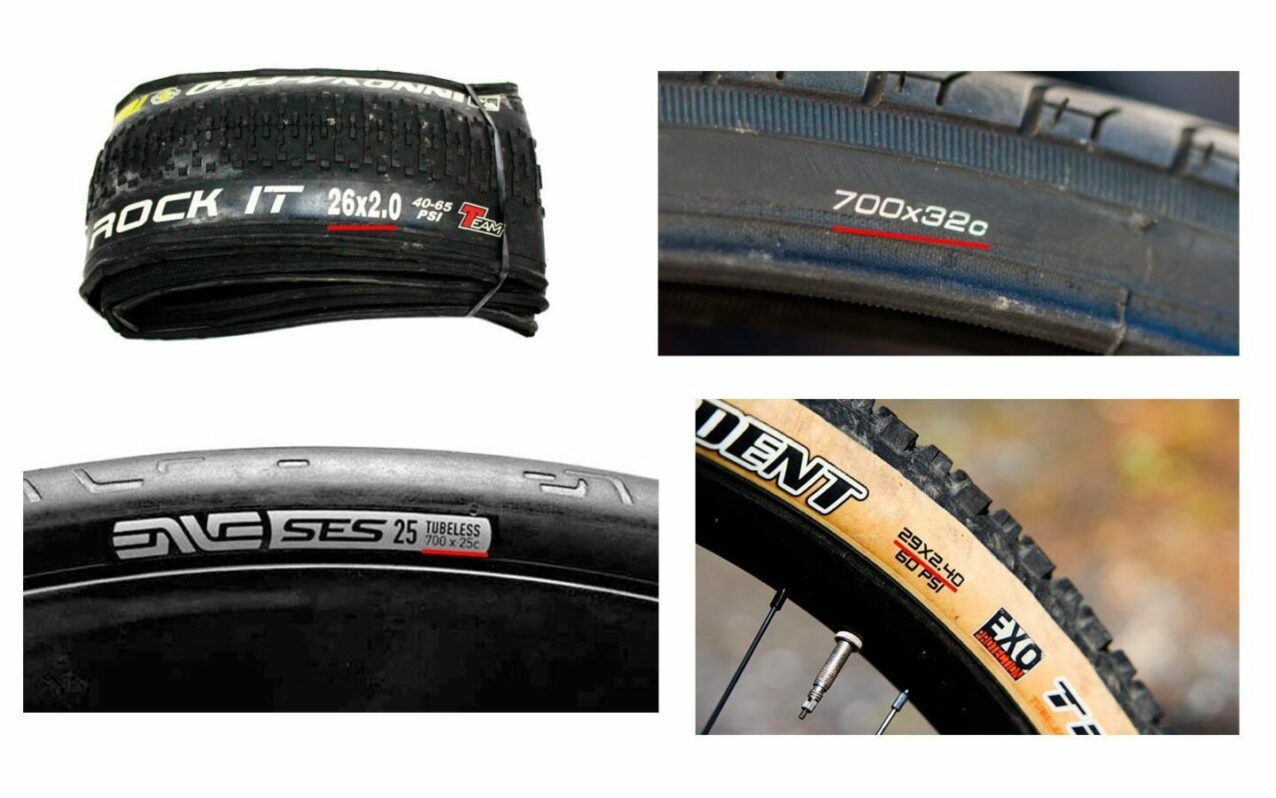 The first number is the diameter or size of the wheel, and the second is the tire width. The different numbers shown in the pictures above belong to two of the three existing standards:
English standard in inches: 26×2.0 and 29×2.40
French standard in millimeters: 700x32c and 700x25c
The third standard, ISO/ETRTO, is also measured in millimeters, but, as you can see in the picture below, the width is the first figure while the second figure indicates the inner diameter, not the outer diameter.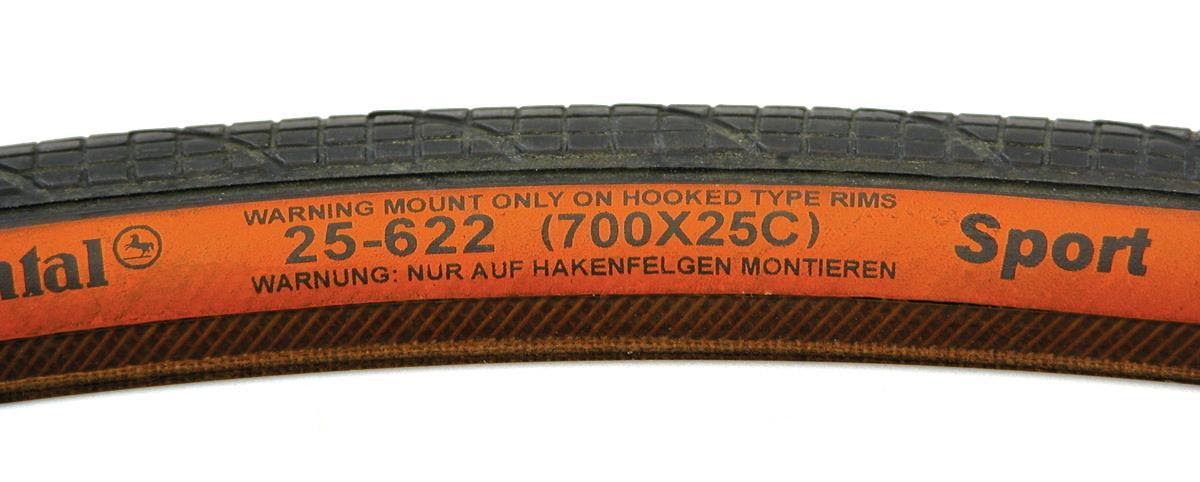 If you want to learn more about the standards and bicycle tire size conversions, you will find more information here.
In the unlikely event that you can't see the sizing information on your current tire sidewall, here are the most common sizes:
700c. The most common for road, CX, gravel and hybrid bikes.
650c. Common for smaller-size road bicycles and some gravel models.
26″. Older mountain and urban bikes. You can still find such models in hypermarkets and big department stores.
27.5″. Intermediate MTB size that has become a no man's land.
29″. The standard size in mountain bikes.
12/16/20/24″. Only for children's bikes, as explained in this article.
While getting the diameter right is paramount, tire width is also very important. Your bike, rims or rim brakes may not match well with a wider tire. If you are going to buy a wider tire, check if it fits on your bike first. The most common widths are:
Road bikes: from 23 mm to 32 mm. The most common width is 25 mm. Not all bikes allow more than 28 mm.
Mountain bikes: from 1.9″ on cross-country bikes to 5″ on fat bikes. Not all MTB models and types support very wide sizes.
Cyclocross bikes: between 28 and 35 mm. In UCI competitions, the width over 33 mm is not allowed.
Gravel bikes: between 32 and 50 mm. Not all gravel bikes have enough room for very wide tires.
Hybrid and urban bikes: between 30 and 40 mm. 32 mm is the most common width.
How to choose the right tube and valve size?
The size of the tube must be the same as the size of the tire (the first number in the English and French standard). In other words, for a road bike using a 700×25 tire, we need a 700 size tube. For a 29×2.5 MTB, we need a 29″ tube.
Tubes stretch when you inflate them, so the same tube can be used for different tire widths. Here are some examples: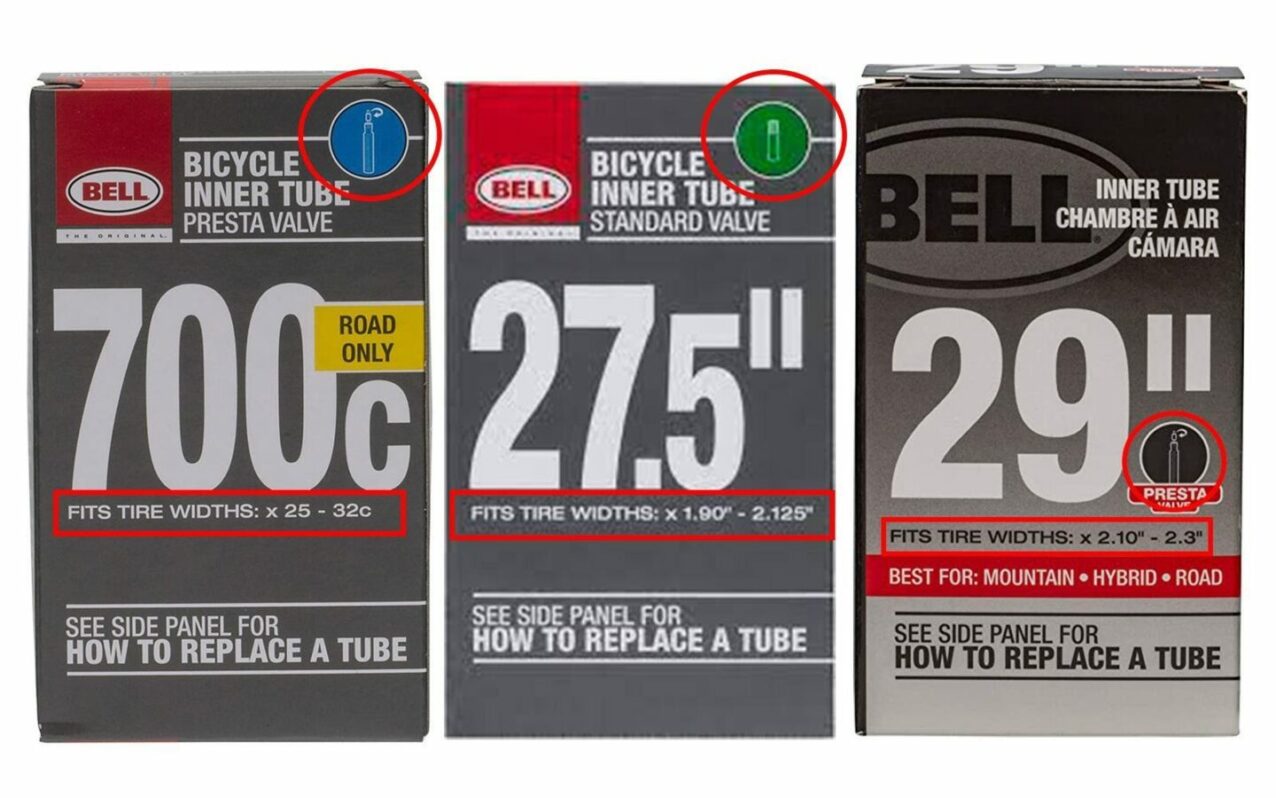 Check that the width of your tire is within the inner tube size range and that the type of valve is suitable for your bike. As you can see in the picture, the two most common types are:
Presta valve. Thin valves with a small lock nut at the tip that is unscrewed to inflate the tube and screwed back on once inflated.
Standard or Schrader valve. Just like the car tire valves, you simply have to unscrew the cap to inflate.
A Schrader valve will not fit through the Presta-valve hole in a rim. A Presta valve can be used on a Schrader-valve hole with an adapter.
There is also a third type of valve, the Dunlop valves, but they are not very common.
Finally, pay attention to the valve length. If your rims have a deep section, you will need a longer valve.
So much for our basic guide to choosing tires and tubes for your bike. In future articles we are going to look more closely at the different types of tires for road, mountain and gravel bikes. We will talk about different options available on the market, show differences between them and find out why their prices vary so much.