Cycling enthusiasts, we are proud to present our road cycling shoes. They are painstakingly designed for passionate and demanding cyclists looking for the perfect balance between style, comfort, performance, and price. Behind our first foray into the world of sports footwear, there are months of research, development, and testing to deliver a product that meets your expectations. The outcome is a pair of truly comfortable shoes, available in two classic colors, black and white, easy to match with all your apparel. Let's take a look at their main features:
Top Quality Material
They are made of microfiber synthetic leather, providing a unique combination of durability and elegance. They look good, withstand the most extreme weather conditions and, last but not least, they are easy to clean.
Perfect Fit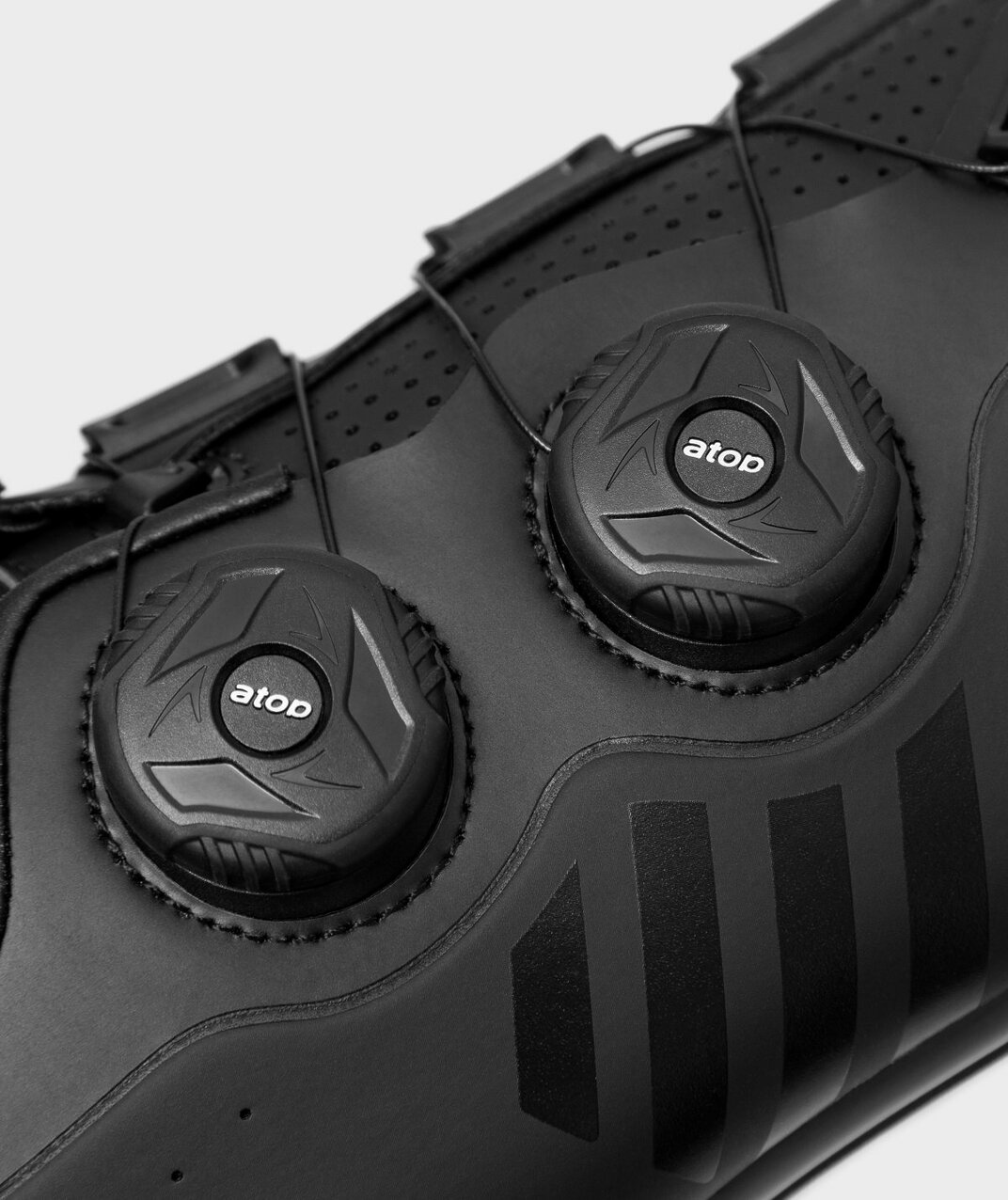 Our shoes feature a double ATOP A-A41 dual dial system with a nylon-coated steel wire laces that guarantees a quick, easy and snug fit, precisely adapting to the shape of your foot. If the lacing system breaks or you're simply booking for a color change to customize your shoes, we have replacement kits available in black, white, red and yellow.
Comfort Guaranteed
Thanks to removable and breathable EVA insoles, your feet will feel comfortable at all times, preventing moisture accumulation. Standard insoles included with the shoes offer neutral support. If you need a little more support, we recommend the Grip Orange (medium support for a standard arch) or Grip Yellow (maximum support for a high arch) insoles. If you have a low arch, try Grip Blue with light support.
Maximum performance
Thanks to the nylon sole reinforced with a carbon plate in the cleat area, you get a stiffness rating of 11 to optimize power transfer to the pedals, allowing for efficient pedaling where the shoe doesn't waste your energy.
Universally Compatible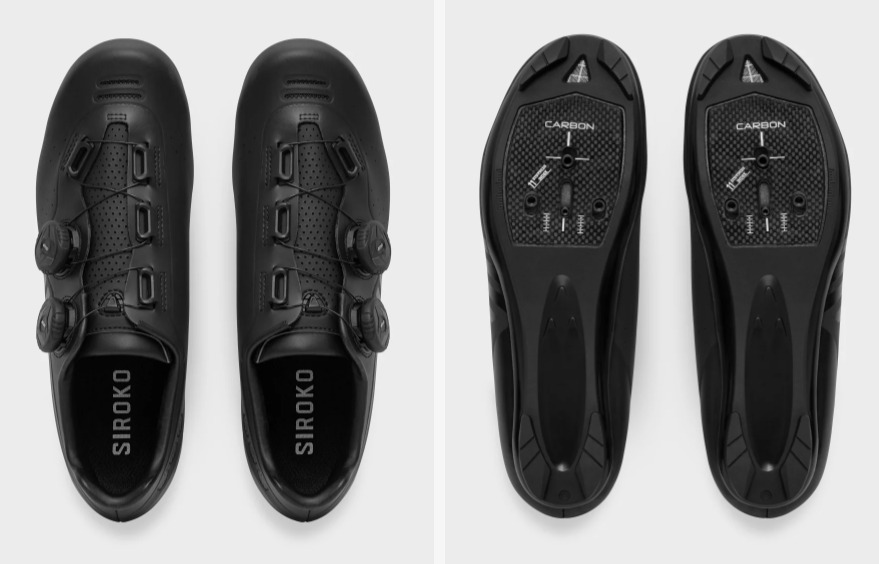 These shoes are compatible with all types of 3-bolt cleat systems, most common in road cycling. You can use them with systems from Shimano SPD-SL, Look and Time, as well as with Speedplay using the adapter that the brand includes in its pedals.
Lightweight
With only 250 g in size 43, these shoes combine lightness and sturdiness, so that your feet do not feel heavy, allowing for smooth, agile pedaling.
Customization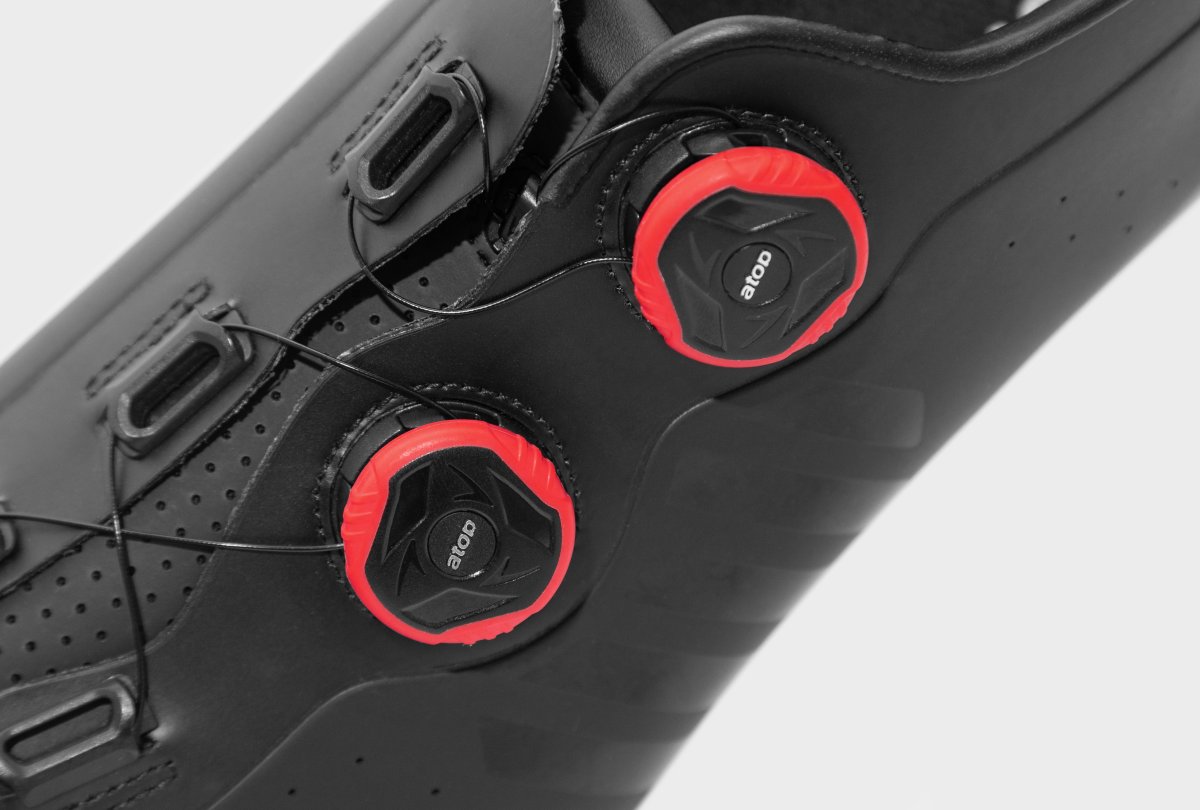 If you want to stand out, customize your shoes to your liking, and get the best ergonomics and comfort for your foot, you can do it with our ATOP system replacements and Grip insoles with different arch supports.
Sizes
Our shoes are available in sizes ranging from 36 to 48 to ensure a perfect fit for every rider. To find out what size you need, measure your feet wearing the socks you normally use for bike rides. To do this, place a sheet of paper on the floor against a wall. Stand on the paper with your heel against the wall. Mark the place where your longest toe reaches. Measure the distance between the edge of the paper and the mark you have made with a ruler. Write down this measurement and repeat the process with the other foot. Add 0.5 cm to the longest measurement and check our size chart to find out yours. If in doubt, go for a bigger one to give your fingers some extra space.

Remember that comfort is key to enjoying the cycling experience. A shoe that does not fit properly can cause discomfort. So take the time to choose the right size and make the most of your outings with our customizable road cycling shoes. It truly is the perfect combination of design, comfort and performance that takes your rides to another level.