Product added to cart
Snowboard and ski winter gloves
Save $20 today
Save $20 today
Save $20 today
Save $20 today
Save $20 today
Order within the next 12 hours and receive it between Monday 15 and Tuesday 16 of August

Now in stock

Now in stock

Now in stock

Now in stock

Only 9 units left
There's no bad weather, just wrong equipment. The Voss Turquoise snowboard and ski gloves with a Sure-Grip non-slip palm are highly resistant to friction and abrasions commonly experienced in winter sports. On the back of palm, a combination of softshell fabric on the lower area and Ripstop fabric on the finger area provides excellent durability.
These gloves feature a double lining that combines 3M™ Thinsulate™ and cutting-edge Korean Hipora® technology, making this accessory 100% waterproof while keeping an optimal temperature on the inside thanks to its unmatched insulation and breathability. They also feature adjustable Velcro cuffs to provide maximum comfort.
Match them with your favorite Siroko snowboard jacket!
Hand wash cold
Machine wash at 30ºC, use the recommended amount of detergent, separate the colors and use a laundry bag if possible.
Do not bleach
Do not iron
Do not dry clean
Do not tumble dry
The rubbing of some fabrics with zippers, Velcro, backpacks or other accessories may cause pilling during use or washing, which is not considered as a product defect.
Size chart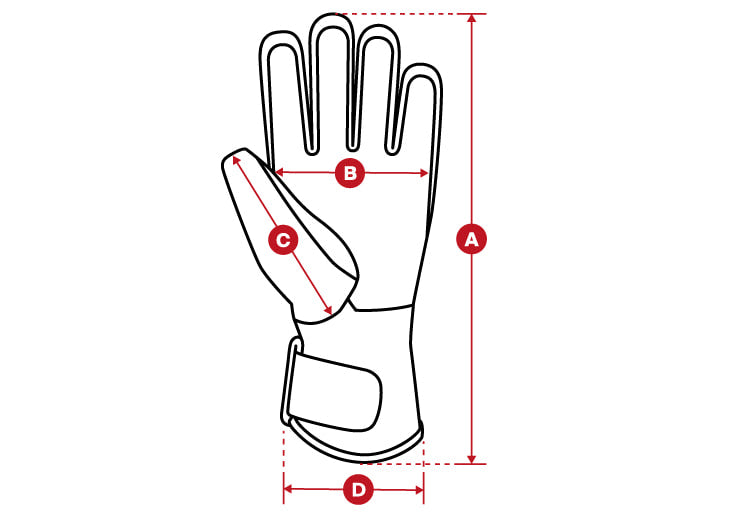 Measurements may vary 1-2cm and they are based on measurements taken directly from the garment.
Measurements may vary 0,3-0,7in and they are based on measurements taken directly from the garment.
XS
S
M
L
XL

A

Length
26,4
27
27,6
28,2
28,8

B

WIDTH
10,5
11,1
11,7
12,3
12,9

C

THUMB LENGTH
11,4
11,7
12
12,3
12,6

D

CUFF WIDTH
10,5
11,1
11,7
12,3
12,9
XS
S
M
L
XL

A

Length
10,4
10,6
10,9
11,1
11,3

B

WIDTH
4,1
4,4
4,6
4,8
5

C

THUMB LENGTH
4,5
4,6
4,7
4,8
5

D

CUFF WIDTH
4,1
4,4
4,6
4,8
5
Non-slip palm

High resistance to friction and abrasion

SOFTSHELL + RIPSTOP

Resistance to wind, water and cold temperatures down to -20º

THERMAL CONTROL

Double lining. Maximum insulation.

UNMATCHED PERFORMANCE

Hipora® technology and 3M™ Thinsulate™
Make sure you are fully equipped
The ultimate technical accessory for you to enjoy the snow, the mountains or any place you choose. Designed to offer you the best protection against the cold when you need it most.
All you need against the cold
A combination of softshell and Ripstop fabrics that ensures high water and wind resistance. The inner fabric is a combination of 3M™ Thinsulate™ and Korean Hipora® technology that blocks the wind and keeps the cold air out while wicking away the moisture. The lining features a warm coating that regulates temperature, reduces heat loss and prevents excessive sweating.
Details that make the difference
All you could ask for in a product like this: a good fit, total insulation, maximum protection and top-quality details. Make sure you're ready to face any circumstances on your next outing and enjoy it to the fullest with Siroko.