Picture yourself out on a ride, with a huge smile on your face, feeling the wind on your skin, and then… BOOM! You get a flat tire. Now, you're suddenly stuck somewhere without an inner tube replacement. What if you're about to pass out from hunger? You have your phone with you at least, right? It's a miracle you remembered to take your bike at all. Anyway, jokes aside, we all have been beginner cyclists at some point, and we all have forgotten to bring something with us that could save our lives later. And we have learnt from these unfortunate mistakes. So, worry not. We're here to make sure you're ready to face any challenge with this list of 15 essential items you need to bring with you on every bike ride:
Helmet
Safety first. This is the most important item, as having a perfectly fitted helmet can significantly reduce the risk of head injuries in case of an accident. In this blog post, we introduced the Siroko cycling helmet and how to use it.
Lighting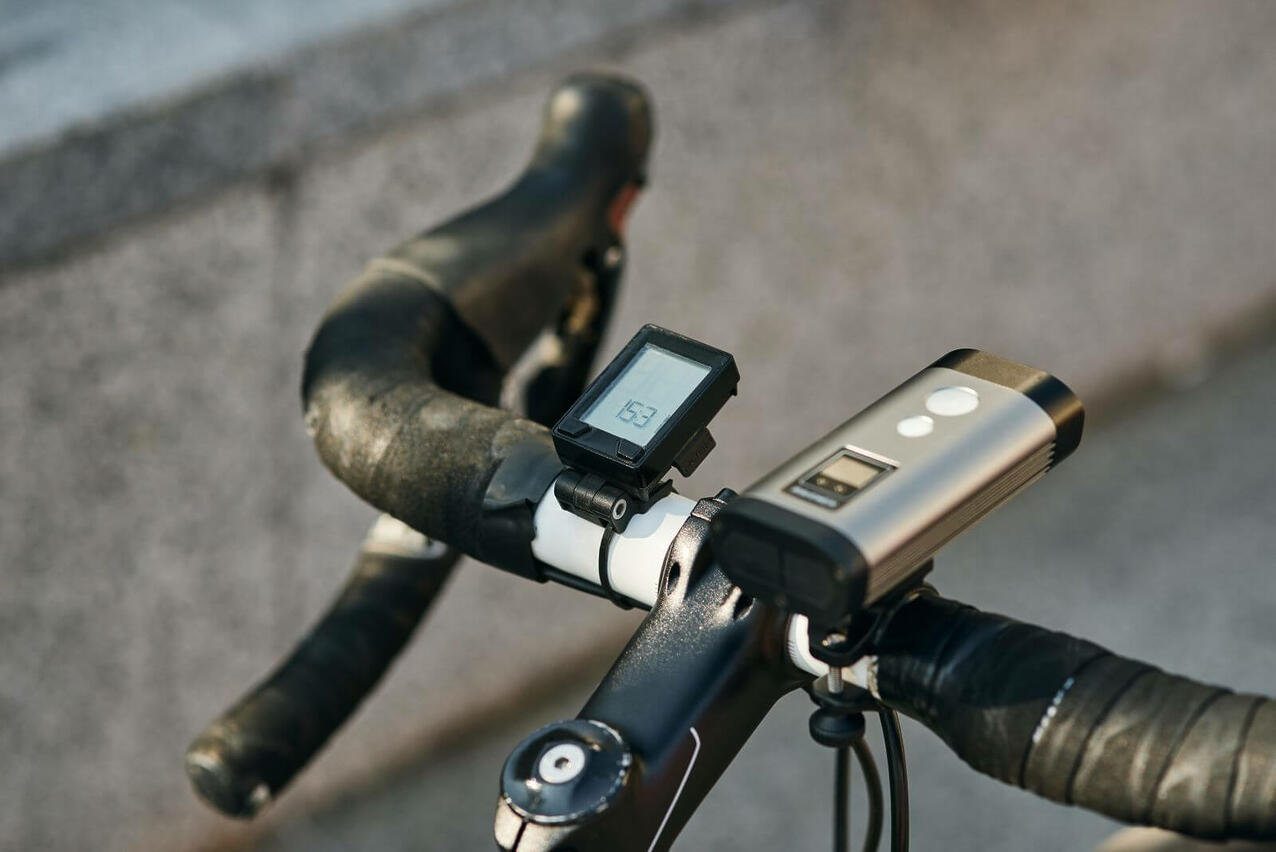 A good set of bike lights is key in order to be seen by other vehicles and, in case you have to ride at night or in poor visibility conditions, to see where you're going as well. Here you will find more information on the types of cycling lights available.
Keeping hydrated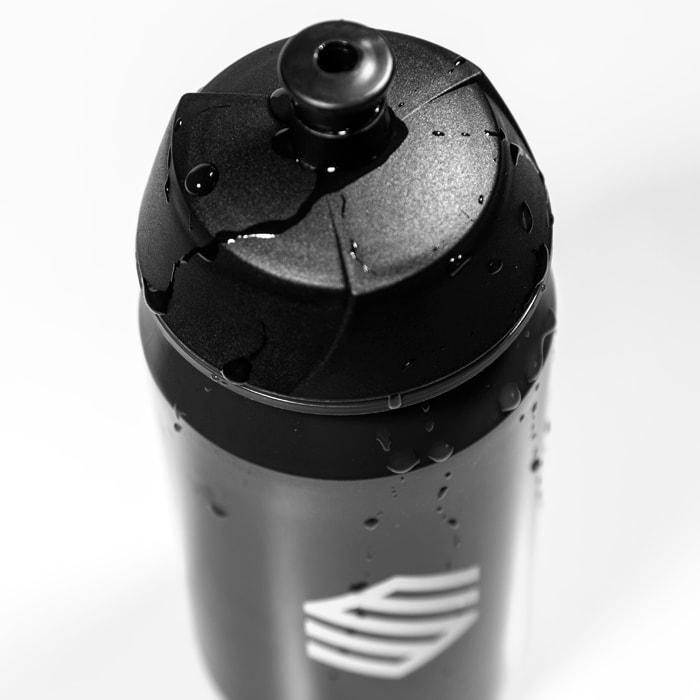 Being well hydrated at all times is crucial, especially when it's hot outside, so depending on the duration and intensity of the ride, you should make sure to always bring water in your bottle or in your hydration pack, and make stops on the way to fill it up as soon as it runs out. Plus, if you're prone to sweat a lot, the temperatures are too high and the route is long, it is also advisable to bring mineral salts or tablets to replenish what you're losing.
Food and snacks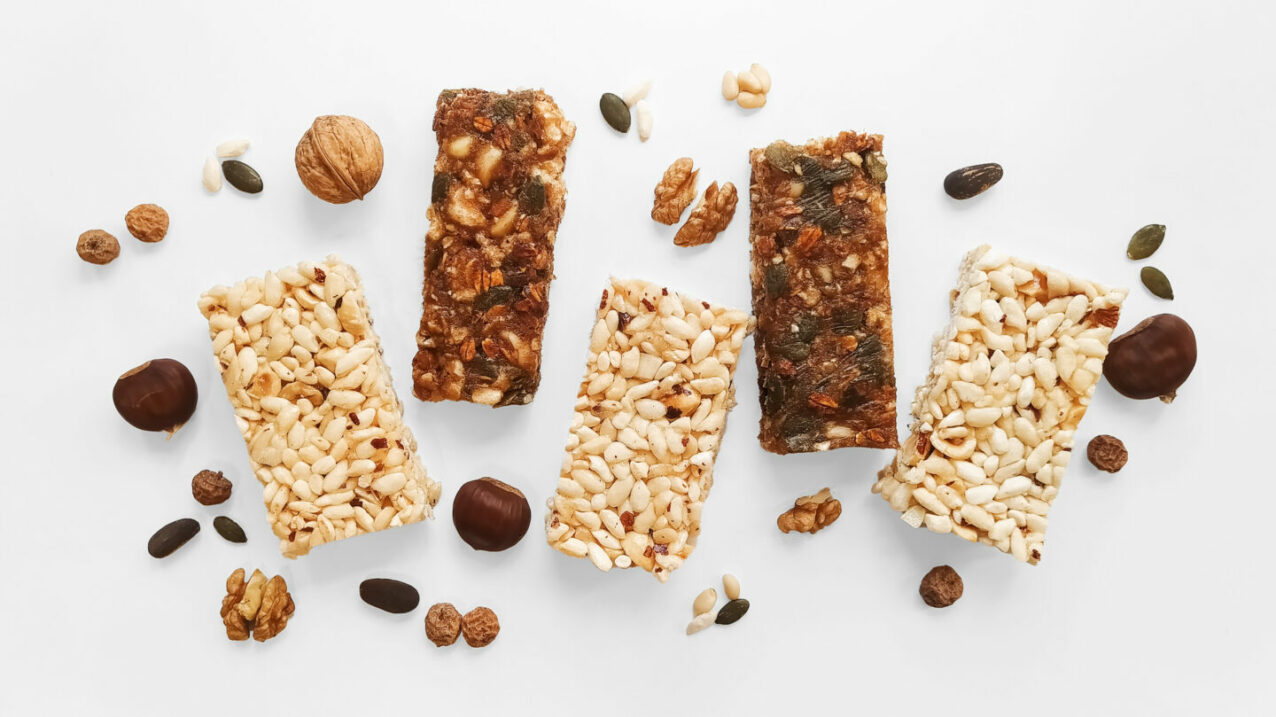 You won't really need to bring anything to eat for a relaxed, short ride, but if you're planning on riding for more than an hour it is always advisable to bring some food and snacks in your pockets: a banana, a small bag of dates or nuts, an energy gel, energy bars, etc. This will give you all the strength you'll need to recover and keep going. In this blog post, we discussed how much you should eat based on intensity and workout duration, and here you'll find some ideas and more information on what to eat and how to make energy bars, gels and rice cakes.
Latex, vinyl or nitrile gloves
A pair of gloves is crucial to prevent your hands from getting covered in grease and dirt when changing an inner tube, replacing a broken chain or putting it back in place.
Inner tube replacements, patches, a tubeless repair kit, etc.
You can get a flat tire at any moment and you have to be well prepared, making sure you always have at least an inner tube replacement, a few patches, two or three tire levers and, if you use tubeless tires, a repair kit for this type of tire that includes plugs and a puncture tool. You should also make sure you know how to properly fix a flat tire, so check some tutorials on YouTube in case you don't.
Pump or CO₂ inflator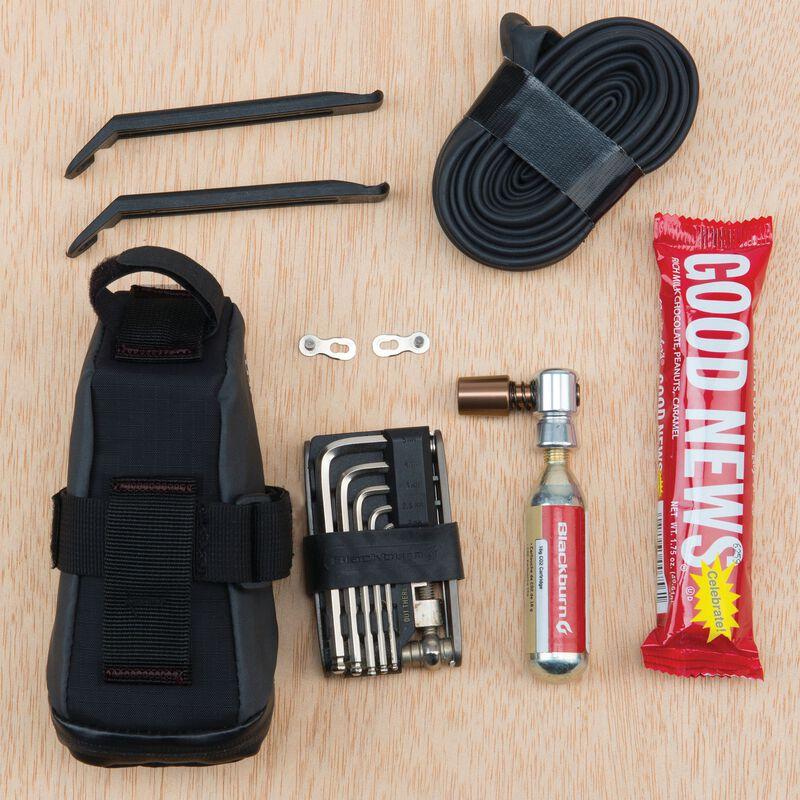 There's no use in having all of the above if you don't have anything to inflate the tire with. There are large, medium and mini pumps. Just choose the one that best suits your needs, budget and bike, while making sure it is compatible with the valves of your tires (Presta or Schrader). You could also use a CO₂ inflator and a couple of cartridges, but again, make sure you know how to use this and that you have repaired the tire properly. If you go tubeless, make sure to check whether the sealant is compatible with CO₂ or not, because you could damage the sealant and prevent it from sealing the punctures properly.
Multi-tool
It must include Allen and/or Torx keys that fit the screws on your bike, as well as a tool to break the chain and several screwdrivers. These tools are prone to rust, so keep the kit in a plastic bag or inside the gloves we mentioned above.
Quick links
Few things are as cheap, small and convenient as this one. With a chain breaker tool and a quick link you can easily fix a broken chain.
Valve adapter

Another useful little item that doesn't even take space and can be a lifesaver is a valve adapter. If you run out of CO₂ cartridges or your pump won't inflate the tires, this adapter can help you do that using any other air pump from any gas station or repair shop.
Emergency tire boot
This is an item that the vast majority of cyclists don't pay attention to and wish they had with them when a tire rips.
The home method to fix a big cut in the tire is carrying a piece of old tire and sticking it to the inside of the cut with the glue that comes with the patch kit. That way, you seal the cut and you can start inflating the new inner tube, or inflate the tire itself right away if you go tubeless.
Another option would be tire boot patches. There are several kinds and formats, some of them include glue as well as different patch shapes and sizes. Some others are auto adhesive, such as these ones from the brand Park Tool.
Personal identification
If you usually go for a ride on your own, it never hurts to carry your ID card or some other form of identification with you. Make sure to also write down an emergency contact somewhere in case you have an accident. This way, the authorities or the emergency services that come to your rescue can contact your loved ones and let them know what happened.
A simple sticker on your helmet or on a visible spot on your bike should be enough to write this number down. You could also include more useful information, such as your blood type, any allergies or previous health issues.
Cash
We live in a digital age, and we can even pay using our phones without a physical credit card nowadays, but still, carrying some cash on you is always a sensible choice, as some stores or businesses only allow payments in cash.
Emergency medicine
If you have a certain allergy or condition that requires urgent medication, for example, if you suffer from asthma or have a severe allergic reaction to mosquito bites, it is advisable that you bring it with you.
Phone
Let's be honest, most people do not leave the house without their phone. It is not only essential for emergencies, but it also helps us pay, move around, take photos and look up information on the route. We have two recommendations: One, do not use it while pedaling, because if you do it you can get too distracted and cause or have an accident. Two, make sure it is fully charged before going out so that you don't risk running out of battery.
In this list, we have covered the most crucial physical items you will need, but there are other types of "equipment" that you can't stuff in the pockets of your cycling jersey, and which are equally essential. Motivation as your fuel; friends to improve the cycling experience; and, of course, insatiable passion and interest in improvement. In the end, having the appropriate physical equipment and knowing how to use it is important but that won't get us far enough without our passion.