When it starts to get cold and you are looking for socks that will keep your feet warm and comfortable, it's a no-brainer: a pair of good merino wool cycling socks such as Siroko SRX is the right way to go. Suffering cold feet while cycling is utterly unpleasant and uncomfortable. Although cycling socks aren't necessarily the top priority when it's cold, they can actually become our best ally when it comes to enjoying the ride.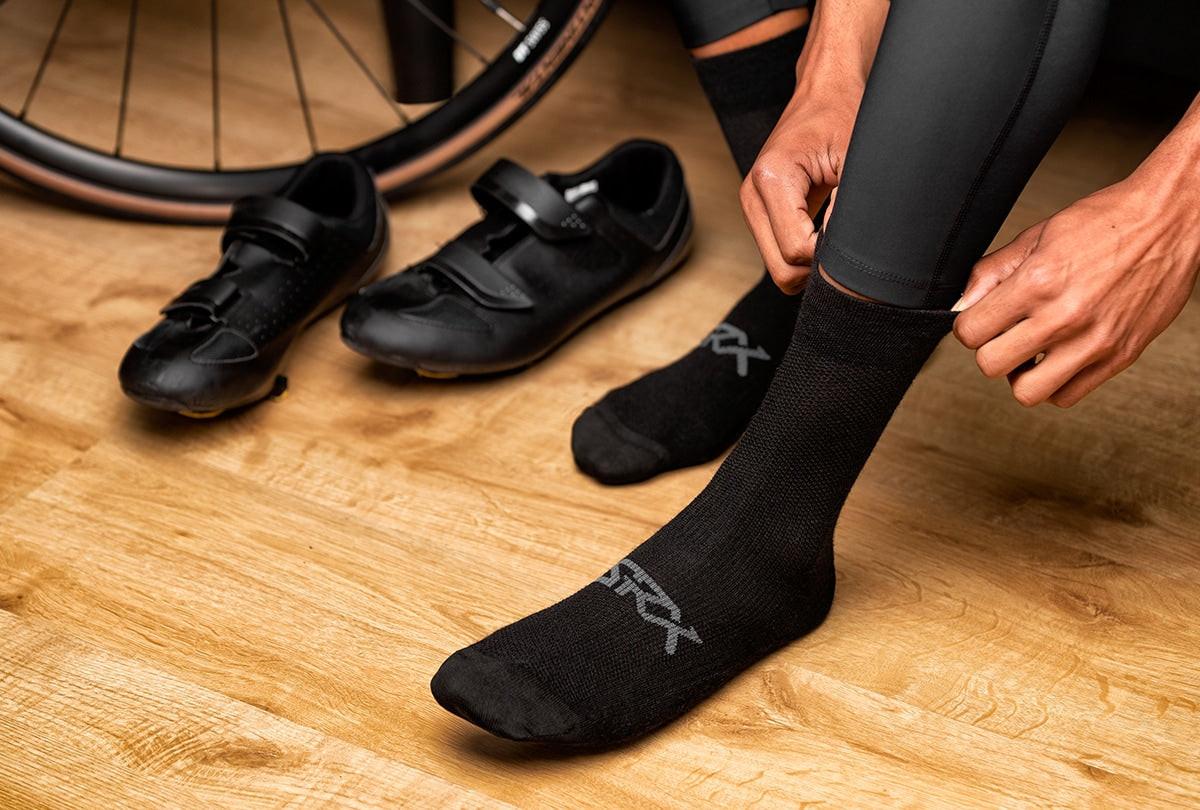 Socks are an accessory we often choose based on their design and style, while in reality the most important thing is that they are comfortable, keep our feet dry and protect us from the cold / heat as well as from friction with the shoe. SRX merino wool socks meet all these requirements seamlessly, allowing you to pedal smoothly and comfortably, enjoying road cycling, MTB, gravel, commuting in the city in winter or just going for a ride with the family. Here are their main features:
FABRIC
SRX cycling socks from Siroko are made of a blend of merino wool (39%), polyamide (57%) and elastane (4%) that guarantees an excellent warmth-to-weight ratio, as well as a perfect fit. As a result, we get a medium-thickness sock, not too bulky so that the shoe we normally use with summer socks does not squeeze us too tightly and so that the blood can still get to our toes. Remember: no matter how thick and insulating the fabric is, if the sock is too thick and does not allow for good blood flow, you will most likely end up feeling cold and numb in your feet.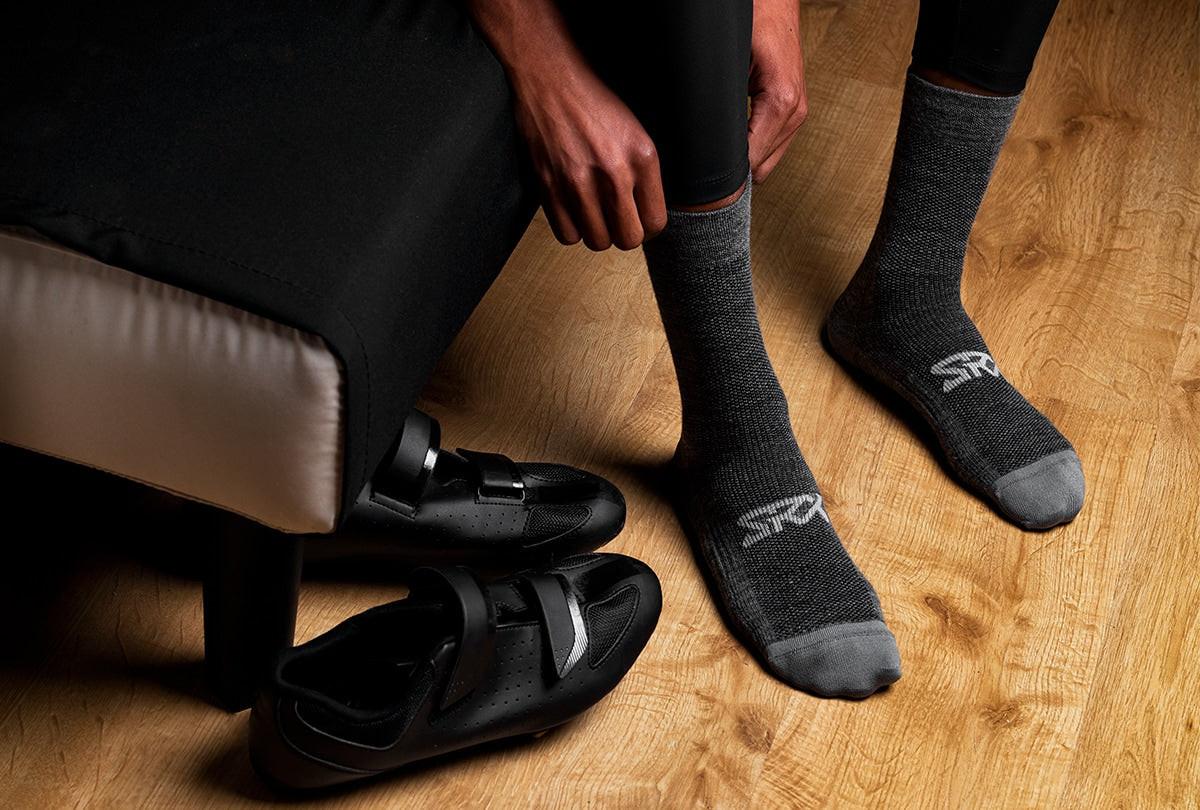 In addition to the elasticity and breathability of polyamide and elastane, there are also all the properties of merino wool, including thermoregulation. If you want to know all the benefits of this natural fiber, here is a post in which we talk about all its properties and explain why it is so widely used in cycling clothing and other sports apparel.
CONSTRUCTION
In addition to the type of fabrics used, the construction of the sock is also noteworthy. The mesh fabric structure is tight, but breathable, offering greater thickness at key points such as the toe and metatarsal areas, and reduced thickness at the heel and instep. This reduces weight and bulk, providing insulation and comfort where they are most needed.
To avoid friction or discomfort, there are no seams at contact or pressure points such as the toes, instep, heel and ankles.
DESIGN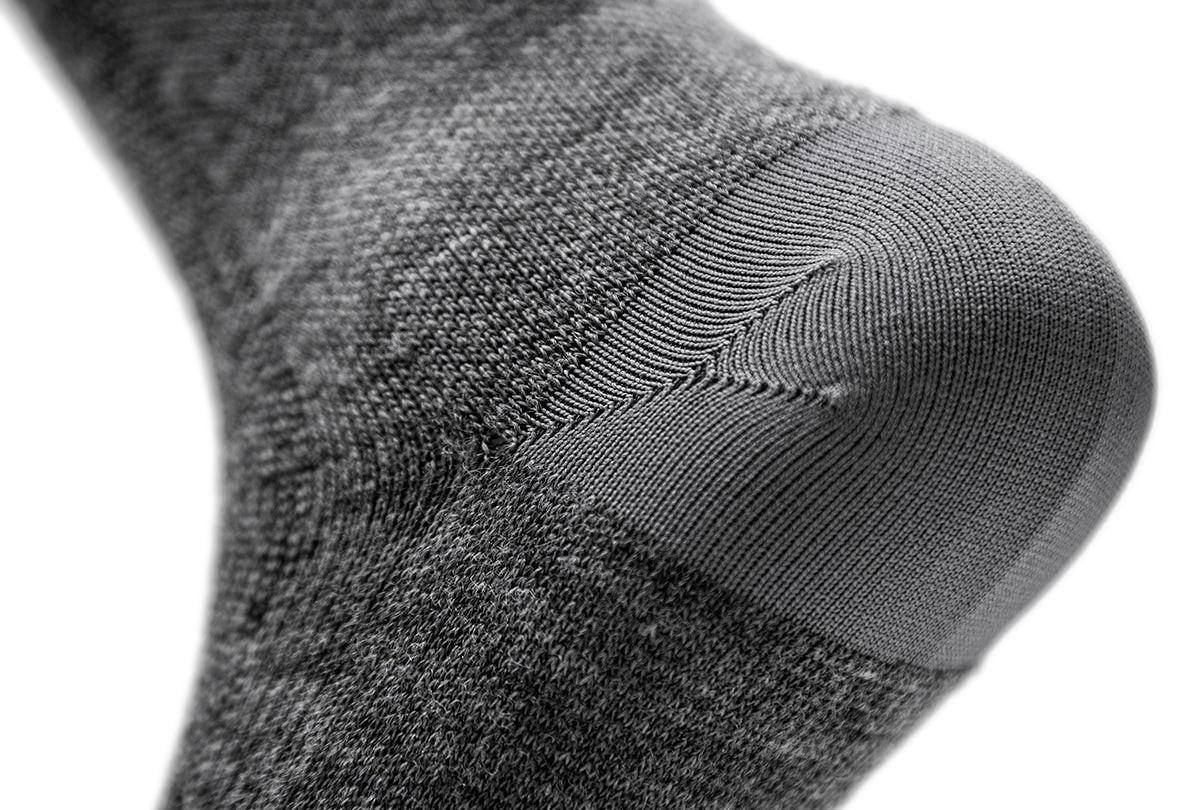 In terms of design, SRX merino wool socks have the same features as Siroko's S1 socks.
Elastic arch band around the foot to keep the socks in place and prevent them from bunching up at the toe of the shoe.
Wide, firm elastic cuff to keep the sock from slipping down.
Metatarsal padding to relieve pressure when pedaling.
Y-shaped heel for a perfect fit.
SOCK HEIGHT
SRX merino wool socks feature a mid-cut design, meaning their height is around 7″ or 18 cm, providing excellent shin and calf protection as an additional layer underneath the cycling bib tights.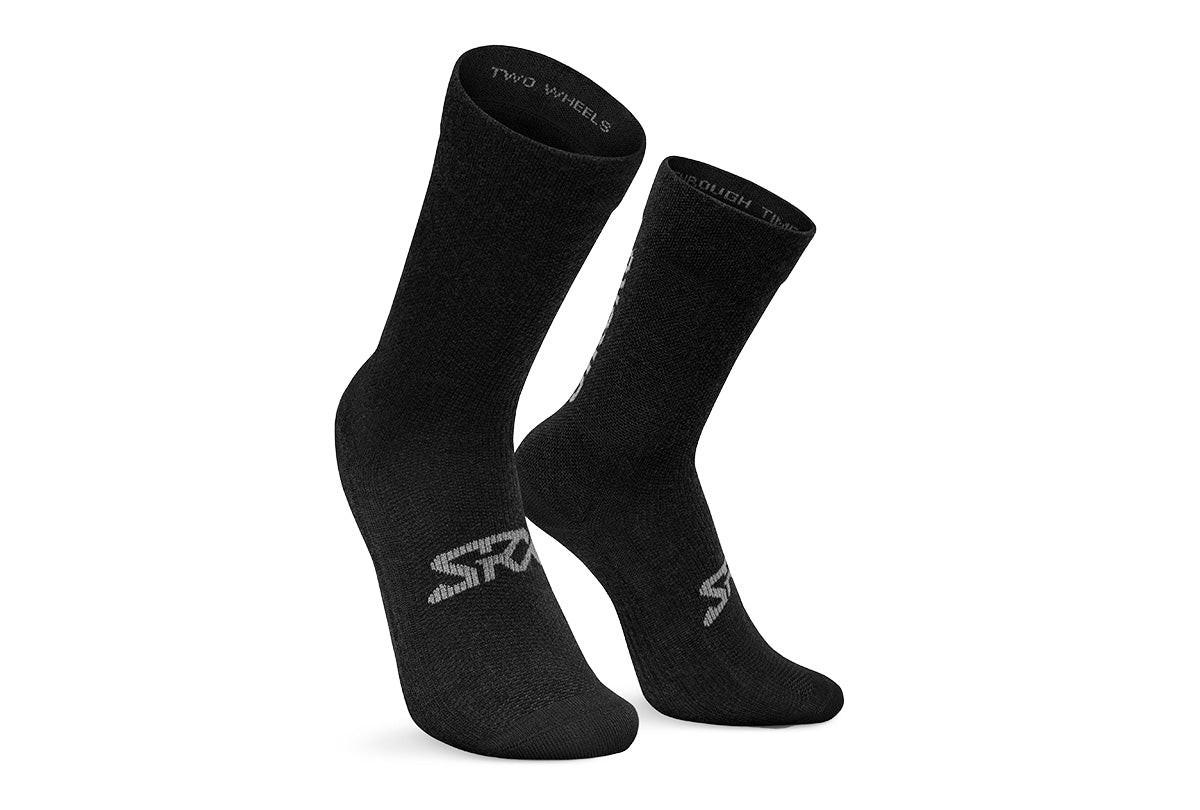 If you are interested in learning more about the different sock heights, you can check our guide on cycling socks where you will find all the key aspects to take into account when choosing the cycling socks that best suit your needs. Don't forget to take a look at the two SRX models from Siroko, whose features we describe in this article. We are quite sure that either the gray Maloja style or the classic black Grappa will live up to your expectations by keeping your feet warm, dry and comfortable.